NEXT STORY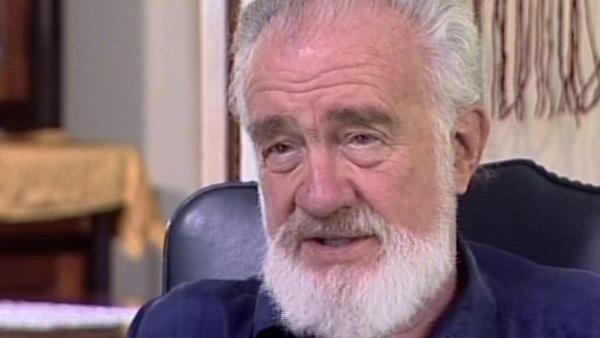 A reading of the poem Owls
1
...
6
7
8
9
10
Well, it was a wonderful owl. I mean, she was so beautiful. When I… when I had her and I was feeding her, it was… it was kind of interesting because there was a little shack that was still standing up… up here that was part of the farm that this once was. And I would feed her on the back side of that shack thinking that… hoping that my neighbors wouldn't know she was there. They're farmers, and they would shoot her. And I… I can sympathize with that. I mean, you know, they've got ducks and geese and all kinds of small animals, cats and… and… anyway, as… she would come and sit in the tree out here and, and holler and screech and yell. And so I would go to… go to feed her up there. As I got about halfway up there, I would feel this whoooosh right past my head. And… and you know I knew… I knew she wouldn't… she wouldn't hurt me. But she… she could have… she could have really done for me. I mean, you know, those… those claws are so terrific. But she never… never did; except one time, I went up there, and there was the wreckage of the barn, was there. The whole big barn had fallen. And when I got up… when I got up there, she didn't come immediately to the feeding station. She went over into the barn first and was sniffing around over there for something, maybe… maybe mice or something. I don't know. And so I was standing there holding a… a flashlight, and I had something else in the other hand. I guess it was the food I was going to… and... and I got to waiting for her. And in the meantime, I had to take a leak. So I stepped over to the side and started to do so, whereupon she came and started to light on my head very slowly. But… but that was where she was coming down. And so… and since my left hand was busy, I reached up with the flashlight and shoved her away. And she… she moved away. But... but the… but the idea of having her light on the top of my head did not really appeal to me greatly.
American poet WD Snodgrass, entered the world of poetry with a bang winning several awards, including the Pulitzer Prize, for his first collection of poetry, Heart's Needle. A backlash followed his controversial fifth anthology "The Fuehrer Bunker", but in recent years these poems have been reassessed and their importance recognised.
Title: Owl antics
Listeners: William B. Patrick
William B. Patrick is a writer and poet who lives in Troy, New York. Among his work are the poetry volumes "We Didn't Come Here for This" and "These Upraised Hands", the novel "Roxa: Voices of the Culver Family" and the plays "Rescue" and "Rachel's Dinner". His most recent work is the non-fiction book "Saving Troy", based on the year he spent following the Troy Fire Department.

Mr. Patrick has been Writer-in-Residence at the New York State Writers Institute and has taught at Old Dominion University, Onondaga Community College, and Salem State College, and workshops in Screenwriting and Playwriting at the Blue Ridge Writers Conference in Roanoke, Virginia. He has received grants from the Academy of American Poets, the National Endowment for the Arts, the Massachusetts Artists Foundation, and the Virginia Commission for the Arts.
Tags: owl, Great Horned Owl, talons, farmyard, mice
Duration: 2 minutes, 27 seconds
Date story recorded: August 2004
Date story went live: 24 January 2008