NEXT STORY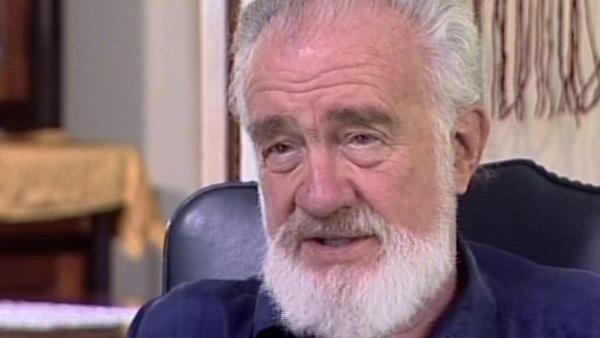 The real children who inspired Farm Kids
1
...
6
7
8
9
10
I know Thomas Hardy had some affect on your early work.
Oh, an awful lot of… yeah, yeah, I love Hardy immensely. And… oh yes, he always had… I suppose, all along, he did. Well yeah, sure. He also had an influence on The Fuehrer Bunker since, after all, he wrote The Dynasts a… about the Napoleonic wars. My… my complaint against the… The Dynasts — and I love… I love almost everything of Hardy's — I didn't… I wasn't specially taken by it because it… it's filled with a kind of Shakespearean language and… that, you know, that just doesn't work now. Old… you… that… that isn't what you'd expect from Hardy at all, a kind of high-flown, old out-of-date language of that sort. But, that's what he did.
What else did you find in Hardy that was useful?
Oh, gosh. Partly that other… the other kind of language. I mean, the lower, more conversational language, the structure above everything, the way this word doesn't exist as a word by itself. It… it reflects into this word, and then the two of them reflect into… into that word, and… and the dealing with, you know, sort of intimate emotions. And surely his… his poems about the dead wife, who… who had been such a… an overwhelming figure to him. He was rather… a rather shy and withdrawn man. And here came this great, regal woman riding a horse. And he… he was just sort of overwhelmed by this. And… and then gradually, the thing grew colder and colder and colder. Finally, one day… well, finally, he had a… a stairway built — an outside stairway built on the house — that's always a sort of… a clue that everything may not be entirely happy in there. And he went out to see a… a rehearsal of one of his plays. And when he came back, she was dead; although I'm not sure… but what he may have gone… not realized that then and gone back to bed… gone… gone straight to his own bed. I… I'm not… I'm not sure about that. But yeah. It… as a matter of fact, if I had read those poems, really… I… I had read one or two of them in a class or something like that, but if I had really known those poems, I probably never would have dared write the poems about my daughter. They were so much influenced by that.
American poet WD Snodgrass, entered the world of poetry with a bang winning several awards, including the Pulitzer Prize, for his first collection of poetry, Heart's Needle. A backlash followed his controversial fifth anthology "The Fuehrer Bunker", but in recent years these poems have been reassessed and their importance recognised.
Title: Influences: Thomas Hardy
Listeners: William B. Patrick
William B. Patrick is a writer and poet who lives in Troy, New York. Among his work are the poetry volumes "We Didn't Come Here for This" and "These Upraised Hands", the novel "Roxa: Voices of the Culver Family" and the plays "Rescue" and "Rachel's Dinner". His most recent work is the non-fiction book "Saving Troy", based on the year he spent following the Troy Fire Department.

Mr. Patrick has been Writer-in-Residence at the New York State Writers Institute and has taught at Old Dominion University, Onondaga Community College, and Salem State College, and workshops in Screenwriting and Playwriting at the Blue Ridge Writers Conference in Roanoke, Virginia. He has received grants from the Academy of American Poets, the National Endowment for the Arts, the Massachusetts Artists Foundation, and the Virginia Commission for the Arts.
Tags: The Fuehrer Bunker, The Dynasts, Thomas Hardy
Duration: 3 minutes, 3 seconds
Date story recorded: August 2004
Date story went live: 24 January 2008