NEXT STORY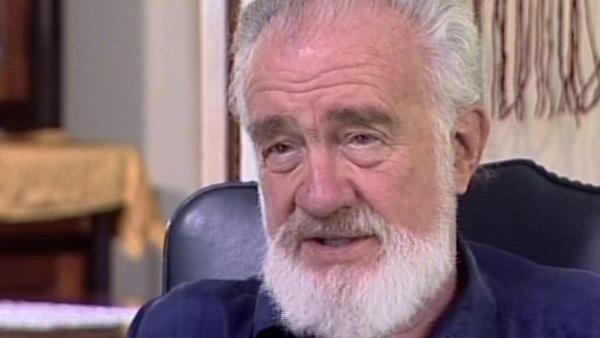 Reading Farm Kids
The real children who inspired Farm Kids
1
...
6
7
8
9
10
That's a much more recent poem, and… and it is about some children who live right nearby around here. We have a neighbor who's a farm laborer. And… and the farm people here are having a terrible time right now. They lose their… their machinery, their animals, and finally, they lose their… their family farms. And there's… there's a guy who sometimes does some work for us. And he — let's see — when we first met him… I mean, now he… he's a guy who's maybe 45. He looks 10… 10 or 15 years older than me. I mean, he has… has practically no teeth left. He's banged up his fingers. Well, he's has… he's hit his… his hands with chainsaw from time to time. They're still more or less intact. But boy, he has a really rough life of it.
And at the time that we first met him, he was… he was living with three… three children in a… a little trailer up here. And one of those was particularly… was of particularly interest to me. She looked like a… what do you call those little, those little dolls that have the freckles all over it and the little round eyes? Raggedy Ann dolls, yeah. She looked just like a Raggedy Ann doll, and she was… she was very cute. And it was clear that already at the age of maybe four or five, she was going to be quite… quite handsome. The body was already very attractive. But she was not his daughter. Her mother — who was a very attractive woman — had, you know, had got pregnant. And she needed a husband. So she married Joe. Then they had two kids of their own.
Now, the illegitimate child… it was probably a little retarded. At least, the teachers said so. I… I couldn't help wondering if that didn't have to do with her position in the family and with… I… you know, we'll never known whether she… whether she's illegitimate or not. But now, she was… she was never particularly friendly to me. She was a little more friendly to Kathy. Then… then the... the two… the two other children were quite friendly. By now, I've… I've recently seen this, this girl. She's grown. She's… she's much older. And again — and this is very unfortunate — she... she did grow up to be as attractive as I thought she would, which is very… very dangerous for her. It means that she can get kinds of attention that she never got before, but that will not be good for her. I… I continue to be worried about her. Meantime, the… the other little girl has grown up to be almost — who… who was a little hoyden — she was, you know, loud and yelling all the time and screaming and carrying on, jumping up and down; she… she has grown to be almost equally attractive.
They're now in the… in their middle teens. And the… and the little boy is… is very cute and funny because he has the biggest ears I've ever seen in my life, and they stick straight out. I certainly hope that none of my neighbors ever see this film. But it… it is about the… and… and the thing that strikes us about them… these kids, is that they have nothing, and they're very happy. And… and they're so respectful and… and sweet-tempered. Well, not always to each other… I mean, they, you know, they have kid fights. But you know, when older people come around, they… they address them respectfully and, and in a friendly fashion, and… whereas our… our, the aca… we still have academic friends who live nearby here and — or who live in the cities — and we go in and see them. And their kids are always disrespectful and… and complaining. They have everything. They've been given… you know, when I think of, you know… I used to feel guilty for the amount of things I was given when I was a kid. My family had a little more money than most of the people around. And… and that got to feeling, you know, kind of unjust. Well, these kids have so much… so much… many more things than… than I had ever imagined, dreamed of having. And… and they aren't likeable very much, usually. But the funny thing is that, because they are dissatisfied, they can become dissatisfied with themselves and with their own performance and so forth. And they may be, you know, they may make something out of their lives. Not that they necessarily will. Most of them won't. But… but the people who do probably will come from that… from that area. And… whereas our… our farm neighbors, just to get enough to eat and a… and a roof will seem like a major achievement to them.
American poet WD Snodgrass, entered the world of poetry with a bang winning several awards, including the Pulitzer Prize, for his first collection of poetry, Heart's Needle. A backlash followed his controversial fifth anthology "The Fuehrer Bunker", but in recent years these poems have been reassessed and their importance recognised.
Title: The real children who inspired "Farm Kids"
Listeners: William B. Patrick
William B. Patrick is a writer and poet who lives in Troy, New York. Among his work are the poetry volumes "We Didn't Come Here for This" and "These Upraised Hands", the novel "Roxa: Voices of the Culver Family" and the plays "Rescue" and "Rachel's Dinner". His most recent work is the non-fiction book "Saving Troy", based on the year he spent following the Troy Fire Department.

Mr. Patrick has been Writer-in-Residence at the New York State Writers Institute and has taught at Old Dominion University, Onondaga Community College, and Salem State College, and workshops in Screenwriting and Playwriting at the Blue Ridge Writers Conference in Roanoke, Virginia. He has received grants from the Academy of American Poets, the National Endowment for the Arts, the Massachusetts Artists Foundation, and the Virginia Commission for the Arts.
Tags: Farm Kids
Duration: 5 minutes, 47 seconds
Date story recorded: August 2004
Date story went live: 24 January 2008