NEXT STORY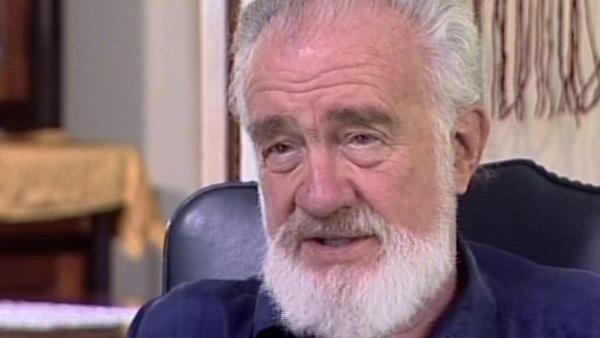 'Toot the snooter flute'
Learning how to breathe properly
1
...
6
7
8
9
10
It's very fortunate that that's one of the things you can learn. You know, there's an awful lot of things, either you're born with them and you've got them, or you don't. That isn't one. I gue… I suppose some people can… can improve more than others can improve. But, you know, almost anybody can get… get it to, you know, a decent competency. I… I had a student then. A… and then, she and I were writing a play together. And she taught speech at the John Robert Powers School in Detroit — a beauty school — and I mentioned to her, I said, 'I'm doing these readings, and… and my voice is just awful. It… it just goes way up in the air and… and I'm not getting the poem across. I know that'. This was partly because I tended to just separate every word. I, you know, I… I'd been taught that every word in a poem counts. Well, of course, it does. But when you read it, you don't… you don't read every word with equal importance. You know, the meaning comes in little packets. And… and there's a… there's a peak in that packet someplace, you know. Well, we started working on that.
But there's another thing that an awful lot of poets do when they start reading. They will iron the same phrase over and over and over again into phrase after phrase after phrase after phrase. And after you've heard this same phrase three times, no meaning is coming across. You might as well be reading, you know, Greek, Lithuanian. You might, it might as well… just… totally different… none... nothing comes across. And so she worked with me on this sort of thing... she also taught… taught me a lot of breathing exercises. And this makes a… this makes a great deal of difference. You know, when I had… then I came to be teaching oral inter… interp myself at… at the schools where I taught. And when I came in the room, everybody must be on their feet doing breathing exercises. Otherwise, I'd tell them leave. And you just, you know, it just makes an enormous difference; the breath control is of tremendous importance and the breath availability and knowing which muscles you must… you must drive with and which you must let go of. You've got to let go of everything in this area. There's noth… there's nothing you can do here except strangle the voice. It all comes from down here. One of my sing… well, after that woman in Detroit, I always worked with singing coaches because I… I hoped I might someday be able to sing. That didn't happen. But my… my teacher would say, 'Madame Lamoigne says: this is the singing muscle'. And it's where you drive the sound from. What kind of breathing exercises? Oh, for just holding breath for long periods, being sure that you're opening out the… the intercostal muscles… the muscles in between the ribs here. Also, that it's going into the period in the back. And then you do all sorts of elaborate things with your breath and… and with breathing and… and with focusing the voice forward into the face.
American poet WD Snodgrass, entered the world of poetry with a bang winning several awards, including the Pulitzer Prize, for his first collection of poetry, Heart's Needle. A backlash followed his controversial fifth anthology "The Fuehrer Bunker", but in recent years these poems have been reassessed and their importance recognised.
Title: Learning how to breathe properly
Listeners: William B. Patrick
William B. Patrick is a writer and poet who lives in Troy, New York. Among his work are the poetry volumes "We Didn't Come Here for This" and "These Upraised Hands", the novel "Roxa: Voices of the Culver Family" and the plays "Rescue" and "Rachel's Dinner". His most recent work is the non-fiction book "Saving Troy", based on the year he spent following the Troy Fire Department.

Mr. Patrick has been Writer-in-Residence at the New York State Writers Institute and has taught at Old Dominion University, Onondaga Community College, and Salem State College, and workshops in Screenwriting and Playwriting at the Blue Ridge Writers Conference in Roanoke, Virginia. He has received grants from the Academy of American Poets, the National Endowment for the Arts, the Massachusetts Artists Foundation, and the Virginia Commission for the Arts.
Tags: John Robert Powers School, Detroit, John Robert Powers
Duration: 3 minutes, 26 seconds
Date story recorded: August 2004
Date story went live: 24 January 2008