NEXT STORY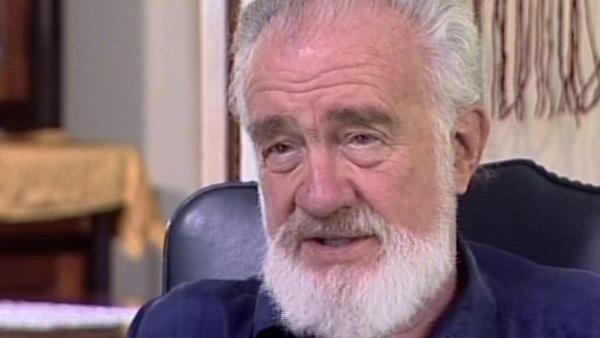 My sister's death
Childhood resentment of my baby sister Barbara
1
2
3
4
5
...
10
I was the oldest, my... my sister Barbara was two years younger and her birth must have really upset me very deeply. Now I don't remember any of this but they tell me about my... when my mother brought the baby back and was lying in bed with it and I was coming upstairs, calling, 'Mama, Mama, Mama, Mama', and I know that — as a result of psychoanalysis that I did later on — that a number of times I did things that... that could very much have injured her. That, for instance, at one point I got her to look out a window on the second or third floor and told her that I was looking out the window down below and she should lean out far enough to see me and I was coaxing her to lean out farther and farther, thank God some... somebody interrupted that.
You know, Freud tells about himself, when his younger sibling was born, he went on a... on a binge of throwing things out the window, he threw silverware and chinaware and all kinds of stuff, he just wanted to... and as a matter of fact I've seen that with my own children that... they get very shaky if they're carrying the baby or something so we take them someplace and have them throw a bunch of things off a cliff and then... then they get easier with themselves. Now, Barbara came to be a very shy... she had... she had one date in her life and it was with somebody that... the family would have disapproved if... if she could have had a date with anybody else, because he was Jewish. Otherwise she had a few girlfriends but mostly... she... she just stayed home which in a way is what my mother wanted us all to do, we were to stay home and follow her direction, follow her morality, do what she believed we ought to do and the outside world, more and more, came to seem wicked to her.
American poet WD Snodgrass, entered the world of poetry with a bang winning several awards, including the Pulitzer Prize, for his first collection of poetry, Heart's Needle. A backlash followed his controversial fifth anthology "The Fuehrer Bunker", but in recent years these poems have been reassessed and their importance recognised.
Title: Childhood resentment of my baby sister Barbara
Listeners: William B. Patrick
William B. Patrick is a writer and poet who lives in Troy, New York. Among his work are the poetry volumes "We Didn't Come Here for This" and "These Upraised Hands", the novel "Roxa: Voices of the Culver Family" and the plays "Rescue" and "Rachel's Dinner". His most recent work is the non-fiction book "Saving Troy", based on the year he spent following the Troy Fire Department.

Mr. Patrick has been Writer-in-Residence at the New York State Writers Institute and has taught at Old Dominion University, Onondaga Community College, and Salem State College, and workshops in Screenwriting and Playwriting at the Blue Ridge Writers Conference in Roanoke, Virginia. He has received grants from the Academy of American Poets, the National Endowment for the Arts, the Massachusetts Artists Foundation, and the Virginia Commission for the Arts.
Tags: Sigmund Freud
Duration: 2 minutes, 34 seconds
Date story recorded: August 2004
Date story went live: 24 January 2008