NEXT STORY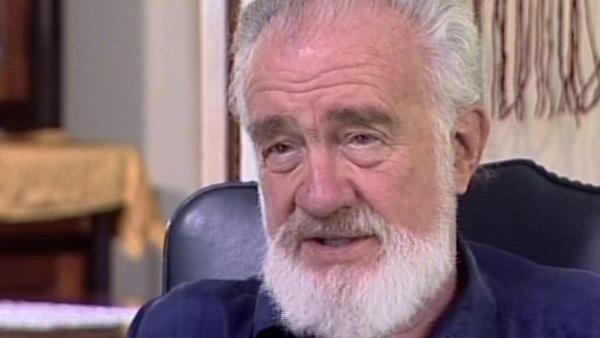 The Mouse: background and reading
A Valediction: background and reading
1
...
6
7
8
9
10
Well, I'll read a… a not very happy love poem. It's called A Valediction, meaning a forewell — farewell — and you know how… political people have learned a long time ago, if they want to take you captive, what they… the best way to do that is to tell you that someone else has taken you captive, and they know how you can be free. They will set you free. All you have to do is exactly what they tell you from now on, and… and you'll be very free and happy. And this is the kind of thing that lovers do also. And it… it works for both… both of those rascals. And it's called A Valediction, a farewell.
Since his sharp sight has taught you
To think your own thoughts and to see
What cramped horizons my arms brought you,
Turn then and go free,

Unlimited, your own
Forever. Let your vision be
In your own interests; you've outgrown
All need for tyranny.

May his clear views save you
From those shrewd, undermining powers
That hold you close just to enslave you
In some such love as ours.

May this new love leave you
Your own being; may your bright rebirth
Prove treacherous, change then and deceive you
Never on this earth.

Now that you've seen how mindless
Our long ties were, I pray you never
Find, all your life through, such a blindness
As we two shared together.

My dark design's exposed
Since his tongue opened up your eyelids;
May no one ever lip them closed
So cunningly as I did.
American poet WD Snodgrass, entered the world of poetry with a bang winning several awards, including the Pulitzer Prize, for his first collection of poetry, Heart's Needle. A backlash followed his controversial fifth anthology "The Fuehrer Bunker", but in recent years these poems have been reassessed and their importance recognised.
Title: "A Valediction": background and reading
Listeners: William B. Patrick
William B. Patrick is a writer and poet who lives in Troy, New York. Among his work are the poetry volumes "We Didn't Come Here for This" and "These Upraised Hands", the novel "Roxa: Voices of the Culver Family" and the plays "Rescue" and "Rachel's Dinner". His most recent work is the non-fiction book "Saving Troy", based on the year he spent following the Troy Fire Department.

Mr. Patrick has been Writer-in-Residence at the New York State Writers Institute and has taught at Old Dominion University, Onondaga Community College, and Salem State College, and workshops in Screenwriting and Playwriting at the Blue Ridge Writers Conference in Roanoke, Virginia. He has received grants from the Academy of American Poets, the National Endowment for the Arts, the Massachusetts Artists Foundation, and the Virginia Commission for the Arts.
Tags: A Valediction
Duration: 2 minutes, 23 seconds
Date story recorded: August 2004
Date story went live: 29 September 2010