NEXT STORY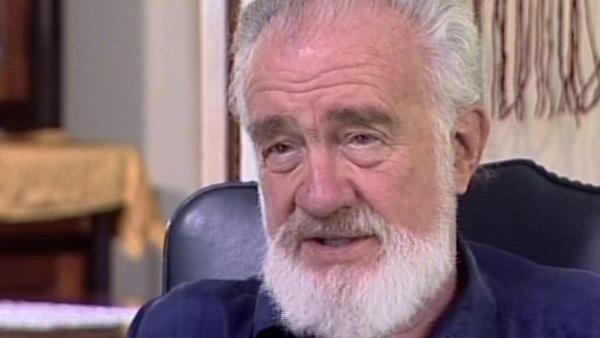 Invitation: background and reading
The Mouse: background and reading
1
...
6
7
8
9
10
This is a poem from a cycle of poems about the death of my sister. She was just two year… two years younger than myself. And she had had trouble with asthma and complications thereof for quite some time. And finally one morning, she just got up and fell dead. And this is a poem about her and a recollection of something that she and I had done together many years before that. And it's just called The Mouse.
I remember one evening-we were small-
Playing outdoors, we found a mouse,
A dusty little gray one, lying
By the side steps. Afraid he might be dead,
We carried him all around the house
On a piece of tinfoil, crying.

Ridiculous children; we could bawl
Our eyes out about nothing. Still,
How much violence had we seen?
They teach you- quick- you have to be well-bred
In all events. We can't all win.
Don't whine to get your will.

We live with some things, after all,
Bitterer than dying, cold as hate:
The old insatiable loves,
That vague desire that keeps watch overhead,
Polite, wakeful as a cat,
To tease us with our lives;

That pats at you, wants to see you crawl
Some, then picks you back alive;
That needs you just a little hurt.
The mind goes blank, then the eyes. Weak with dread,
In shock, the breath comes short;
We go about our lives.

And then the little animal
Plays out; the dulled heart year by year
Turns from its own needs, forgets its grief.
Asthmatic, timid, twenty-five, unwed-
The day we left you by your grave,
I wouldn't spare one tear.
American poet WD Snodgrass, entered the world of poetry with a bang winning several awards, including the Pulitzer Prize, for his first collection of poetry, Heart's Needle. A backlash followed his controversial fifth anthology "The Fuehrer Bunker", but in recent years these poems have been reassessed and their importance recognised.
Title: "The Mouse": background and reading
Listeners: William B. Patrick
William B. Patrick is a writer and poet who lives in Troy, New York. Among his work are the poetry volumes "We Didn't Come Here for This" and "These Upraised Hands", the novel "Roxa: Voices of the Culver Family" and the plays "Rescue" and "Rachel's Dinner". His most recent work is the non-fiction book "Saving Troy", based on the year he spent following the Troy Fire Department.

Mr. Patrick has been Writer-in-Residence at the New York State Writers Institute and has taught at Old Dominion University, Onondaga Community College, and Salem State College, and workshops in Screenwriting and Playwriting at the Blue Ridge Writers Conference in Roanoke, Virginia. He has received grants from the Academy of American Poets, the National Endowment for the Arts, the Massachusetts Artists Foundation, and the Virginia Commission for the Arts.
Tags: The Mouse
Duration: 2 minutes, 52 seconds
Date story recorded: August 2004
Date story went live: 29 September 2010