NEXT STORY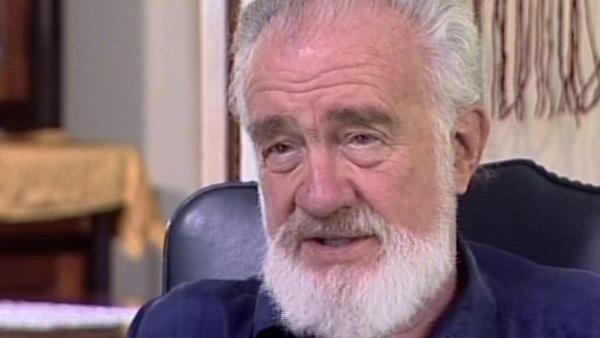 My father: the iceman millionaire
Invitation: background and reading
1
...
6
7
8
9
10
You know, Shakespeare was… was… wasn't the most popular playwright of his own day. He wasn't even the most popular playwright – he didn't write the most popular poem. That was Christopher Marlowe, who wrote a sort of little pastoral called Come Live with Me and Be My Love, and we will all the pleasures prove, and so forth. Well, this became so popular and so well-known and so… so admired that everybody wrote imitations of it and… and parodies of it, and… and just version after version that would turn it one direction and another. Sir Walter Raleigh did one where the… the nymph answers back. John Donne did one. The list of people who did versions of that poem is very long. I decided to try to add my name to the list. And this is a poem that is to my… to the lady who became my fourth wife. And… or at least I tell her it's to her, and she tells me she believes that. I… I have to say that four is at least enough.
Invitation

Come live with me and be my last
Resource, location and resort,
My work day's focus and steadfast
Distraction to a weekend's sport.

Come end up with me, close my list;
Blank my black book, block every e-mail
From ex-loves whose mouths won't be missed;
Let nothing else alive look female.

Come couch by me mit Freud und Lust
As every evening's last connection;
Talk to me; prove the day like Proust;
Let what comes next rise to inspection.

Come, let old aftermaths get lost,
Let failures and betrayals mend,
Cancel repayments; clear the cost;
Once more unto the breach, dear friend.

Come lay us down to sleep at least,
Sharing this pillow's picture show;
Who's been my braintrust and best beast?
Who else knows what I need to know?
And I suppose maybe the note that I should have made about that is that my son once, when he was a little boy — maybe three or four — woke up one morning and said, 'Hey, put your head down here!' He says, 'There's pictures in my pillow!' Maybe I should have explained that first.
American poet WD Snodgrass, entered the world of poetry with a bang winning several awards, including the Pulitzer Prize, for his first collection of poetry, Heart's Needle. A backlash followed his controversial fifth anthology "The Fuehrer Bunker", but in recent years these poems have been reassessed and their importance recognised.
Title: "Invitation": background and reading
Listeners: William B. Patrick
William B. Patrick is a writer and poet who lives in Troy, New York. Among his work are the poetry volumes "We Didn't Come Here for This" and "These Upraised Hands", the novel "Roxa: Voices of the Culver Family" and the plays "Rescue" and "Rachel's Dinner". His most recent work is the non-fiction book "Saving Troy", based on the year he spent following the Troy Fire Department.

Mr. Patrick has been Writer-in-Residence at the New York State Writers Institute and has taught at Old Dominion University, Onondaga Community College, and Salem State College, and workshops in Screenwriting and Playwriting at the Blue Ridge Writers Conference in Roanoke, Virginia. He has received grants from the Academy of American Poets, the National Endowment for the Arts, the Massachusetts Artists Foundation, and the Virginia Commission for the Arts.
Tags: Come Live with Me and Be My Love, Invitation, William Shakespeare, Christopher Marlowe, Sir Walter Raleigh, John Donne, Sigmund Freud, Marcel Proust
Duration: 3 minutes, 20 seconds
Date story recorded: August 2004
Date story went live: 29 September 2010