NEXT STORY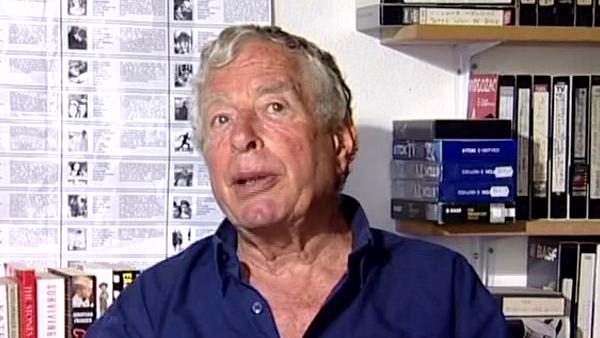 Lisa and the Other One: A funny incident
Alice in the Navy and Lisa and the Other One
Walter Lassally
Film-maker
1
...
9
10
11
12
13
...
27
Back-to-back, with Maddalena, I did a film called I Aliki sto Naftiko, Alice in the Navy, which I just found out played in America, which I didn't know. And that was a colour film and it was Finos' first colour film and possibly the first Greek colour film. I'm not absolutely sure. But at that time there was no colour laboratory in Greece. Finos' laboratory was a black and white facility only. So that film had to be processed in Paris, and once or twice there were some amusing exchanges with the Paris laboratory. Like getting a telegram which said, do not use coloured filters on the lens, and things like that. Oh, that was when I tried to do my day-for-night bit. I'd explained it all and sent them a letter about it. It didn't work first time. And there was a funny... very funny story which happened at that period where a Greek producer started to film, shortly after that, I think it was. He started to film a famous Greek story which is called O Agapitikos tis voskopoulas, which means The Shepherdess' Lover, which is a sort of folk tale. And he started to film this in colour, and knowing that it would be slow to come out, because it had to be processed in Paris and all that, two other producers, Finos was one of them, started to make the same story, very quickly in black and white, and, of course, they finished first. So the two black and white versions opened on the same day, and the poor man who had made it in colour, and wasn't quite ready yet, took the full page advert in the papers which said, the real, the only, the proper, the coloured version, will be out in three weeks! They all lost their shirts, of course. But, for me it was a bit of a challenge. First of all, again, the lighting facilities were not very great. We had no arc lights. I think there was one arc light in the whole of Greece at that time, which somebody owned. But we didn't use that. We used three 5kW which is nothing to combat the bright summer sun, is very little, 5kW, because you have to use them- because they're tungsten lights you have to put a blue filter in front. So by the time you put the blue filter in front, there isn't a lot coming out the front. I just about managed. And also, when we shot the interiors, which were built in the Finos studio, the art director, who wore several hats, he was also production manager and a sound recordist, and all sorts of things, anyway, he had the idea that, as this is Finos' first colour film it has to be very colourful. And he painted... all the sets had a red wall and a green wall and a white wall and a blue wall. And I thought, oh my God, this is your, you know... this is your baby, I don't care, do what you want. And then we shot quite a bit with the co-operation of the Greek Navy. We shot, we put her on a Naval boat. Because the whole story is how she smuggles herself aboard a naval patrol boat to be near her boyfriend, whatever. I can't remember the story, but it was quite fun to make. By that time I was getting a bit tired and I wanted to go home, because I'd been in Greece since the beginning of May and it was now November, and there were certain scenes still missing, and I said, look, I really must go home. So, in the end, I left it with... certain scenes, for technical reasons, couldn't be made because the Navy wasn't available or something. So there are a few scenes in that film that I didn't shoot. And then, it was successful. Like all her films were successful, so I don't how much more successful it was, because it was in colour. Probably not a lot. Because all her films were successful. And then the following year I made the third film with Vouyouklaki, 1961, which was called Lisa and the Other One, in which she played a double role. So we had only about four shots in the film. She had a double and most of the things were tricked with her stand-in, with her double. But there are four shots which are split-screen shots where she plays in... you know, she's clearly visible in both... as both characters. I used a fairly well known technique where you use spilt... we had to bring a Mitchell in though, because you couldn't do that... the Arriflex wasn't steady enough. So we brought in a Mitchell and those, those scenes, I remember being shot on a Mitchell. George thinks it wasn't, but I think it was.
Born in Germany, cinematographer Walter Lassally (1926-2017) was best known for his Oscar-winning work on 'Zorba the Greek'. He was greatly respected in the film industry for his ability to take the best of his work in one area and apply it to another, from mainstream to international art films to documentary. He was associated with the Free Cinema movement in the 1950s, and the British New Wave in the early 1960s. In 1987 he published his autobiography called 'Itinerant Cameraman'.
Title: "Alice in the Navy" and "Lisa and the Other One"
Listeners: Peter Bowen
Peter Bowen is a Canadian who came to Europe to study and never got round to heading back home. He did his undergraduate work at Carleton University (in Biology) in Ottawa, and then did graduate work at the University of Western Ontario (in Zoology). After completing his doctorate at Oxford (in the Department of Zoology), followed with a year of postdoc at the University of London, he moved to the University's newly-established Audio-Visual Centre (under the direction of Michael Clarke) where he spent four years in production (of primarily science programs) and began to teach film. In 1974 Bowden became Director of the new Audio-Visual Centre at the University of Warwick, which was then in the process of introducing film studies into the curriculum and where his interest in the academic study of film was promoted and encouraged by scholars such as Victor Perkins, Robin Wood, and Richard Dyer. In 1983, his partner and he moved to Greece, and the following year he began to teach for the University of Maryland (European Division), for which he has taught (and continues to teach) biology and film courses in Crete, Bosnia, and the Middle East.
Tags: images, camera, laboratory, colour, navy
Duration: 4 minutes, 36 seconds
Date story recorded: June 2004
Date story went live: 24 January 2008