NEXT STORY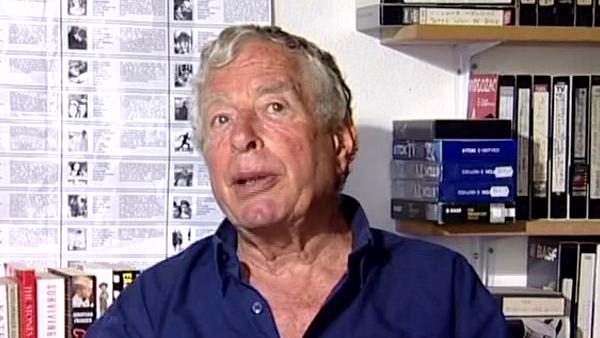 I want to be a camerman
Walter Lassally
Film-maker
1
2
3
4
5
...
27
Once my father was released from the Isle of Man, which of course the war was still on, it was quite early on in the war, it must have been early in 1940 that he was released, just after the Blitz finished. Then he got a job as a fire-watcher in a laundry. And he spent the rest of the war like that, watching out for incendiary bombs, and then when the war finished, he... he tried once or twice to get back into film-making, but industrial film-making of the type that he was engaged in... in the '20s and '30s, didn't exist in England. It was a category of work that just didn't exist. So people sort of said: well, we don't really know what you're talking about. We don't do things like that here. But during that time, he contacted a chap called Terry Turtle – I'll come back to that later on – who was the Head of Camera in the Riverside Studios, to help him with his work, because he did do two tiny sections for somebody up North, I forget what they were, they were about some plastic product, I seem to remember. Just like commercials, but not as commercials.
But anyway, his main work after the war, which started immediately after the war finished, he became a... he was a translator, working for the government, because they had tons and tons and tons of captured German documents which all needed translating, and they had a whole team of people sitting down in Knockholt which is beyond Sevenoaks, down in Kent, or Sussex. Kent. In Kent. And he travelled every day, commuted every day, from Richmond to Kent, which is quite a way. It involves like three changes of train and all that. But he did that for some years, until this huge pile of documents had been translated. But it's very sad that he didn't... he never... he was never able to exercise his profession again. First of all, the Nazis stopped him and then when he went to England and he was free again to do his work, he couldn't find any work because that kind of work wasn't known about. They didn't know about that sort of thing in England. And so, the upshot of all that is that all that remains of his work as a film-maker is a little sheath of clippings which you can put in your top pocket here, with a logo which says, Film Ingenieur Lassally GMBH, which means, Film Engineer Lassally GMBH, which is the code for company. In the middle is a sort of oval with the letters going round and round and he's in the middle with one of those hand-cranked cameras. He had a very beautiful, wooden hand-cranked Ernemann camera, which I think he later motorised, but initially it was hand-cranked. It's funny how people... for years after the war and for years afterwards, cameras were always represented in a certain way by people who drew pictures of cameramen at work, or something. It was always a square box with two reels on the top, and often with a crank on the side, which hadn't existed for years, you know, that type of camera. But the people who drew cameramen at work, always drew that kind of camera.
Born in Germany, cinematographer Walter Lassally (1926-2017) was best known for his Oscar-winning work on 'Zorba the Greek'. He was greatly respected in the film industry for his ability to take the best of his work in one area and apply it to another, from mainstream to international art films to documentary. He was associated with the Free Cinema movement in the 1950s, and the British New Wave in the early 1960s. In 1987 he published his autobiography called 'Itinerant Cameraman'.
Title: Father's jobs
Listeners: Peter Bowen
Peter Bowen is a Canadian who came to Europe to study and never got round to heading back home. He did his undergraduate work at Carleton University (in Biology) in Ottawa, and then did graduate work at the University of Western Ontario (in Zoology). After completing his doctorate at Oxford (in the Department of Zoology), followed with a year of postdoc at the University of London, he moved to the University's newly-established Audio-Visual Centre (under the direction of Michael Clarke) where he spent four years in production (of primarily science programs) and began to teach film. In 1974 Bowden became Director of the new Audio-Visual Centre at the University of Warwick, which was then in the process of introducing film studies into the curriculum and where his interest in the academic study of film was promoted and encouraged by scholars such as Victor Perkins, Robin Wood, and Richard Dyer. In 1983, his partner and he moved to Greece, and the following year he began to teach for the University of Maryland (European Division), for which he has taught (and continues to teach) biology and film courses in Crete, Bosnia, and the Middle East.
Tags: Kent
Duration: 3 minutes, 38 seconds
Date story recorded: June 2004
Date story went live: 24 January 2008