NEXT STORY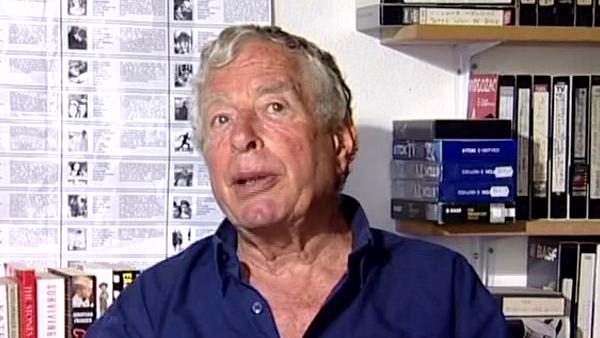 Zorba the Greek: Working with Anthony Quinn
Zorba the Greek: The cast
Walter Lassally
Film-maker
1
...
10
11
12
13
14
...
27
Now, the next film that we made together was Zorba. There was an interval of three years that time, between '61 and '64. In that interval I think... yes, in that interval he made one more film with Ellie Lambetti in Italy. Ellie Lambetti meantime had married a guy called Frederick Wakeman, who's an author. I think that's correct. Freddie Wakeman, yes. They had a project from a book of his, the title of which I forget. And it was going to be made in Italy. In fact, it was made in Italy and, once again, we ran into the union problem. The Italians said yes, you can make the film in Italy, and all the rest, but you have to use an Italian cameraman. So Michael used an Italian cameraman, and that's why there was a three-year gap between Electra and Taste of Honey... and, sorry, and Zorba. Now, Zorba was a favourite book of Kate's, and it was Kate, actually, who suggested to Quinn that he film Zorba. It was also Kate's suggestion that he takes Anthony Quinn, because it was quickly apparent, or it was generally agreed, that there was no Greek actor that was capable of playing that part, for an international audience, that's to say, in English, because, for obvious reasons, they didn't want to do it in Greek with subtitles. That wouldn't have been the right thing to do in a case like that. So, he agreed readily that Quinn would be a suitable actor to play that part, and he went off to Hollywood and he signed him, as he went off to Athens to talk to the widow of Kazantzakis to get the rights to make the film, none of which was any problem. Also, Quinn seemed to have agreed quite readily. So, we... and the, the female role of... female principal role of Madame Hortense was played by... was scheduled to be Simone Signoret. And they all arrived and we started. And within about a week of beginning the shooting, it was obvious that Simone couldn't play a woman that weak, or that vulnerable. She just couldn't be that vulnerable. She was too strong a personality. And there was a sort of mutual recognition of this fact, and she bowed out very gracefully. And Cacoyannis went off to Paris. The shooting was interrupted for two or three days, not very long. And Cacoyannis went off to Paris and he found Lila Kedrova and he brought her back. And Lila Kedrova, at that point, didn't speak a word of English, she spoke only Russian and French. And... she learnt her part in the space of 24 hours. I think, within 24 or 36 hours of her arrival, we were filming with the night scene outside the... her house where she dances and plays a... quite a large scene. She learnt that by rote within a few hours of arrival, virtually, and played that scene and played it all beautifully, and won the Oscar for it. Anthony Quinn was another thing. He's a Hollywood star, so I wasn't surprised when there were certain initial problems. In fact, he came to us and he said, 'Now, you know, I'm only good in my first take, so it's up to you technical people to get it all ready, to prepare it all, then I come and I do my take, and that's it'. And Cacoyannis didn't say a word. It was me who said something. I said, 'Yes, Mr Quinn, but we don't work that way here'. He looked at me, because nobody has ever said that to him before. They always said, 'Yes, Mr Quinn, of course we will do whatever you say'. So, I said, 'We technicians also have the right to make mistakes and to prepare, and we may need a retake, we'll do our best, of course'.
Born in Germany, cinematographer Walter Lassally (1926-2017) was best known for his Oscar-winning work on 'Zorba the Greek'. He was greatly respected in the film industry for his ability to take the best of his work in one area and apply it to another, from mainstream to international art films to documentary. He was associated with the Free Cinema movement in the 1950s, and the British New Wave in the early 1960s. In 1987 he published his autobiography called 'Itinerant Cameraman'.
Title: "Zorba the Greek": The cast
Listeners: Peter Bowen
Peter Bowen is a Canadian who came to Europe to study and never got round to heading back home. He did his undergraduate work at Carleton University (in Biology) in Ottawa, and then did graduate work at the University of Western Ontario (in Zoology). After completing his doctorate at Oxford (in the Department of Zoology), followed with a year of postdoc at the University of London, he moved to the University's newly-established Audio-Visual Centre (under the direction of Michael Clarke) where he spent four years in production (of primarily science programs) and began to teach film. In 1974 Bowden became Director of the new Audio-Visual Centre at the University of Warwick, which was then in the process of introducing film studies into the curriculum and where his interest in the academic study of film was promoted and encouraged by scholars such as Victor Perkins, Robin Wood, and Richard Dyer. In 1983, his partner and he moved to Greece, and the following year he began to teach for the University of Maryland (European Division), for which he has taught (and continues to teach) biology and film courses in Crete, Bosnia, and the Middle East.
Tags: Anthony Quinn
Duration: 3 minutes, 58 seconds
Date story recorded: June 2004
Date story went live: 24 January 2008