NEXT STORY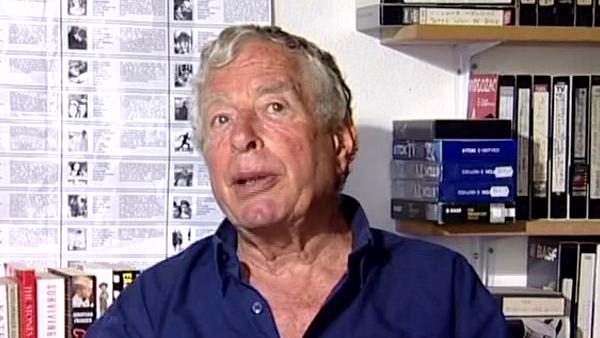 Oedipus the King: Christopher Plummer
Oedipus the King: The coup in Greece and Orson Welles
Walter Lassally
Film-maker
1
...
11
12
13
14
15
...
27
In 1967, I was contacted to be the cameraman for Oedipus the King, which was a British production, I think. Yes, a British production, starring Christopher Plummer as Oedipus and Orson Welles and Cyril Cusack and Roger Livesey and Lilli Palmer. It's quite a distinguished international cast, one could say, which turned out to be a problem because they all had different accents. But while we were preparing Oedipus, and we were quite a way into the preparations, in fact, the set had already been built, it was planned to be shot in the ancient theatre at Dodoni near Ionnina in the north of Greece. Using the whole of the theatre as acting area, not just the stage but the seating as well.
And, during the late stages of the preparation, the coup happened in Greece and I came out of my hotel in Athens one day and there was a man with a machine gun at the end of the road saying: stop. I thought, what the hell's going on? Up to that point I thought maybe I wanted to buy a house in Greece, or live in Greece. Then I thought, we're not used to this sort of thing in England, you know, you don't find people with machine guns at the end of your road. So I had a second think about moving to Greece, at that point.
Anyway, the production duly panicked and they wanted to move the film to Sicily and then they discovered that too much money had already been spent in preparing Dodoni so they had to, sort of, live with it. But, I think, in the process of all that, I have a feeling that the production company changed. I'm not absolutely sure. Anyway, the film went ahead. And, we were all in a hotel in... near Ionnina, one of those government hotels called Xenia, which Greece had a string of at that time. We started with... without Orson Welles. He came half way through, almost. He didn't have a big part. He had... I think he had four pages of dialogue. And the first thing he did... he arrived one evening when we... after shooting, we were sitting in the lounge at the hotel, and he arrived leading a goat on a string, and he immediately took over the whole proceedings, and lorded it over everybody, and told anecdotes and stories. Then he sat up half the night and cut his story, his part, down to half, so he could do it in two days instead of four days. And that wasn't such a bad idea, actually.
Then we filmed for two days with him. After the first day, we... I didn't want to pick up where we'd left off the next morning, because the sun, being in a confined area like that, of course, you can't cut scenes where the sun is in the west and scenes where the sun is in the east, it's obvious it's not the same. I told him that we were not going to do that, or he was told that we weren't going to continue with the dialogue. And he said, 'Oh, I want to do the dialogue, I want to do the dialogue'. So he agreed, reluctantly, to do the few, little few bits and pieces that he had to do, other than the main dialogue scenes, there was one big long speech, staring into the setting sun. Because he plays the blind prophet Tiresias and he did that scene, a three-minute scene, I think, something like a three-minute scene, staring into the setting sun. He didn't blink once. Brilliant. When the camera was rolling he was brilliant, when the camera was not rolling he was a bit of a pain in the arse, sometimes. But with... from him I could take it. He patted me on the head once and said, 'I've been doing this since before you were born, my boy'. And I said, 'That's not quite true, but all right, from you, okay'.
Born in Germany, cinematographer Walter Lassally (1926-2017) was best known for his Oscar-winning work on 'Zorba the Greek'. He was greatly respected in the film industry for his ability to take the best of his work in one area and apply it to another, from mainstream to international art films to documentary. He was associated with the Free Cinema movement in the 1950s, and the British New Wave in the early 1960s. In 1987 he published his autobiography called 'Itinerant Cameraman'.
Title: "Oedipus the King": The coup in Greece and Orson Welles
Listeners: Peter Bowen
Peter Bowen is a Canadian who came to Europe to study and never got round to heading back home. He did his undergraduate work at Carleton University (in Biology) in Ottawa, and then did graduate work at the University of Western Ontario (in Zoology). After completing his doctorate at Oxford (in the Department of Zoology), followed with a year of postdoc at the University of London, he moved to the University's newly-established Audio-Visual Centre (under the direction of Michael Clarke) where he spent four years in production (of primarily science programs) and began to teach film. In 1974 Bowden became Director of the new Audio-Visual Centre at the University of Warwick, which was then in the process of introducing film studies into the curriculum and where his interest in the academic study of film was promoted and encouraged by scholars such as Victor Perkins, Robin Wood, and Richard Dyer. In 1983, his partner and he moved to Greece, and the following year he began to teach for the University of Maryland (European Division), for which he has taught (and continues to teach) biology and film courses in Crete, Bosnia, and the Middle East.
Tags: Dodoni, Orson Welles, Christopher Plummer, Cyril Cusak, Lilli Palmer, Richard Livesey
Duration: 3 minutes, 36 seconds
Date story recorded: June 2004
Date story went live: 24 January 2008