NEXT STORY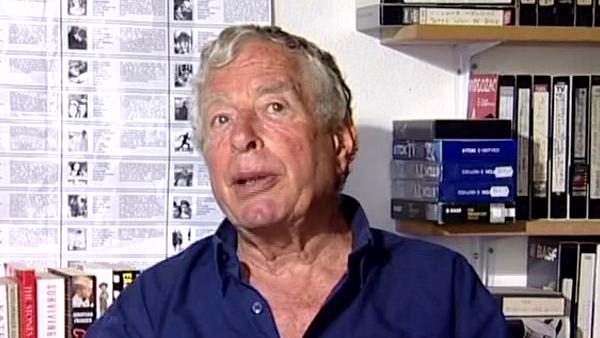 Joanna: Donald Sutherland and the reaction at Cannes
Joanna: A film about the Swinging Sixties
Walter Lassally
Film-maker
1
...
11
12
13
14
15
...
27
During the period that the colonels were reigning in Greece, I worked elsewhere and I did three films, more or less one after the other in England, the first of which was Joanna. And Joanna was directed by an interesting guy called Mike Sarne, who started as a pop singer, but he's very talented. And he wrote this script about a kookie young girl who comes to London in the Swinging Sixties. It's a late Swinging Sixties film and, to my mind, it's a more successful picture, a more accurate picture, of the Swinging Sixties than some of the other films that were made at that time, like Smashing Time and I'll Never Forget What's His Name, and so on, because he was part of that scene. He wasn't looking into it from outside, he was part of it. So that film, I think, conveys the atmosphere of the Swinging Sixties very well. And his star was a kookie young South African girl called Geneviève Waïte, whose first film... In fact, it was her only film, I believe... it was. And it was financed by Fox, but only just. Because Mike had become friendly with a guy called Michael Laughlin who had some connection with Zanuck and with Fox, and... but it was a bit tenuous.
So, we went ahead and in the week before and the days before shooting started they went to Kodak to get the film, and Kodak said, 'Who's film is it?', and they said, 'It's being made by Fox' and so on, and they said, 'Well, we haven't heard anything about it'. And they checked back and they went to the office of Fox and Fox said, 'Come back when you've got a film, you haven't got a film at the moment'. Because Fox London was at loggerheads with Fox US, and they thought they were being usurped because he should've gone, he should've done it through Fox London, and he didn't. But that was all smoothed out. But I think the result of that little episode was that we started on a Thursday instead of starting on a Monday, because on the Monday they wouldn't give us any film.
That film was made, again, all location, no studio scenes. And by that time the film stock had got a bit more sensitive than it was on Tom Jones. So it was a bit easier, with smaller lights and fewer lights. And Mike wanted to make it in Cinemascope. And, I don't like Cinemascope so I tried to wean him off Cinemascope. I tried to say, well it means a lot of heavy equipment, and anyway I don't like the format, but he insisted. And he didn't want to make it Techniscope, which I suggested which is a way of making Cinemascope in an ordinary camera, you don't need special lenses or anything. But he wouldn't agree to that, so I said, 'All right, all right, we'll make it in Cinemascope'. So we got a hold of an early Cinemascope camera, or, I should say, an early Panavision camera. Panavision is a much-misunderstood phrase because Panavision is actually a hire company. It's a company who supplies specially designed equipment and who has outlets in various countries. And, the format is the scope format which is 2:35:1, and which, unlike the other formats, which is loosely called wide-screen, is actually pretty closely observed. If you make a film in scope you can be fairly certain that it'll be shown in that... that your frame will be as you see it in the camera, which is not the case in the so-called wide-screen.
Anyway, so we got this slightly complicated camera from a hire company in London, and we prepared ourselves to make this film. And I needed a completely new crew, because my old crew on Tom Jones had all been kicked upstairs, as it were. So I got some... some interesting young people to work on that film, who were then with me for the subsequent films that I made. And, as I say, it was an all-location film, all around London. Mainly around London. Just towards the end there's a very short bit in Tangiers, which is shot in Tangiers, which they didn't know at the beginning whether they'd have enough money to actually go to Tangiers. But it turned out that they did, so we did a few days in Tangiers. But most of it is shot around London. There were some amusing incidents... well, amusing – not so amusing. There was one incident where a girl has to take some aspirins and after, sort of, take five, she collapsed and it turned out that the prop man had been giving her real as... real aspirins.
Born in Germany, cinematographer Walter Lassally (1926-2017) was best known for his Oscar-winning work on 'Zorba the Greek'. He was greatly respected in the film industry for his ability to take the best of his work in one area and apply it to another, from mainstream to international art films to documentary. He was associated with the Free Cinema movement in the 1950s, and the British New Wave in the early 1960s. In 1987 he published his autobiography called 'Itinerant Cameraman'.
Title: "Joanna": A film about the Swinging Sixties
Listeners: Peter Bowen
Peter Bowen is a Canadian who came to Europe to study and never got round to heading back home. He did his undergraduate work at Carleton University (in Biology) in Ottawa, and then did graduate work at the University of Western Ontario (in Zoology). After completing his doctorate at Oxford (in the Department of Zoology), followed with a year of postdoc at the University of London, he moved to the University's newly-established Audio-Visual Centre (under the direction of Michael Clarke) where he spent four years in production (of primarily science programs) and began to teach film. In 1974 Bowden became Director of the new Audio-Visual Centre at the University of Warwick, which was then in the process of introducing film studies into the curriculum and where his interest in the academic study of film was promoted and encouraged by scholars such as Victor Perkins, Robin Wood, and Richard Dyer. In 1983, his partner and he moved to Greece, and the following year he began to teach for the University of Maryland (European Division), for which he has taught (and continues to teach) biology and film courses in Crete, Bosnia, and the Middle East.
Tags: Fox, Kodak, Cinemascope, Techniscope, Panavision, London, Tangieres, Joanna, Smashing Time, I'll Never Forget What's His Name, Tom Jones, Mike Sarne, Geneviève Waïte, Michael Laughlin
Duration: 4 minutes, 46 seconds
Date story recorded: June 2004
Date story went live: 24 January 2008