NEXT STORY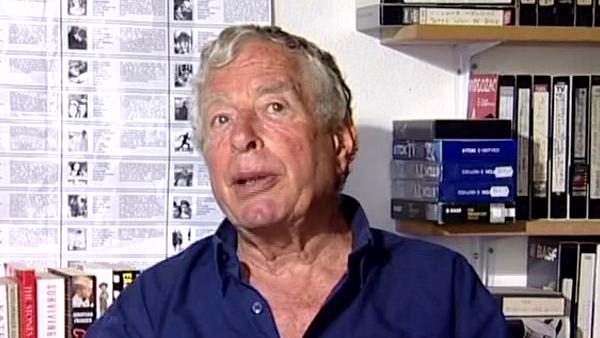 The Day Shall Dawn': Preparing to shoot
Three Into Two Won't Go: Problems
Walter Lassally
Film-maker
1
...
12
13
14
15
16
...
27
The relationship between Peter Hall and Rod Steiger was also a bit fraught. He gave him endless arguments. There was endless amounts of arguing. And Kate, who was sometimes watching, she got very irritated and she took Peter Hall aside one day and said, 'Look, what you must do, you must say, look at your contract, it says here, me director, you actor'. Again, it's that situation again, Just Do It! But they don't. They won't.
[Q] But presumably no problems with Peggy Ashcroft?
Oh God, she's lovely. She's another one of those wonderful ladies, like Edith Evans. That... the people who come basically from the theatre originally, and particularly the British theatre, they're just wonderful people. They're... She's a great lady, as is Edith Evans who was in Tom Jones, so... And then I worked again with Peggy in India. No, she's... she's wonderful. But that film had a lot of problems because there were things in there that were... they read all right in the script, but they're quite difficult to put into effect. Like, it said, the house is all painted white, but the painting hasn't quite finished. The idea there was that the... it was a virginal white to represent the virginal problem that Kate... yes exactly, that Kate... that Claire Bloom had, the Claire Bloom character had. And, of course, none of this comes through to the audience. It's totally useless.
There's one very interesting scene in that film where... which was quite a problem for me where you're shooting down the narrow entrance hall, very small house, and I'm shooting down the narrow entrance hall facing the front door, and outside you have the front garden, or whatever. There's a scene which starts outside and then you track back, all in one shot and she comes in and goes into a room. And outside it's F22 and inside it's... with a push, it's 4, so something has to happen. So the only solution that I could see in that particular case, was: I built a cage of neutral density filters which were 6ft tall and 4ft wide. And I built a cage out of these neutral density filters outside, so when you think you're looking straight at the landscape, you're actually looking through a 0.6 neutral density filter. And that worked very well except that there's a faint reflection of Judy Geeson's back in the landscape which shouldn't be there because... But we got away with it because it's very brief and it's only there if you say, 'Now look, watch this scene carefully, do you see anything that shouldn't be there?' 'Yes, there's a faint reflection there. How did that get there?'
Born in Germany, cinematographer Walter Lassally (1926-2017) was best known for his Oscar-winning work on 'Zorba the Greek'. He was greatly respected in the film industry for his ability to take the best of his work in one area and apply it to another, from mainstream to international art films to documentary. He was associated with the Free Cinema movement in the 1950s, and the British New Wave in the early 1960s. In 1987 he published his autobiography called 'Itinerant Cameraman'.
Title: "Three Into Two Won't Go": Problems
Listeners: Peter Bowen
Peter Bowen is a Canadian who came to Europe to study and never got round to heading back home. He did his undergraduate work at Carleton University (in Biology) in Ottawa, and then did graduate work at the University of Western Ontario (in Zoology). After completing his doctorate at Oxford (in the Department of Zoology), followed with a year of postdoc at the University of London, he moved to the University's newly-established Audio-Visual Centre (under the direction of Michael Clarke) where he spent four years in production (of primarily science programs) and began to teach film. In 1974 Bowden became Director of the new Audio-Visual Centre at the University of Warwick, which was then in the process of introducing film studies into the curriculum and where his interest in the academic study of film was promoted and encouraged by scholars such as Victor Perkins, Robin Wood, and Richard Dyer. In 1983, his partner and he moved to Greece, and the following year he began to teach for the University of Maryland (European Division), for which he has taught (and continues to teach) biology and film courses in Crete, Bosnia, and the Middle East.
Tags: Three Into Two Won't Go, Peter Hall, Rod Steiger, Peggy Ashcroft
Duration: 2 minutes, 51 seconds
Date story recorded: June 2004
Date story went live: 24 January 2008