NEXT STORY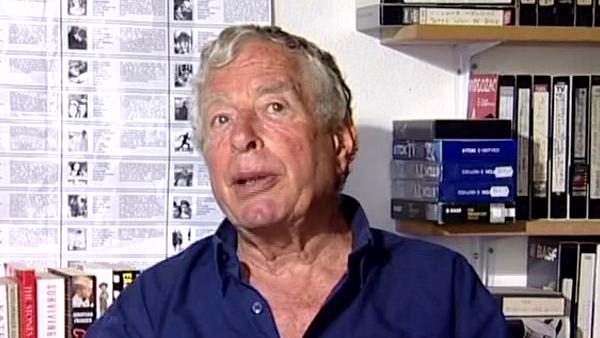 The Day Shall Dawn: Aaejay Kandar
The Day Shall Dawn: The musical number
Walter Lassally
Film-maker
1
...
13
14
15
16
17
...
27
Eventually the work in Shaitnol was finished, and we stayed in Dhaka for the... for the studio work. And as I've already said, it proved impossible to build this hut in the... Oh yes, there was... we built a hut on the outside of the studio, which worked fine, using daylight and a little bit of supplementary light. And then, there was another sequence, which doesn't appear in the finished film, which was a musical number. Because somebody had said, 'Look, you'll never sell this film, certainly not in India and Pakistan, because every Indian Pakistani film has to contain at least 12 musical numbers. So, we said, 'Well, it's not that sort of film'. But on the other hand, they were a little apprehensive. They didn't want to do a Satyajit Ray right away, so they... they devised this musical number. And in order to...
This musical number was supposed to take place in the lounge of a swish, rich man's house, more or less rich man's house, where they invite this dancer in to perform. This dancer, I think she was called Rakshi, she came down from West Pakistan, from Karachi or Lahore, at least three times, and each time we weren't actually ready. Something was always missing, and she'd come all the way and she had to go back again, because we couldn't film. One of the things they couldn't do: there was no expertise in building sets. So a simple thing like joining two flats together and not having the joint show, they didn't know how to do that, you see. And in the end there was some... I remember, there was some sections of concrete pipe lying about in the yard of the studio, for some reason, and the art director decided that this room in which this dance was to take place, was planned... it had a sort of platform. It was on two levels and in between the two levels, they decided to build this decorative wall. Now, because they didn't have proper materials to build a studio set, he said, 'Well, we'll use those concrete sections that are lying out there'. So, they laid down these tubes to build like a decorative wall, that you would look at them end-on. The trouble was that, every time they got to the third layer, one end always collapsed before they could... before they'd finished at the other end. So that was the reason that Rakshi... she'd say, 'Look,' she said, 'I can't stay, you know, those people work on 15 films a month'. And she just managed to find a day or two to come... fly over to East Pakistan, to Bangladesh. But anyway, she came three times.
Finally we did film it with some difficulty, because it turned out that the lighting required for colour, in those days, was quite strong... needed to be quite strong. This is before Tom Jones, remember. So I can't remember if the film stock was 25. It may have been 25 ASA, the Eastman film stock. So we needed a lot of light and that, of course, defeated the studio generator again. It was almost brought to its knees. The Kelvin... the colour temperature was much below what it was supposed to be, 3,600-something, and it was something like 2,800. So all the stuff that we shot there, which was perfectly okay as it went, but it was very, very red. But it was within the realm of being able to be corrected. So, with much to-ing and fro-ing in the end that sequence did get shot, but it was never shown. I can't remember if they put it into... when they showed the film in Pakistan maybe they did put that in, because it was, it did exist, but, of course, there had to be a device in the movie... in the story of the movie to find a reason for the sequence, which was very primitive, that when the leading man takes the leading lady on... they go to hospital, yes, the child has an accident and they go to hospital and they have to spend the night in the village... in the town somewhere waiting for this child to come out of hospital. And they're wondering around and they, sort of, look in a window somewhere and there's this thing. Drawn in by the short and curlies one could say.
Born in Germany, cinematographer Walter Lassally (1926-2017) was best known for his Oscar-winning work on 'Zorba the Greek'. He was greatly respected in the film industry for his ability to take the best of his work in one area and apply it to another, from mainstream to international art films to documentary. He was associated with the Free Cinema movement in the 1950s, and the British New Wave in the early 1960s. In 1987 he published his autobiography called 'Itinerant Cameraman'.
Title: "The Day Shall Dawn": The musical number
Listeners: Peter Bowen
Peter Bowen is a Canadian who came to Europe to study and never got round to heading back home. He did his undergraduate work at Carleton University (in Biology) in Ottawa, and then did graduate work at the University of Western Ontario (in Zoology). After completing his doctorate at Oxford (in the Department of Zoology), followed with a year of postdoc at the University of London, he moved to the University's newly-established Audio-Visual Centre (under the direction of Michael Clarke) where he spent four years in production (of primarily science programs) and began to teach film. In 1974 Bowden became Director of the new Audio-Visual Centre at the University of Warwick, which was then in the process of introducing film studies into the curriculum and where his interest in the academic study of film was promoted and encouraged by scholars such as Victor Perkins, Robin Wood, and Richard Dyer. In 1983, his partner and he moved to Greece, and the following year he began to teach for the University of Maryland (European Division), for which he has taught (and continues to teach) biology and film courses in Crete, Bosnia, and the Middle East.
Tags: The Day Shall Dawn
Duration: 4 minutes, 27 seconds
Date story recorded: June 2004
Date story went live: 24 January 2008