NEXT STORY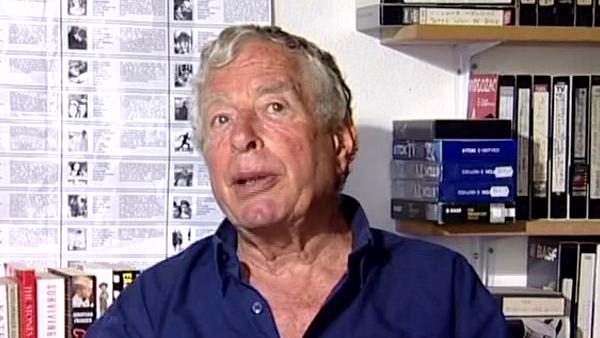 The Great Bank Hoax
Pleasantville
Walter Lassally
Film-maker
1
...
15
16
17
18
19
...
27
The next time I worked in America was on a strange little film called Pleasantville, which was made on 16 mm, because it was made for PBS Television, public television. And it was... It had in it an old-timer by the name of Gale Sondergaard who played the granny, or the... yes, the granny of the leading character, who was a girl, a 10-year-old, a 12-year-old girl. This film had two directors which, I didn't realise at the beginning, but it turned out to be a disaster. There was a man and a woman. Vicki Polon and Kenneth Locker, I believe. And they'd made what seemed to be a sensible arrangement as to who would do what, how they would direct this film jointly. It was decided... they had decided, this is before I came on the scene even, they had decided that she would take care of the actors basically, and he would take care of the technical side. I said, 'Yes, well, it seems possible'. So, we started and it went all right for a few days. I used to get together with Kenneth in the mornings and I used to say, 'Well, how shall we do this? Shall we track here? Shall we have two-shots, long shots, what shall we do?' And we made a little plan. When we were, kind of, a third of the way into the plan, in the middle of the morning, she suddenly appeared on the scene and said, 'I want a close-up here'. And we looked at each other and we said, 'Yes, but you know in the middle of this tracking it doesn't really fit on... fit in'. Then she used to say, 'Why can't I have my close-up?' It deteriorated to a point where the whole crew divided into his and hers sections, you know. And I was left holding the baby in the middle. That was awful.
And they also had... it was a film with a predominantly female crew. Unusually, the gaffer was a woman, the boom operator was a woman, the editor was a woman, which is not so unusual, but it's the only time I've come across a female gaffer. I think there are more now, but there wasn't then. They sort of all divided along male/female lines. I had a very interesting argument, irritating, but interesting in the long run, argument with the editor, the woman who was doing the editing, who was quite a young woman, who came to me one day and said, 'What you did there last week doesn't cut'. I said, 'What do you mean: it doesn't cut?' She said, 'Well, it doesn't match'. When I went into it, it was a case... it was a night scene and the child is asleep and she's sort of half covered with a sheet, you can just see... you can see sort of a piece of her face. And it starts off with quite a long shot where this sleeping child is in the distance, then you go into close-up. In the long shot the face is largely in shadow, but when you go into close-up, I did something which one always does, that as you want to see more detail, as you go into close-up, I put additional light on so that you see the shadow side. Instead of being black the shadow side is now dark, but not black. And she said, 'You can't cut that together, it doesn't match'. I said, 'This is ridiculous, you know, this is a perfectly standard procedure'. But there were lots of irritating things like that because they weren't really experienced, any of them. So, again, I ended up holding the baby because I was virtually the only fully experienced person on that shoot.
Vickie hadn't made a film before and Kenneth hadn't made a film before, and some of this female crew. The boom operator was very good. But this editor left something to be desired because she just didn't realise that, that matching isn't done like that. And anyway, it isn't that serious, that you shouldn't go for the matching above all else. Sometimes you have to accept a less than perfect match, or some continuity lapse, because that isn't the most important thing, something else can override it. Anyway, it was very interesting and very nice working with Gale Sondergaard. These old-timers are always... they're always so professional and so polite and so unassuming. Wonderful. Like later on, of course, I worked with Katharine Hepburn, which was a great honour and a great pleasure, but every time I met somebody of that ilk, I was always impressed by how nice they were and how professional they were, and how they fitted in. They... she didn't mind playing a part in a television film. She didn't go, I don't do television, none of that kind of thing.
Born in Germany, cinematographer Walter Lassally (1926-2017) was best known for his Oscar-winning work on 'Zorba the Greek'. He was greatly respected in the film industry for his ability to take the best of his work in one area and apply it to another, from mainstream to international art films to documentary. He was associated with the Free Cinema movement in the 1950s, and the British New Wave in the early 1960s. In 1987 he published his autobiography called 'Itinerant Cameraman'.
Title: "Pleasantville"
Listeners: Peter Bowen
Peter Bowen is a Canadian who came to Europe to study and never got round to heading back home. He did his undergraduate work at Carleton University (in Biology) in Ottawa, and then did graduate work at the University of Western Ontario (in Zoology). After completing his doctorate at Oxford (in the Department of Zoology), followed with a year of postdoc at the University of London, he moved to the University's newly-established Audio-Visual Centre (under the direction of Michael Clarke) where he spent four years in production (of primarily science programs) and began to teach film. In 1974 Bowden became Director of the new Audio-Visual Centre at the University of Warwick, which was then in the process of introducing film studies into the curriculum and where his interest in the academic study of film was promoted and encouraged by scholars such as Victor Perkins, Robin Wood, and Richard Dyer. In 1983, his partner and he moved to Greece, and the following year he began to teach for the University of Maryland (European Division), for which he has taught (and continues to teach) biology and film courses in Crete, Bosnia, and the Middle East.
Tags: Pleasantville, Gale Sondergaard, Vicki Polon, Kenneth Locker
Duration: 4 minutes, 49 seconds
Date story recorded: June 2004
Date story went live: 24 January 2008