NEXT STORY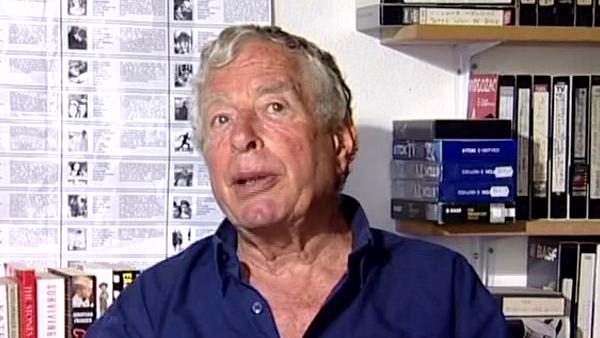 The Great Amwell Company's Mark Twain series: Life on the Mississippi
The Pilot: Airplane scenes
Walter Lassally
Film-maker
1
...
16
17
18
19
20
...
27
We spent weeks and weeks with a real... it wasn't a 707, it was a DC8, which is the equivalent, DC8, DC9, DC8 I think. This was parked in a minor airport in the, in the Miami area called Opoloca Airport. And we had this real plane parked there, because for one reason or other it was decided not to use a studio mock-up and... they found it quite easy to get this old plane and they parked it there. We built a scaffold around it and we spent, literally, weeks filming him through the window of the cockpit, going number 3 engine off, check, green light, F, yes, one, check, red light, yes, one, check, tyre pressure, yes, check. It went on for hours and hours and, of course, it was all cut. It all ended up on the cutting room floor, but we spent hours doing it.
And, then there was also a tremendous difficulty casting the two... The two woman parts were very small and that proved to be a problem for casting, because they had very few scenes and they couldn't find anybody of any stature to... who was willing to play those parts. So, in the end they found two minor people, but it wasn't... I can't remember their names. But it led to a lot of arguments too, because Cliff wasn't... Cliff wasn't very good at directing women. Certainly not in those circumstances. But he was fine with Milo O'Shea and fine directing his own scenes. There's some quite good scenes in that. And there's a lot of detail about how he managed to hide this alcohol in the toilet of the plane. There we did have a mock-up. We built a toilet, free-standing, in a space so you could go over the top and film... so how do you film in an aeroplane toilet. It's not exactly easy. So that was a bit of a mock-up. But most of the rest is filmed, first of all, in actual locations, buildings, like the doctor's house, because Milo plays the doctor who he goes to for a cure, because the alcohol has become a problem.
Then the climax of the film, more or less the climax of the film... yes, the climax of the film, is an accident which Cliff saves... he saves the day by getting out of this accident where, on take-off, and beyond the point where you can't stop, you've gone beyond, the speed has reached beyond the point where you can't stop; you're not supposed to stop, at least, an engine catches fire. And then a second engine catches fire from the first engine, and the take-off is aborted at the point where you're not supposed to abort. If that happens you're supposed to have a go-around and come back. No, that's not correct, but anyway, it's difficult to stop at that point. So with all the brakes screaming and knocking down a building on the runway, a little radar hut or something, they screech to a stop at the end of the... beyond the end of the runway, in a field basically. And the escape hatch is opened and all the people use the escape slides and nobody's injured or killed. And that's the climax of the movie. But, that was all done without any special effects crew. They just found a way... There was an advisor, but that was about it. They discovered a way of having a real 707 running along the runway, moving, using the fuel in the wing to power the engines on the right-hand side of the plane, while the left-hand side's on fire. They actually managed to do that. I mean, it's not really on fire. The fire's put in there, mainly smoke, but some flames. But they managed to isolate... that wing didn't have any fuel in it, obviously. But the other wing had fuel in it, which was powering the engines, which were actually making the plane go along. So that... that... I was quite interested to see that this was possible.
But it's one of those instances where I shot a special effects sequence without any... without a special effects expert. But it's very effective. It works extremely well. But it really surprised me that it was possible, technically possible, to do that. And then there's another sequence where he flies the... he's a... his character... he's a very sensitive pilot and he senses things that are about to go wrong before there's any proof... before there's any, you know, something a scientist would not accept. He senses these things. So, he chooses a route which takes him well outside his prescribed route, on the way from Miami to Los Angeles or San Francisco or something. And, other planes that follow the prescribed route get into terrible trouble because there's clear air turbulence, and they have people injured and the plane drops 3,000 ft, out of control and all that. And he avoids all that. And in avoiding all that it takes him very close to the Grand Canyon, so he said, 'Our schedule today permits, gentlemen, permits me, ladies and gentlemen, to show you the Grand Canyon from a low angle which is not usually possible, but as it's on our way anyway and I have obtained permission, we're going to do that, so if you care to look out of the window, you will see the Grand Canyon from a very unusual angle'. And we did all that, but we'd actually broken for the Christmas holidays. This film was made over Christmas and I went home to England for the Christmas holiday. And the aviation pilot, expert pilot, who did nothing else, called Clay Lacey, he handled all that. He photographed that, and I had my assistant, Tom Hoppey, photographed... not Cliff, I don't think Cliff was in there, but he photographed the view out of the cockpit window, from inside the plane. And, Clay Lacey was in his little Lear Jet photographing the plane from outside. And that made a very effective sequence of this giant plane flying through the Grand Canyon. Of course, all the critics remarked on that, and said, 'Mr. Lassally's wonderful photography' and, of course, that's again... that's a piece I didn't actually do, but all right. Compliments are always welcome.
Born in Germany, cinematographer Walter Lassally (1926-2017) was best known for his Oscar-winning work on 'Zorba the Greek'. He was greatly respected in the film industry for his ability to take the best of his work in one area and apply it to another, from mainstream to international art films to documentary. He was associated with the Free Cinema movement in the 1950s, and the British New Wave in the early 1960s. In 1987 he published his autobiography called 'Itinerant Cameraman'.
Title: "The Pilot": Airplane scenes
Listeners: Peter Bowen
Peter Bowen is a Canadian who came to Europe to study and never got round to heading back home. He did his undergraduate work at Carleton University (in Biology) in Ottawa, and then did graduate work at the University of Western Ontario (in Zoology). After completing his doctorate at Oxford (in the Department of Zoology), followed with a year of postdoc at the University of London, he moved to the University's newly-established Audio-Visual Centre (under the direction of Michael Clarke) where he spent four years in production (of primarily science programs) and began to teach film. In 1974 Bowden became Director of the new Audio-Visual Centre at the University of Warwick, which was then in the process of introducing film studies into the curriculum and where his interest in the academic study of film was promoted and encouraged by scholars such as Victor Perkins, Robin Wood, and Richard Dyer. In 1983, his partner and he moved to Greece, and the following year he began to teach for the University of Maryland (European Division), for which he has taught (and continues to teach) biology and film courses in Crete, Bosnia, and the Middle East.
Tags: The Pilot, Cliff Robertson, Milo O'Shea, Clay Lacey, Tom Hoppey
Duration: 6 minutes, 25 seconds
Date story recorded: June 2004
Date story went live: 24 January 2008