NEXT STORY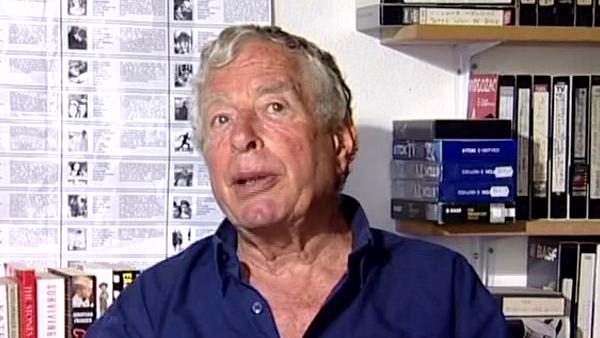 The Great Amwell Company's Mark Twain series: Pudd'n'head Wilson
A Private History of a Campaign that Failed
Walter Lassally
Film-maker
1
...
16
17
18
19
20
...
27
So, Life on the Mississippi was the first of four or five Mark Twain movies that I made. The following year I made a film called The Private History of a Campaign That Failed. And it's about an episode in the Civil War where a young group of volunteers gets together to fight the coming Yankees. It's a very charming story, very charming film. We had a very good cast. A small group of boys who were excellent, really excellent, and an American actor whose name, unfortunately, I can't remember. He played the colonel in whose service they volunteer. There was one of those lines that I've been speaking about before, which becomes characteristic, and we quoted each other long afterwards, we quoted this, sort of, line. In that line, as he introduces himself to the boys, he explains why he limps, and he says, 'I got this ball in my leg. I got this ball in my leg'. And we were always saying, 'I got this ball in my leg'. Anyway, that was shot in two places, in Pennsylvania and in Upstate New York, in a place called Oneonta.
In Pennsylvania we found an iron village... iron smelting village which had been preserved as a, sort of, outdoor museum. We used that, which we also used on the next film. We also found another sort of... one of these outdoor museums, which exist in America, quite a few. And we used that, and then we moved to Oneonta and the bulk of the film, bulk of that film is shot in Oneonta. Then it has a coda afterwards. It's not... Not only is it called The Private History of a Campaign That Failed, which is quite a mouthful, but then it also... it says, and The War Prayer, because it has a sort of coda at the end which is called The War Prayer, which is shot in a church where Mark Twain's views about war and warfare are made plain. And they were quite strong. He was quite a strong pacifist.
Born in Germany, cinematographer Walter Lassally (1926-2017) was best known for his Oscar-winning work on 'Zorba the Greek'. He was greatly respected in the film industry for his ability to take the best of his work in one area and apply it to another, from mainstream to international art films to documentary. He was associated with the Free Cinema movement in the 1950s, and the British New Wave in the early 1960s. In 1987 he published his autobiography called 'Itinerant Cameraman'.
Title: "A Private History of a Campaign that Failed"
Listeners: Peter Bowen
Peter Bowen is a Canadian who came to Europe to study and never got round to heading back home. He did his undergraduate work at Carleton University (in Biology) in Ottawa, and then did graduate work at the University of Western Ontario (in Zoology). After completing his doctorate at Oxford (in the Department of Zoology), followed with a year of postdoc at the University of London, he moved to the University's newly-established Audio-Visual Centre (under the direction of Michael Clarke) where he spent four years in production (of primarily science programs) and began to teach film. In 1974 Bowden became Director of the new Audio-Visual Centre at the University of Warwick, which was then in the process of introducing film studies into the curriculum and where his interest in the academic study of film was promoted and encouraged by scholars such as Victor Perkins, Robin Wood, and Richard Dyer. In 1983, his partner and he moved to Greece, and the following year he began to teach for the University of Maryland (European Division), for which he has taught (and continues to teach) biology and film courses in Crete, Bosnia, and the Middle East.
Tags: Life on the Mississippi, The Private History of a Campaign That Failed, The War Prayer, Great Amwell Company, Mark Twain
Duration: 2 minutes
Date story recorded: June 2004
Date story went live: 24 January 2008