NEXT STORY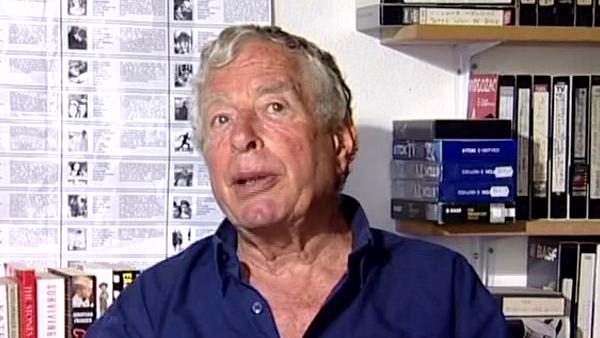 Adventures of a Brown Man in Search of Civilisation
Shooting The Adventures of Huckleberry Finn
Walter Lassally
Film-maker
1
...
16
17
18
19
20
...
27
The last one of those is called... is Huck Finn, Adventures of Huck Finn, which had been filmed 15 times already, I think. But that's a very nice version and we had Barnard Hughes and Jim Dale from England playing the couple of strolling players, who he runs across. And, we were shooting... that time we were shooting in Maysville, Kentucky. Our base was Maysville, Kentucky, which is an amazing piece of Midwest. If you shoot... If you stay any length of time in a place like Maysville, Kentucky, you realise really that if you only know New York and Los Angeles, you don't know America at all. A lot of America, the bulk of America is more like Maysville, Kentucky. And, there were three... again, the three... there were three opportunities to eat, in the hotel, in a local tavern, and somewhere else a little way away across the river in Ohio, because we were in Kentucky. But we were right on the edge. Maysville is on the border with Kentucky. There's a bridge over the Ohio River. And that time we were using the Ohio River to double for the Mississippi. And we spent a lot of time filming on the river, adjacent to the river, there was some night for night, there was some day for night. There was an extended sequence in a tank, which we had built in a local school, abandoned school. That was quite tricky. It was quite a big tank, and it was... but it was tricky working in there with the night for night. But in the end it was all very successful.
That film was being made on 35 mm. And that was also the occasion, I've already mentioned, where Lillian Gish played a small part. It's wonderful encountering people like that. Like you meet a piece of cinema history. Which also happened to be the first time. I think it was the first time I... yes, during The Wild Party, which I haven't mentioned yet, I was in LA for the first time and I was introduced... I went to the clubhouse of the American Society of Cinematographers, and I met all those people that I knew the names of, having photographed all those famous American movies of the '40s and '50s. And I knew them all by name, and here they all were, but they were all over 80, you know. This little man comes up and he says, 'I'm...' – and he has a nametag – and he says, 'I'm Harry Straddling, how do you do?' That was an extraordinary experience, meeting all these people in the flesh, so to speak. Lovely, really lovely. Quite unique. So it's lovely to meet... Not only was Lillian Gish in that film but also Butterfly McQueen.
Now, Butterfly McQueen is the Negro...
[Q] Prissy.
The black girl who plays Chrissie in...
[Q] Prissy.
No, but what part does she play? One of her...
[Q] Yes, Prissy, in 'Gone With The Wind'.
Oh, Prissy, in Gone with the Wind, yes. She's got this high pitched voice, usually playing comic characters, as black people usually did up to a certain point in time. They were always comic characters. And she'd fallen on hard times and was living in relative poverty and they dug her up somewhere, they found her somewhere, and she played a very nice little part in Huck Finn. So that's always very nice when you can... where you can do something like this. A little bit out of the ordinary. But it was a very long shoot and it was eventually... it was cut in... There were two versions. There was a two-hour theatrical version and a three-hour television version, both of which were shown.
Born in Germany, cinematographer Walter Lassally (1926-2017) was best known for his Oscar-winning work on 'Zorba the Greek'. He was greatly respected in the film industry for his ability to take the best of his work in one area and apply it to another, from mainstream to international art films to documentary. He was associated with the Free Cinema movement in the 1950s, and the British New Wave in the early 1960s. In 1987 he published his autobiography called 'Itinerant Cameraman'.
Title: Shooting "The Adventures of Huckleberry Finn"
Listeners: Peter Bowen
Peter Bowen is a Canadian who came to Europe to study and never got round to heading back home. He did his undergraduate work at Carleton University (in Biology) in Ottawa, and then did graduate work at the University of Western Ontario (in Zoology). After completing his doctorate at Oxford (in the Department of Zoology), followed with a year of postdoc at the University of London, he moved to the University's newly-established Audio-Visual Centre (under the direction of Michael Clarke) where he spent four years in production (of primarily science programs) and began to teach film. In 1974 Bowden became Director of the new Audio-Visual Centre at the University of Warwick, which was then in the process of introducing film studies into the curriculum and where his interest in the academic study of film was promoted and encouraged by scholars such as Victor Perkins, Robin Wood, and Richard Dyer. In 1983, his partner and he moved to Greece, and the following year he began to teach for the University of Maryland (European Division), for which he has taught (and continues to teach) biology and film courses in Crete, Bosnia, and the Middle East.
Tags: Maysville, Kentucky, The Adventures of Huckleberry Finn, The Wild Party, American Society of Cinematographers, Gone With The Wind, Mark Twain, Barnard Hughes, Jim Dale, Lillian Gish, Harry Straddling, Butterfly McQueen
Duration: 3 minutes, 32 seconds
Date story recorded: June 2004
Date story went live: 24 January 2008