NEXT STORY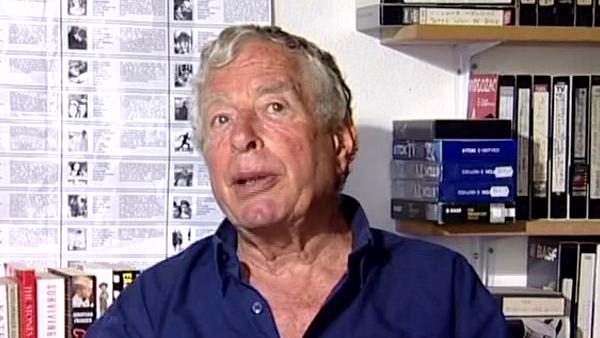 Savages: Editing and the screening at Cannes
Savages: A complaint against me
Walter Lassally
Film-maker
1
...
17
18
19
20
21
...
27
A month or so after I came back from the shooting of Savages to England, I received a letter from the secretary of the English union, the ACTT, from George Elvin, who was a good friend, who knew me very well, let's say, to say that they'd received a letter from the American union, the IATSE, sometimes called the IA, which is the main American union, both in Hollywood and New York, although they're separately organised, to complain about me. Because that's very interesting, putting the whole thing in perspective. I'll just read you... I'll read you it. I just need to do that.
'Dear Brother Elvin, it saddens me to have to write to you about one of your honoured members, Walter Lassally. Brother Lassally came to the United States to work on a feature picture called The Savages. He never contacted the union and furthermore, he worked completely non-union. He had no operative cameraman and his assistant, or focus puller, also worked as his electrician. As you are aware, the purpose of unions is to maintain wages and working conditions. If Lassally...' – no longer Mr. Lassally – 'if Lassally, or Brother, if Lassally belonged to this local union, he would be brought up on charges for causing his brother members to lose work and for violating our working conditions. I hope your organisation will take appropriate action against Brother Lassally. Best wishes and kind regards, yours sincerely and fraternally, Harvey Genkins Business Representative, IATSE Local 644'.
And then I replied: 'Dear George, Thank you for letting me have a copy of the letter you received from the IATSE regarding my work on Savages. I won't take up his points in detail as he doesn't have all his facts straight, but just comment on the principle. There is a cinema of ideas as well as a cinema of employers and unions, and just as unions exist to maintain wages and working conditions in the industry, films like Savages exist, fortunately, but very precariously, to ensure the continuance of the cinema of ideas, without which, in my opinion, the industry would soon die. You have known me long enough to be sure that I would not dream of working in the USA, or anywhere else for that matter, in circumstances where there was even the slightest danger that I was poaching work from local colleagues or undercutting their working conditions. In New York, as Mr. Genkins must surely be aware... must be aware, there exists a whole parallel industry of non-union, so-called non-union, in quotes, productions, which in practice, often employ a large proportion of members of the NABET Union, and if this state of affairs is not to the liking of Mr. Genkins, I suggest he looks at the attitude and record of his own Local, which will not even accept a member of the Hollywood Local of his own union, for example, if he wishes to understand how such a state of affairs came about in the first place. I hope you will be good enough to forward a copy of this letter to Brother Genkins. With all good wishes, your sincerely, Walter Lassally'.
And I never heard any more about this matter. But subsequently, on the next... I never heard any more about this matter, but on the next film, Merchant Ivory film, through another set of circumstances, I actually joined the NABET Union. I was a member of the NABET Union for all the work that I did... during all the work that I did in the '80s, because... in the late '70s and '80s... because the NABET Union, which had come out... come into filming, TV mainly, out of broadcasting, it was basically a broadcasting union, and it became quite strong as an organiser of people in the film industry on low-budget productions. A lot of people worked... There's quite a few NABET pictures.
Born in Germany, cinematographer Walter Lassally (1926-2017) was best known for his Oscar-winning work on 'Zorba the Greek'. He was greatly respected in the film industry for his ability to take the best of his work in one area and apply it to another, from mainstream to international art films to documentary. He was associated with the Free Cinema movement in the 1950s, and the British New Wave in the early 1960s. In 1987 he published his autobiography called 'Itinerant Cameraman'.
Title: "Savages": A complaint against me
Listeners: Peter Bowen
Peter Bowen is a Canadian who came to Europe to study and never got round to heading back home. He did his undergraduate work at Carleton University (in Biology) in Ottawa, and then did graduate work at the University of Western Ontario (in Zoology). After completing his doctorate at Oxford (in the Department of Zoology), followed with a year of postdoc at the University of London, he moved to the University's newly-established Audio-Visual Centre (under the direction of Michael Clarke) where he spent four years in production (of primarily science programs) and began to teach film. In 1974 Bowden became Director of the new Audio-Visual Centre at the University of Warwick, which was then in the process of introducing film studies into the curriculum and where his interest in the academic study of film was promoted and encouraged by scholars such as Victor Perkins, Robin Wood, and Richard Dyer. In 1983, his partner and he moved to Greece, and the following year he began to teach for the University of Maryland (European Division), for which he has taught (and continues to teach) biology and film courses in Crete, Bosnia, and the Middle East.
Tags: Savages, George Elvin
Duration: 4 minutes, 12 seconds
Date story recorded: June 2004
Date story went live: 24 January 2008