NEXT STORY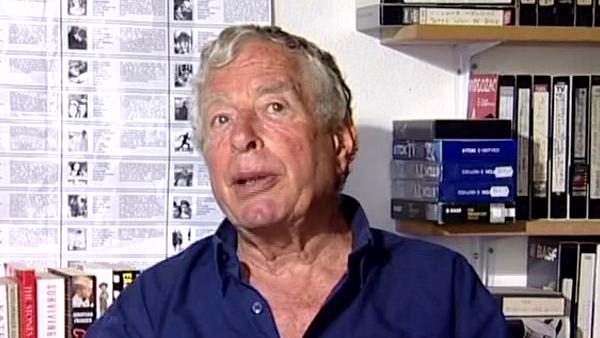 The Deceivers: A difficult film to work on
A Perfect Murder
Walter Lassally
Film-maker
1
...
19
20
21
22
23
...
27
Then, the next film was The Perfect Murder which is not directed by James, it was directed by Zafir Hai who was described to me as the most expensive and the slowest director of commercials in Bombay. And Ismail and his brother-in-law, who run a roofing business, put up the money for that movie which was based on a novel by Keating, HR Keating, who came out for the shoot, is a lovely man. It features an Indian detective called Inspector Ghote, and in that particular story a Swedish policeman comes to Bombay to study Indian police methods. And he was played by Stellan Skarsgård who later became famous in Breaking the Waves and other films. But he wasn't particularly well known at that point. A lot of people started becoming famous after they made their first Merchant Ivory film. Particularly after Savages. Savages was Sam Waterston's first film. And The Roseland was Christopher Walken's first film. There's quite a few people who started their careers with Merchant Ivory, or their careers had a big flip.
So, Perfect Murder had Nasirudden Shaw played Inspector Ghote, and Stellan Skarsgård played the visiting Swede. The first thing Ismail said to me when he asked me to make that film, he said, so and so and so and so, this is the film, and I want to make it etc., etc., and I found the most wonderful place for you to stay, and it's right next to the Taj Mahal Hotel. Not in the Taj Mahal hotel, mind you, right next to it. It turned out to be a very, very seedy... the Yacht Club of Bombay, which in the days of the Raj, like about 40 years ago, must have been very elegant. But there were holes in the tablecloths and the waiters had stained jackets. The whole place was very, very run down. But that was the wonderful place he'd found for me to stay. But there again, I ended up wearing several hats, because they... there were certain script discussions that went on. At one point we were shooting a scene and they decided to introduce a character that wasn't in the script- in the scene in the script. He's sort of found to be hiding there and overhearing something, and we shot that scene. Then I sort of thought... I said, just a minute. And I thought about the continuity of the whole thing and I said, 'That character is known to be elsewhere. He can't be in two places at once'. But nobody picked that up except me.
And anyway that whole film- that whole... Zafir Hai was a lovely man, who is very laid back, very polite, but he used to come to me in the morning with the script and he said, 'Today we're going to shoot scene 17'. I said, 'Yes, I know'. And then he read me the scene, all the way through. Then he comes in, then he sits down, then he says blah, blah, blah, and then she comes in and she stands, and I said, yes, blah, blah, blah. Then he closed the script and he looked at me and he said, 'Now, how would you like to shoot it?' And I thought that was his job. But it became my job on that movie. And there was a scene... the only other person that I know to have shot successfully and extensively in the streets of Bombay is Mira Nair with Salaam Bombay. But there was one scene where there's, where Stellan Skarsgård has been kidnapped and he's tied to a bed on the fourth floor of a building in a very crowded area of Bombay. And the inspector is called to the scene and he notices that there's a procession on the way to protest against pornography, because next door to this building is another building which is a sort of pornographic book shop which has some illustrations outside, and a big sign. So he has this sudden idea that he's got to take this sign and put it up on the building where this guy is being held hostage.
And then the procession approaches and they're protesting and they storm this building, the wrong building. And they all storm upstairs, 20, 30 of them, they all end up in this little room and there's absolute chaos. And they succeed in freeing Stellan Skarsgård. But again, he sort of said, 'How would you like to shoot it?' It was shot... it's actually only... it's shot in three shots. That scene is shot in three shots, but what chaos. And that evening... because we shot the whole thing in one day, the procession arriving, changing the sign to the other side and the riot, semi-riot, that ensues at the end, is all done in one day. And that night I went back to the hotel and I went, this sort of screaming fit, because it was extremely hairy. My God, that was difficult. You had problems with your focus puller. Oh, yes. We had a focus puller... Ismail is a sucker for somebody coming to him, as they did all the time, saying Mr. Merchant I love your films and I'm a focus puller and I'll work for you for nothing. Ismail can't resist that. So this guy was hired, much against my better instincts, but it was a fait accompli, and it turned out that he was on drugs. He was a drug addict and he was completely useless, and he had to be fired after the first week, and then with some difficulty I got my old mate, Tony Garrett, to come out, and he completed the picture. But Ismail just can't resist it if somebody says, Mr. Merchant I just love your movies and I'll work for you for nothing.
Born in Germany, cinematographer Walter Lassally (1926-2017) was best known for his Oscar-winning work on 'Zorba the Greek'. He was greatly respected in the film industry for his ability to take the best of his work in one area and apply it to another, from mainstream to international art films to documentary. He was associated with the Free Cinema movement in the 1950s, and the British New Wave in the early 1960s. In 1987 he published his autobiography called 'Itinerant Cameraman'.
Title: "A Perfect Murder"
Listeners: Peter Bowen
Peter Bowen is a Canadian who came to Europe to study and never got round to heading back home. He did his undergraduate work at Carleton University (in Biology) in Ottawa, and then did graduate work at the University of Western Ontario (in Zoology). After completing his doctorate at Oxford (in the Department of Zoology), followed with a year of postdoc at the University of London, he moved to the University's newly-established Audio-Visual Centre (under the direction of Michael Clarke) where he spent four years in production (of primarily science programs) and began to teach film. In 1974 Bowden became Director of the new Audio-Visual Centre at the University of Warwick, which was then in the process of introducing film studies into the curriculum and where his interest in the academic study of film was promoted and encouraged by scholars such as Victor Perkins, Robin Wood, and Richard Dyer. In 1983, his partner and he moved to Greece, and the following year he began to teach for the University of Maryland (European Division), for which he has taught (and continues to teach) biology and film courses in Crete, Bosnia, and the Middle East.
Duration: 5 minutes, 47 seconds
Date story recorded: June 2004
Date story went live: 24 January 2008