NEXT STORY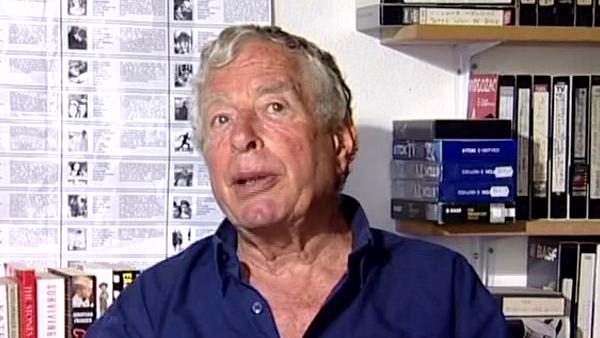 The Deceivers: Sneak previews
The Deceivers: A difficult film to work on
Walter Lassally
Film-maker
1
...
19
20
21
22
23
...
27
In 1987 I was asked to photograph the Merchant Ivory production, "The Deceivers", which was only half a Merchant Ivory production, it had a big Pinewood element to it, which wasn't all that happy a combination, at all. It was a very unfortunate combination. But that's the way it was. So I had a, one of those breakfast meetings at the American Centre in the Shepherd's Bush Hilton with the director, Nick Meyer, and he told me that this film, which is based on a novel by John Fowles, is it? Anyway, this film was a mixture of a deep interior Conradian- introspective Conradian subject, and a Boy's Own Paper Adventure Story, which is true, but it's not exactly a very easy mixture to put into practice. And- we sort of agreed on the general style, and how we were going to tackle it, and we parted quite amicably and went off to- some weeks later we went off to India. And Ismail Merchant very much- took a- very much took a back seat. There was a whole Pinewood-based production department, with a gentleman called Tim Van Rellim as executive producer. I discovered that Tim van Rellim's real name was Miller. Because the Rellim part of Van Rellim is Miller spelt backwards. Now that- sorry. So Tim Van Rellim is actually Mr. Miller and it doesn't exactly inspire a lot confidence. It's like would you buy a used car from this man, you know, and he turned out to be exactly- about as reliable as I had supposed. So that had a very easy- a very uneasy atmosphere, that film, due to the mixture of the Merchant Ivory crew and the Indian set-up which Merchant Ivory was very familiar with, and the Pinewood contingent, who felt very uncomfortable because they didn't have the usual backup, and famous art director called Ken Adam, who belonged very firmly in the Pinewood camp, and who caused me no end of trouble in one particular scene. But generally, the trouble with that film was that they wanted to make it very much more spectacular than the story actually was. So this group of dacoits basically, who are the Thuggies, that's where the word tug comes from, turned into a small army. And at one point I found myself filming a chase on horseback. What do you call it? Like on, in "Henry V"? A charge? Yes, I found myself- At one point in that film I found myself filming a- having to film a cavalry charge, a bit like "Henry V", but without the means, without the necessary means. So it was all a bit blown-up, to my mind. It turned into an epic. It shouldn't have been an epic. It should've been concentrated on the Conradian aspect, but it could've been a very commercial film because it did have a lot of adventure in it and, because of the peculiar circumstances under which it was made, that all went by the board, and it turned very sour towards the end. So much so that, when the film was finished, and I saw the first cut, I said- yes, well, it's not really- I don't think it's awfully good. Then a little while later- and I did some grading at Technicolor and then I heard nothing for a couple of months, and then suddenly, I was invited- they said, would you come to Technicolor for the new grading session. I said- what new grading session? Because by that time I was doing something else. And they said- oh, didn't we tell you, the film's being re-cut. And what had happened was- I went to this grading session and I sat there, and I said- oh yes, they've taken that out, or they put that juxtaposed with that, but as I sat there I got more and more incredulous that an intelligent and professional person, like Nicholas Meyer, could do things like that. Because there were things there which were just technically completely wrong, amateurish. You can't do that, I said, you cannot have a cut from a long shot to a big face hitting the ground in a close-up, having just fallen of his horse, which you don't see. You can't do that because people will say, well what's happened? But there were things like that in it. Then I got back, there was another correspondence, and conversations with Jim, and conversations with- sorry, conversations with Ismail, conversations with Nicholas Meyer over the transatlantic telephone, and I persuaded Ismail to re-cut the film, yet again, against Nick Meyer's wishes. The final result is a sort of- a bit of a sad compromise, but it's better than the- in my opinion, at least, it's much better than the version that they had proposed as the final version. And the reason that all that happened was that he had in his contract- the reason all that happened is because Nick Meyer had a clause in his contract that, before delivering the picture to Merchant- to Ismail Merchant, as it were, he could have two sneak previews. And there were two sneak previews and the results were disastrous. They said things like, this man doesn't behave like he's a soldier and he doesn't behave like a soldier, or the woman's part is very bad. Oh, and they laughed in the wrong place. That was the, that put the kibosh on it all. Nick said- I don't want anybody laughing in the wrong place in my picture. I said- well, that's very true, but you cannot do anything to 100% be sure that nobody's going to laugh in the wrong place. There was a scene- the key scene that they cut was where the wife of the main character, finds him making himself up again, for the second time, in black face in order to infiltrate this gang of Thuggies, and she said- what are you doing? And he said- well, I've got to finish this business. I can't leave it unfinished. I've got to do this again. Forgive me, but I must do it. And then she says- the fatal line was- promise me you'll never kill anybody personally, yourself. And that line caused a laugh in the previews, and then Nick Meyer started to- he started to- no, there's a word for that which I can never remember. Rationalise? That's it, thank you. He started to rationalise and said, maybe they're laughing because he's a soldier, although he's not in a soldier's uniform, technically he's an official of the East India Company, but it's ridiculous to ask a soldier not to kill anybody. And I said, well, it's not like that at all, it's just that we were aware of this problem when we- I reminded him, we were aware of the problem. And the line was very sensitively spoken. It was a very nice moment, it was very nicely filmed. But you cannot guarantee that some idiot, who's actually come to the preview to see a James Bond movie or something completely different, won't laugh. It's not possible. But you couldn't persuade him of that.
Born in Germany, cinematographer Walter Lassally (1926-2017) was best known for his Oscar-winning work on 'Zorba the Greek'. He was greatly respected in the film industry for his ability to take the best of his work in one area and apply it to another, from mainstream to international art films to documentary. He was associated with the Free Cinema movement in the 1950s, and the British New Wave in the early 1960s. In 1987 he published his autobiography called 'Itinerant Cameraman'.
Title: "The Deceivers": A difficult film to work on
Listeners: Peter Bowen
Peter Bowen is a Canadian who came to Europe to study and never got round to heading back home. He did his undergraduate work at Carleton University (in Biology) in Ottawa, and then did graduate work at the University of Western Ontario (in Zoology). After completing his doctorate at Oxford (in the Department of Zoology), followed with a year of postdoc at the University of London, he moved to the University's newly-established Audio-Visual Centre (under the direction of Michael Clarke) where he spent four years in production (of primarily science programs) and began to teach film. In 1974 Bowden became Director of the new Audio-Visual Centre at the University of Warwick, which was then in the process of introducing film studies into the curriculum and where his interest in the academic study of film was promoted and encouraged by scholars such as Victor Perkins, Robin Wood, and Richard Dyer. In 1983, his partner and he moved to Greece, and the following year he began to teach for the University of Maryland (European Division), for which he has taught (and continues to teach) biology and film courses in Crete, Bosnia, and the Middle East.
Duration: 7 minutes, 43 seconds
Date story recorded: June 2004
Date story went live: 24 January 2008