NEXT STORY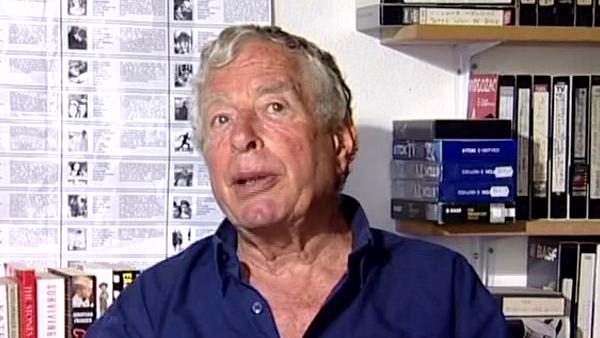 The Ballad of the Sad café: Wearing several hats
The Ballad of the Sad café: Vanessa Redgrave
Walter Lassally
Film-maker
1
...
20
21
22
23
24
...
27
It came to me early on, I can't... don't remember why, but it came to me quite early on that I would shoot that film largely in long shot and close-up, avoiding mid-shots. That would give it a certain character, and I would also make use of split-diopter so that in some scenes you have somebody in extreme foreground in one side of the frame, and on the other side of the frame, you have something in the distance, and they're both sharp, which is only possible with a split diopter, which is a certain sort of lens that you put in front of the lens. There's a very nice shot in that film where Vanessa comes up to be married, in her wedding gown, a big stroppy girl coming up in a white wedding gown, and she walks up to... you see... you're set in the church and you're looking out through... right down the aisle of the church, little church, right out into the landscape behind... into the street behind. And in the foreground is Keith Carradine, whom she's going to marry, singing a hymn, in big, big close-up, like this. On the other side you see, way, way in the distance, Vanessa is approaching with her white wedding gown flowing behind her, and that made a very nice shot. But it was only possible because Keith was 100% professional, very experienced in film making, because he had to sing, and it's not easy to sing and to be asked to absolutely motionless. He couldn't move, not a quarter of an inch sideways because he would've got into the split-screen problem, and he did that beautifully. And the result is a beautiful shot.
And it's this little mining village, just a little village somewhere in the States. It's never made very clear where. But, I don't think it's for nothing that that was the last of Carson McCullers' novels not to be, to be filmed, and there's a good reason there, because it's a very, very difficult thing to bring to the screen, very difficult. For one thing, it ends in a 10-minute-long boxing match between Keith Carradine and Vanessa Redgrave, which is described in the book as lasting four hours, and extremely bloody. To bring that to the screen is really quite a problem. For that boxing match I decided to use a special technique where it's partly hand-held, partly fixed, and as the boxing match progresses, the lighting gets more and more and more top heavy. It becomes... the lighting becomes like a boxing ring, in fact, where it's lit entirely from the top and they get very contrasty. The faces become very contrasty. But that mixture of hand-holding and fixed camera was very successful in covering that scene.
And at the end of that scene Vanessa gave a marvellous performance, but it was completely unusable. At the end of the scene, she's been defeated through a trick, because the little dwarf who's part of the action, jumps from the top shelf in this... in the café, the Sad café, he jumps from the top shelf and he's actually carried on a wire. There was a stunt. And he jumps onto the back of Vanessa who has just about succeeded in forcing Keith Carradine to the ground, and is about to win, in fact, the boxing match, the wrestling/boxing match, and he jumps... he makes this tremendous leap onto her back and it turns the whole thing over and then he wins. You know, he slugs Vanessa into unconsciousness, basically. Then Vanessa is lying there and a bucket of water is thrown over her. And then she played the scene right through to the end in one shot, where very slowly, she shakes herself and rises, and very slowly, head bowed, defeated, very slowly walks back into her office, sobbing, and closes the door. And you can still hear her sobbing in the office after... at the end of the scene. And she played that beautifully and everybody applauded. But I was aware that, as it lasted four minutes, it's impossible. No way that could be in the film. Right at the end of the film, right at the climax of the film, you have a four-minute shot of her crying and walking into the office. Not possible. So, of course, it was cut. It was inter-cut with other things and it came to nothing. Sometimes they get carried away with their performance, without being aware that their performance is not a stage performance, it's a film performance and it takes place in a certain framework, and there's no point in giving a beautiful performance which cannot be used.
Born in Germany, cinematographer Walter Lassally (1926-2017) was best known for his Oscar-winning work on 'Zorba the Greek'. He was greatly respected in the film industry for his ability to take the best of his work in one area and apply it to another, from mainstream to international art films to documentary. He was associated with the Free Cinema movement in the 1950s, and the British New Wave in the early 1960s. In 1987 he published his autobiography called 'Itinerant Cameraman'.
Title: "The Ballad of the Sad café": Vanessa Redgrave
Listeners: Peter Bowen
Peter Bowen is a Canadian who came to Europe to study and never got round to heading back home. He did his undergraduate work at Carleton University (in Biology) in Ottawa, and then did graduate work at the University of Western Ontario (in Zoology). After completing his doctorate at Oxford (in the Department of Zoology), followed with a year of postdoc at the University of London, he moved to the University's newly-established Audio-Visual Centre (under the direction of Michael Clarke) where he spent four years in production (of primarily science programs) and began to teach film. In 1974 Bowden became Director of the new Audio-Visual Centre at the University of Warwick, which was then in the process of introducing film studies into the curriculum and where his interest in the academic study of film was promoted and encouraged by scholars such as Victor Perkins, Robin Wood, and Richard Dyer. In 1983, his partner and he moved to Greece, and the following year he began to teach for the University of Maryland (European Division), for which he has taught (and continues to teach) biology and film courses in Crete, Bosnia, and the Middle East.
Tags: The Ballad of the Sad café, Keith Carradine, Vanessa Redgrave
Duration: 4 minutes, 38 seconds
Date story recorded: June 2004
Date story went live: 24 January 2008