NEXT STORY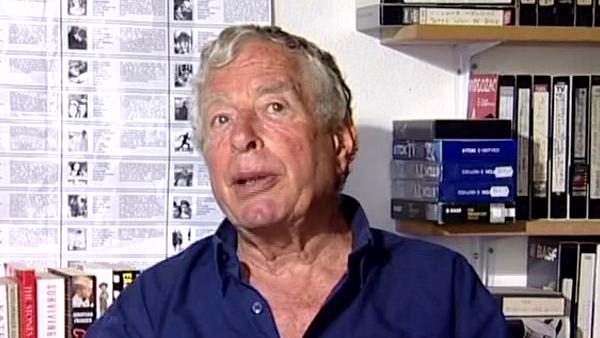 Difficulties in the 1970s
The Ballad of the Sad café: Wearing several hats
Walter Lassally
Film-maker
1
...
20
21
22
23
24
...
27
Ismail Merchant was absent during most of that shooting and his representatives on set were more than useless. No, it was very hard. I ended up wearing several hats, and I ended up quarrelling with Simon, I ended up walking off the set twice, or three times even, but never for more than 20 minutes. Yes, the last time was... it was Vanessa's last day. Her contract was about to finish. And we had to retake something that I knew, at the time when we took it, three or four weeks earlier, that that would be a retake, because she'd refused to perform a certain action in a way that was sensible. And she did a very inadequate reaction to something that happens in the café, and I knew that'd have to be re-shot, and it was re-shot on the last day. She was sitting in the office in a place which was already pre-lit from many other scenes, because that whole café was pre-lit. I was able to put lights up and just switch from day to night in a few minutes by re-plugging the lamps, so that was more or less pre-lit. And I just put the finishing touches. And then she got stroppy and said, 'You haven't bothered to light me properly'. And I walked off.
And then I was persuaded to come back, and all that. And the next day we had the spaghetti again and it was fine. But you have to go through these things. It's very... It's very irritating. Particularly when you're very stressed having lighting, operating and dealing with all these problems which shouldn't be your problem. Because Simon again... Simon is... being gay, like James, he can't deal with strong women. So again, in that film, there was a moment when she decided she was going to play... because a certain scene had a background of... the theme at the back of the scene... the theme at the back of the scene, the theme at the back of the scene is materialism and there's a conversation with one of the townspeople about, we're not worth a great deal, you know, people like us, they're pretty worthless, and she said, 'I'm going to play that scene at the cash register, and I'm going to...' – during this conversation where he's leaning on the counter and they're having this conversation, and during the entire scene people are going to come up, come up and they're going to pay their bills – 'and I am going to put their money in the cash register and I'm going to give them the correct change'. And we said, 'You know, this is impossible. The sound man's going to go mad, because how do you get all your dialogue in... in between the cash register, the ping, and the cash register closing and opening, and... absolutely impossible'. But she did it. She prevailed on Simon and it was shot that way and it was extremely difficult.
And also sometimes... we'd decided to do it in a certain way, because I took over the blocking of the whole thing early on when I realised that Simon just wasn't... didn't have enough experience to block the thing, so it was me. I asked the actors to come to me to ask where the next setup would be, because I was the one that directed all that. So, again, I was accused of trying to direct the picture and all that. It became very tricky. And at the end when the film was finally finished, God willing it was finally finished, but yes, then we had a very bad relationship afterwards. In the press Simon said, 'Walter Lassally was surly and uncooperative and all this'. And I said... I wrote him a letter and said, 'Really, Simon, that was totally untrue, why wash your dirty linen in public, ridiculous. A pity'. And the film wasn't... to me that... we did justice to the book, which was not easy, and to me, in that sense, it's a success, whatever the box office said.
Born in Germany, cinematographer Walter Lassally (1926-2017) was best known for his Oscar-winning work on 'Zorba the Greek'. He was greatly respected in the film industry for his ability to take the best of his work in one area and apply it to another, from mainstream to international art films to documentary. He was associated with the Free Cinema movement in the 1950s, and the British New Wave in the early 1960s. In 1987 he published his autobiography called 'Itinerant Cameraman'.
Title: "The Ballad of the Sad café": Wearing several hats
Listeners: Peter Bowen
Peter Bowen is a Canadian who came to Europe to study and never got round to heading back home. He did his undergraduate work at Carleton University (in Biology) in Ottawa, and then did graduate work at the University of Western Ontario (in Zoology). After completing his doctorate at Oxford (in the Department of Zoology), followed with a year of postdoc at the University of London, he moved to the University's newly-established Audio-Visual Centre (under the direction of Michael Clarke) where he spent four years in production (of primarily science programs) and began to teach film. In 1974 Bowden became Director of the new Audio-Visual Centre at the University of Warwick, which was then in the process of introducing film studies into the curriculum and where his interest in the academic study of film was promoted and encouraged by scholars such as Victor Perkins, Robin Wood, and Richard Dyer. In 1983, his partner and he moved to Greece, and the following year he began to teach for the University of Maryland (European Division), for which he has taught (and continues to teach) biology and film courses in Crete, Bosnia, and the Middle East.
Tags: The Ballad of the Sad café, Ismail Merchant
Duration: 3 minutes, 48 seconds
Date story recorded: June 2004
Date story went live: 24 January 2008