NEXT STORY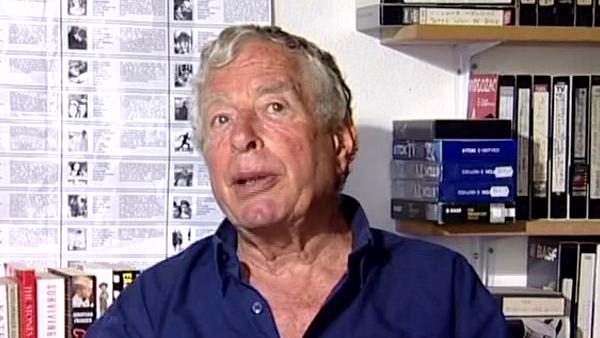 Le Mans: Stress on the set
Le Mans: Steve McQueen
Walter Lassally
Film-maker
1
...
21
22
23
24
25
...
27
The following year I shot Le Mans, for Steve McQueen. I still don't really understand why they asked me to do that film, because it's not my sort of thing. But it's probably because they had the same... it was again working for the same production company that was the subsidiary of CBS, I think. Anyway, I was approached to do that film and the first job in that film was to give a briefing to some 20 camera crews, to shoot the actual race. They had assembled camera crews from Britain, Holland, France, Germany, all over the place. And as I speak French and German, I gave this trilingual briefing to those crews. The plan was... it was a film without a script. At that point there was no script. Somebody was starting to write... had started to write the script, but at that point there was no script. There was, what they called, a racing continuity. The idea was that Steve and his co-driver were driving these two Ferraris, I think they were, and... no there was a rivalry between Ferrari and the other... Maserati, or whoever. As you see, I'm not terribly interested in motor racing. They had worked very, very hard and very, very long.
The first thing they did, actually, to prepare for that film, is to get a mechanic to find a way to attach a 35 mm camera, shooting in Cinemascope, which that film is made in, to a motor car... to a racing car, which is not easy, because the racing cars are made as flimsy as possible and there just isn't a piece of metal strong enough to attach anything to, because they've been pared down to the last possible inch, centimetre, millimetre. But he made it. And after some months of preparation they were prepared. So they had this camera car ready, which was officially entered in the race. By enormous irony, the two action cars were out of the race quite early on, but the camera car finished. Only it had nothing to photograph. Anyway, at that point it was only a racing continuity and, as you know, the Le Mans race is a 24-hour race, and it involves a lot of ancillary activities. There's camping grounds and beer halls and cafés and dancing and God knows what.
So, during the actual race, I found myself supervising, trying to supervise what was going on, not easy. So, I used to enter one of these smokey... smoke-filled beer halls and see a crew working away in there, and I'd tap them on the back and I'd say, excuse me, are you working for us? Because I hadn't seen... there were... I had briefed 18 crews, but just before the race began, they hired... for some reason they hired three more crews whom I hadn't even met. That's how that happened. I wasn't quite sure whether they were working for us or not.
And then the race was successfully filmed, successfully except for the fact that the camera car was the only one to finish, out of our... from our bit. And then there was a break and then a little bit of regrouping. And then the serious filming started. The non-race filming. And Steve McQueen had set his scriptwriters an impossible task. Steve said, 'The film must begin at the beginning of the race and it must end at the end of the race, and there must be no flashbacks'. Well, how do you write any scenes? The only scenes you can write is when his co-driver is driving, and he's having a rest, because the rest of the time that's what you see of Steve McQueen. I don't know if people are going to pay a lot of money to see two hours of Steve McQueen like that in a racing car, but he was obsessed, because he is a racing car driver. He can drive cars in races, and does, and, he was absolutely obsessed. He said, 'I have never seen...' He said to me, 'I have never seen a movie, a racing movie, which gives you the feeling of being behind the wheel of a racing car'. And I said, 'And you never will'. Because every time they've said, 'Oh, what we need is this special piece of hydraulic pneumatic', I don't know, new piece of equipment and we'd say, 'Order it from God knows where, Hollywood or whatever', and whenever this new special piece of equipment used to arrive, usually on the crate it was stamped, Grand Prix, because that was the last racing movie he was in, used that sort of equipment for. There was nothing new.
Born in Germany, cinematographer Walter Lassally (1926-2017) was best known for his Oscar-winning work on 'Zorba the Greek'. He was greatly respected in the film industry for his ability to take the best of his work in one area and apply it to another, from mainstream to international art films to documentary. He was associated with the Free Cinema movement in the 1950s, and the British New Wave in the early 1960s. In 1987 he published his autobiography called 'Itinerant Cameraman'.
Title: "Le Mans": Steve McQueen
Listeners: Peter Bowen
Peter Bowen is a Canadian who came to Europe to study and never got round to heading back home. He did his undergraduate work at Carleton University (in Biology) in Ottawa, and then did graduate work at the University of Western Ontario (in Zoology). After completing his doctorate at Oxford (in the Department of Zoology), followed with a year of postdoc at the University of London, he moved to the University's newly-established Audio-Visual Centre (under the direction of Michael Clarke) where he spent four years in production (of primarily science programs) and began to teach film. In 1974 Bowden became Director of the new Audio-Visual Centre at the University of Warwick, which was then in the process of introducing film studies into the curriculum and where his interest in the academic study of film was promoted and encouraged by scholars such as Victor Perkins, Robin Wood, and Richard Dyer. In 1983, his partner and he moved to Greece, and the following year he began to teach for the University of Maryland (European Division), for which he has taught (and continues to teach) biology and film courses in Crete, Bosnia, and the Middle East.
Tags: Le Mans, Steve McQueen
Duration: 4 minutes, 43 seconds
Date story recorded: June 2004
Date story went live: 24 January 2008