NEXT STORY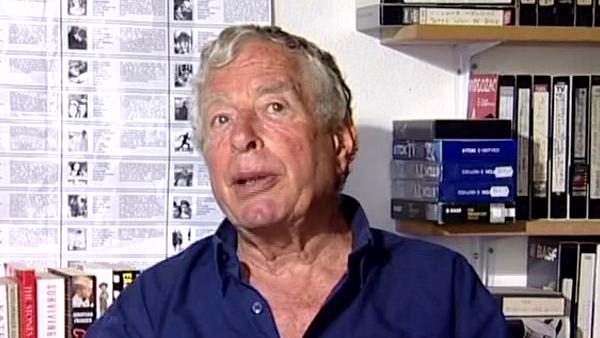 It pays to do location scouting
Gun Before Butter: The shooting
Walter Lassally
Film-maker
1
...
21
22
23
24
25
...
27
This film takes place in, let me get this right, in Amsterdam, Belgium and Germany. And it's all about butter smuggling, which apparently... It's in the '50s. Apparently in the '50s butter smuggling from Germany into Belgium, or Belgium into Germany, I'm not quite sure in which direction, was a major industry, apparently. Mostly carried out by little men who... little old men who crossed the frontier with it sort of all strapped to their waists with lots of packs of butter. Seems incredible, but apparently it's true. So this film is mainly shot in Amsterdam and the problem with that was that Amsterdam is full of cars, and if ever a city should be a completely pedestrian zone, it's Amsterdam. But it's actually full of motor cars. And to clear a sufficient area for us to film and not have any post-1950 motor cars in shot, was a major nightmare. So in that film most of the long shots are looking steeply upwards, so you have the tops of the houses in the background and not the street, which is full of motor cars.
And, Peter had an assistant with him that worked from... that he brought with him from the theatre. And I thought this guy was extremely efficient because, at the time before tape recorders were all that common, he had this little tape recorder, and when Peter said, here I want this that and the other, he said, all very, very efficient. Then I discovered, when we came to shoot one of the main locations in Amsterdam some weeks later, I discovered that this guy had actually prepped the house next door to the one that we were supposed to be working in. So that mitigated a bit on my opinion of his efficiency. And again, that film, which was made with a small crew and relative means, the art department was virtually non-existent. There were lots of scenes in police stations and the customs posts and things like that. And we were... there were lots of scenes in police stations and customs posts in the Netherlands, and on the wall we were absolutely hounded by this map that kept appearing in every one of those sort of sets. There was this map on the wall, which said: First Map of the Netherlands. It's obviously intended for use in schools. It's not meant for operational use in a police station. And I kept saying, 'Not that bloody map again', you know, it's not right.
And on one occasion we had a shot... we had a scene to do in a customs post, in a sort of temporary customs post on the border somewhere, and we were shooting in a house in Amsterdam and we looked out of the window and in the road there was this workman's hut on wheels, like a gypsy caravan that they used to use there, the road repairers used to use. I looked at this thing, I said, 'That wouldn't be a bad...' Because we hadn't found a location for this hut. We hadn't found the place where we could shoot the interior of this customs post. So we said, 'Yes, let's investigate'. So we sent them off to investigate, and they said, 'Yes, yes, fine, we're going to do that'. So we did all our shooting in the house and then when it came to the shooting in that hut, we opened the door and it was completely empty. It hadn't been prepared at all. So that was less than perfect.
And then the film was never released. It's one of those that I've mentioned earlier that was never finished. It was finished but it was never released because the... Nicholas Freeling's literary agent had pulled off a very successful, quite... a very clever coup. He'd sold the works of Nicholas Freeling twice, twice over. And, we had bought... the company that I was working for had bought the rights to this particular novel called Gun Before Butter. And, Thames Television had bought, at the same time, the rights to the character, Van der Valk, with their own new scripts. And both of us were making the first Van der Valk film, in our case it was the Van der Valk film; in their case it was the first Van der Valk programme with the series, and they were both ready at the same time. A court case developed in which they said we'd paid all this money to say that Nicholas Davenport is Van der Valk and can't suddenly have Frank Finlay being Van der Valk as well. We spent all this money publicising... big posters saying: Nicholas Davenport is Van der Valk. So this court case developed with the net result that the film was never shown, except on German television. I have a copy of it dubbed into German. It was supposed to be finished in English and German. It was shot entirely in English, which also surprised me, because the principal production company on that film was actually German television, and that they would allow a film, which they financed almost entirely, to be made in English, that surprised me. But then the Germans are so used to dubbing that it isn't really that surprising.
Born in Germany, cinematographer Walter Lassally (1926-2017) was best known for his Oscar-winning work on 'Zorba the Greek'. He was greatly respected in the film industry for his ability to take the best of his work in one area and apply it to another, from mainstream to international art films to documentary. He was associated with the Free Cinema movement in the 1950s, and the British New Wave in the early 1960s. In 1987 he published his autobiography called 'Itinerant Cameraman'.
Title: "Gun Before Butter": The shooting
Listeners: Peter Bowen
Peter Bowen is a Canadian who came to Europe to study and never got round to heading back home. He did his undergraduate work at Carleton University (in Biology) in Ottawa, and then did graduate work at the University of Western Ontario (in Zoology). After completing his doctorate at Oxford (in the Department of Zoology), followed with a year of postdoc at the University of London, he moved to the University's newly-established Audio-Visual Centre (under the direction of Michael Clarke) where he spent four years in production (of primarily science programs) and began to teach film. In 1974 Bowden became Director of the new Audio-Visual Centre at the University of Warwick, which was then in the process of introducing film studies into the curriculum and where his interest in the academic study of film was promoted and encouraged by scholars such as Victor Perkins, Robin Wood, and Richard Dyer. In 1983, his partner and he moved to Greece, and the following year he began to teach for the University of Maryland (European Division), for which he has taught (and continues to teach) biology and film courses in Crete, Bosnia, and the Middle East.
Tags: Amsterdam, Peter Zadek, Nicholas Davenport, Nicholas Freeling
Duration: 5 minutes, 21 seconds
Date story recorded: June 2004
Date story went live: 24 January 2008