NEXT STORY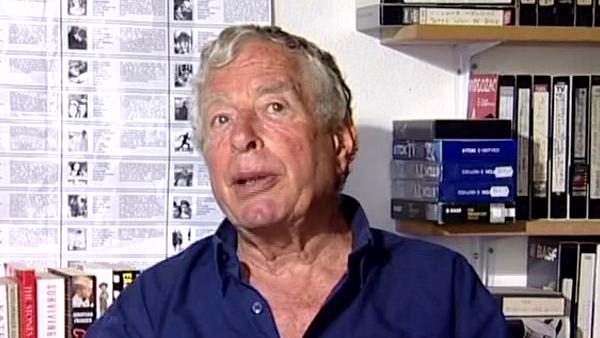 The Clown: shooting, lighting and the story
Walter Lassally
Film-maker
1
...
21
22
23
24
25
...
27
The next film that I made in Germany was "The Clown", or "Ansichten eines Clowns", which is a novel by Heinrich Böll. It was my first film with somebody who became a very, very dear friend, the Czech director, Vojtech Jasny. The way I met Vojtech for the first time was also quite interesting. I was in Greece shooting the documentary, "The Greeks", which is set in Crete, all round here. It's made all round here. And Kate and I were staying in this government hotel, the Xenia, in Chania, and one day the phone rang and an extremely distant voice said- Walter? Yes, yes, I said, speaking, speaking. And it turned out to be an American writer and producer called Arnold Perl. He said to me, we're making this film about one of the stories by Shalom Aleichem and we want to look at it like Chagall. And I said- you know, this crackling news came over the wire, and I said- yes, well, yes that would be nice, but it's possibly a bit of a tall order I expect, but tell me more. So they said- where are you? And I said- well, I'm here in Crete. Well, we want to come and talk to you. I said- you mean you want to come all the way to Crete to talk to me. Yes, yes, don't worry, we'll come and talk to you. How long are you going to be there? So they came and they talked to me and they explained it in detail. In fact they wanted to make a film a bit like "Fiddler on the Roof", with that kind of look to it. And I said- well, yes, but as you know, I'm a cameraman and who's your director? And they said- well, we don't have a director yet. So I said- well, that's a little bit upside down. I do think you ought to find a director first, because maybe we don't get along or maybe he's already got his own cameraman, preferred cameraman. Then I said, well, for a subject like that I suggest to you that you look in Poland, Czechoslovakia, Hungary, because there you might find somebody who is very much in line with your, with that type of subject. I didn't think of Israel because there aren't many directors in Israel anyway. Not well known ones. So they set off and they found Vojtech, Vojtech Jasny, and eventually there was a meeting between us, but the project collapsed. I can't remember why it collapsed, but it collapsed. But it led to my friendship with Vojtech, whom I first saw in Prague on the year of the Prague Spring and subsequently the Prague invasion. I remember Vojtech's wife, Kveta being very nervous and Vojtech was really a bit out of that kind of thing. He wasn't too concerned. Vojtech was just finishing one of his movies, called- in English it's called "All My Good Fellow Countrymen". And this movie was just about finished when the Russians invaded. And he managed to finish it and they showed it. After about three months the Russians and the new Czech authorities twigged onto the fact that this was actually an anti-regime film. It wasn't exactly a communist-friendly film. And it was banned, and he had to leave the country. Not immediately, but he was sort of eased out. And the film wasn't shown for many years. Many years later it- it existed- For many years there existed one 35mm copy dubbed into German and one 16mm copy which is somewhere in Canada. Vojtech emigrated. He went to- initially to Salzburg where I met him several times, then to Munich, where again I met him several times, and then to America subsequently. But he was living in Munich at the time when he offered me "The Clown". And I was delighted at the chance to work with him. He's a lovely man and very talented. A very poetic director and there's not many of those, there's really not many of those.
Born in Germany, cinematographer Walter Lassally (1926-2017) was best known for his Oscar-winning work on 'Zorba the Greek'. He was greatly respected in the film industry for his ability to take the best of his work in one area and apply it to another, from mainstream to international art films to documentary. He was associated with the Free Cinema movement in the 1950s, and the British New Wave in the early 1960s. In 1987 he published his autobiography called 'Itinerant Cameraman'.
Title: The Clown: Vojtech Jasny
Listeners: Peter Bowen
Peter Bowen is a Canadian who came to Europe to study and never got round to heading back home. He did his undergraduate work at Carleton University (in Biology) in Ottawa, and then did graduate work at the University of Western Ontario (in Zoology). After completing his doctorate at Oxford (in the Department of Zoology), followed with a year of postdoc at the University of London, he moved to the University's newly-established Audio-Visual Centre (under the direction of Michael Clarke) where he spent four years in production (of primarily science programs) and began to teach film. In 1974 Bowden became Director of the new Audio-Visual Centre at the University of Warwick, which was then in the process of introducing film studies into the curriculum and where his interest in the academic study of film was promoted and encouraged by scholars such as Victor Perkins, Robin Wood, and Richard Dyer. In 1983, his partner and he moved to Greece, and the following year he began to teach for the University of Maryland (European Division), for which he has taught (and continues to teach) biology and film courses in Crete, Bosnia, and the Middle East.
Duration: 4 minutes, 12 seconds
Date story recorded: June 2004
Date story went live: 24 January 2008