NEXT STORY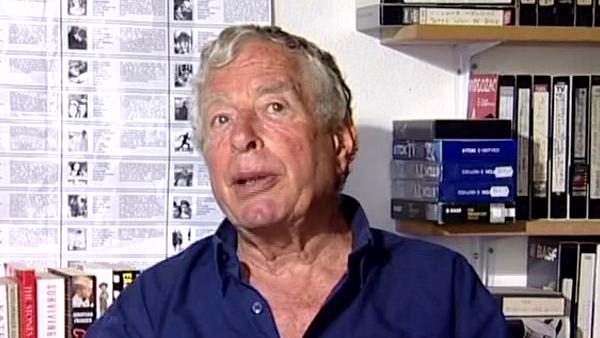 Work with Vojtech Jasny
Ivo: The shooting
Walter Lassally
Film-maker
1
...
22
23
24
25
26
27
The story of Ivo is about a group... a family of guest workers who working... from Yugoslavia working in Vienna. There's the two brothers and the son of one of them. While the two brothers go off to work every day, the son keeps house for them. He's a 10-year-old, 11-year-old boy. The mother's back in Yugoslavia. The son is there all day and he has trouble with the neighbours, he has trouble with the landlady, they don't really like him very much, so one day he decides he's going to... just before Christmas, he's going to light out and he's going to hitchhike his way back to Yugoslavia. So the film takes place... About a third of the film takes place in Vienna in that house, and the rest of the film is on the road towards Yugoslavia, and then it finishes in Yugoslavia. That's the one film... I never even had a dolly on that film, because nearly... the house... the flat, the initial flat is too small, as is the house in Yugoslavia, that we shot in, too small to use a dolly effectively. The rest of the film takes place on the road, so if we have a dolly shot it's in the car, or in a truck or something. So that film was made without a dolly. It's the only time I worked a whole film without a dolly.
We had a mixed crew, we had a... no, we had a German crew, part Austrian, and that's one film I didn't have my usual German assistant, because as George was my usual assistant in Greece and Tom Hoppey in America, I also had a German assistant called Peter Arnold, who did most of the German films with me. But that was an exception. That was somebody else whose name was Adi. His real name was Adolf. But, of course, nobody likes to say that their name is Adolf, for certain reasons, so he's known as Adi. Adi Gürtner.
And, the shooting went pretty smoothly most of the time. Most of the time it went pretty smoothly, but all the time I was aware of this problem, which obviously wasn't going to go away. It was going to cause problems in post-production. There's a lovely scene in that movie where the hero, the 10-year-old, half way to Yugoslavia, he meets another 10-year-old in Graz. In the railway stations in Graz he meets this other 10-year-old who was a very interesting child who had been all over Europe. He'd been kicked from pillar to post, as a sort of a refugee, and ended up in Vienna, but he was of Russian origin. They have a wonderful scene together in a restaurant. He makes his money by kombines, what they call kombines, in Greek, you know. He works the railway station. So he says, 'I'm going to invite you to dinner' and he goes to... they have a dinner in this restaurant, and at the end of the dinner, he says, 'Well, I've got to go now, got to get on with it'. That's a good example of what went wrong in the dub, because he says in German... he says, 'Muss jetzt gehen, du weisst schon, Geschäfte!', which is almost Yiddish, and it should've been translated as: 'I've got to go now, you know, business'. They translated it as commerce instead of business. He said, 'I've got to go now, you know, commerce'. I mean... And she spent a lot of money on the dubbing. Completely thrown out of the window.
The film was never shown outside Austria and Germany. A great shame. You say it should've been in black and white, you thought. Well I thought that with that particular subject, it needed to be made either in 16 mm with some forced film in order to get the realism. Because, as I've already said many times, colour tends to glamorise things, and I would've liked to have found a way of making that either in black and white or in 16 and blowing it up, or giving it some sort of grainy quality. But they were totally opposed to that, because it was partly financed by Austrian television, and they wouldn't consider it.
Born in Germany, cinematographer Walter Lassally (1926-2017) was best known for his Oscar-winning work on 'Zorba the Greek'. He was greatly respected in the film industry for his ability to take the best of his work in one area and apply it to another, from mainstream to international art films to documentary. He was associated with the Free Cinema movement in the 1950s, and the British New Wave in the early 1960s. In 1987 he published his autobiography called 'Itinerant Cameraman'.
Title: "Ivo": The shooting
Listeners: Peter Bowen
Peter Bowen is a Canadian who came to Europe to study and never got round to heading back home. He did his undergraduate work at Carleton University (in Biology) in Ottawa, and then did graduate work at the University of Western Ontario (in Zoology). After completing his doctorate at Oxford (in the Department of Zoology), followed with a year of postdoc at the University of London, he moved to the University's newly-established Audio-Visual Centre (under the direction of Michael Clarke) where he spent four years in production (of primarily science programs) and began to teach film. In 1974 Bowden became Director of the new Audio-Visual Centre at the University of Warwick, which was then in the process of introducing film studies into the curriculum and where his interest in the academic study of film was promoted and encouraged by scholars such as Victor Perkins, Robin Wood, and Richard Dyer. In 1983, his partner and he moved to Greece, and the following year he began to teach for the University of Maryland (European Division), for which he has taught (and continues to teach) biology and film courses in Crete, Bosnia, and the Middle East.
Tags: Ivo, Peter Arnold, Adolf Gürtner
Duration: 4 minutes, 18 seconds
Date story recorded: June 2004
Date story went live: 24 January 2008