NEXT STORY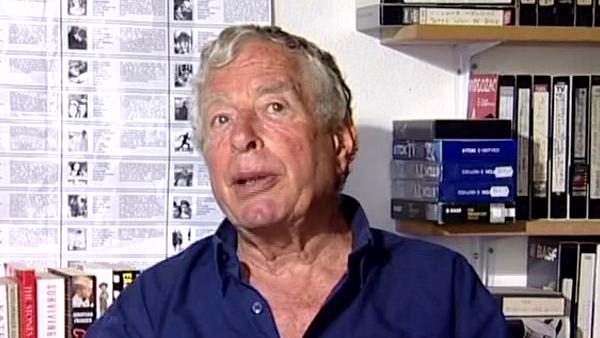 Forming Screen Craft
Walter Lassally
Film-maker
1
2
3
4
5
...
27
There were two major disappointments during that time, I got fired twice. Once, on Night and the City, which is a Jules Dassin film, I was focus puller on the second unit, working for a cameraman called Jo Jago, who was the second unit cameraman for Max Greene whose real name is Mutz Greenbaum. but he was called Max Green when he worked in England. He was the main cameraman on the main unit for Night and the City, and Jo Jago headed the second unit. And sometimes we worked alongside the first unit, but very often we worked separately, as a separate unit... doing pick-ups and all kinds of run-by's and odd things. But the camera operator on the second unit was a man called Hal Brittan who drank rather a lot and smoked rather a lot, and, they really wanted to fire him. But there wasn't any easy way of doing this. The union would've objected, there would have been a whole brouhaha, so instead of firing him they closed down the whole second unit. Then, after a decent interval, they reformed the second unit but without him and without me. So that was that. And the second time I got fired, that was... I can't remember if that was before or afterwards, was when I'd just got the job as focus puller on a series of 13 TV films. They were TV films being made for American TV, because English TV hadn't started at that point. And... but the Americans made quite a few features... quite a few TV films in Britain at that point as... because it was cheaper to work in Britain than it was to work in America. So, one of those was... well there were two spells but the one at Riverside, where I got this job for 13 weeks, supposedly, there was something wrong with the camera. We were filming on Mitchells, not BNCs, but ordinary Mitchells, it's called the standard Mitchell, and it was a camera that... you put in a big blimp, so for sound shooting it had to be in this blimp which was about this size, quite a large thing.
And... and the camera had a turret with four lenses on it. And, for some strange reason, which I never really understood, was, that it didn't have a handle by which you would turn the turret. If you wanted to turn the turret to switch lenses, you had to undo a screw which was just there to hold it in place, and then you had to grab one of the lenses, and actually turn the turret by means of the lens. Now this mechanism was very stiff on this camera. So I said, 'This isn't right, it shouldn't be like that'. But the studio had a maintenance department and so I gave it to the studio maintenance department and said, 'Look, it doesn't turn easily'. So they looked at it, they did it, and they returned it, and we shot with this camera and it turned out that they'd got it wrong. They hadn't replaced the turret in the correct position, and there was a very slight out-of-focus-ness about all the shots. They were slightly soft, which we would call slightly soft. And there was a terrible row. And, of course, I ended up getting fired. And I said, 'Look this is not... this is the camera which is being maintained by this camera maintenance department, it's not...' And the producer said to me – it was one of the Danziger brothers who were pretty notorious, or became notorious as cheapskates – he said to me, 'Do you realise I have to live with this picture?!' So, I said, 'Well, in that case, what can I say'.
Born in Germany, cinematographer Walter Lassally (1926-2017) was best known for his Oscar-winning work on 'Zorba the Greek'. He was greatly respected in the film industry for his ability to take the best of his work in one area and apply it to another, from mainstream to international art films to documentary. He was associated with the Free Cinema movement in the 1950s, and the British New Wave in the early 1960s. In 1987 he published his autobiography called 'Itinerant Cameraman'.
Title: Getting fired twice
Listeners: Peter Bowen
Peter Bowen is a Canadian who came to Europe to study and never got round to heading back home. He did his undergraduate work at Carleton University (in Biology) in Ottawa, and then did graduate work at the University of Western Ontario (in Zoology). After completing his doctorate at Oxford (in the Department of Zoology), followed with a year of postdoc at the University of London, he moved to the University's newly-established Audio-Visual Centre (under the direction of Michael Clarke) where he spent four years in production (of primarily science programs) and began to teach film. In 1974 Bowden became Director of the new Audio-Visual Centre at the University of Warwick, which was then in the process of introducing film studies into the curriculum and where his interest in the academic study of film was promoted and encouraged by scholars such as Victor Perkins, Robin Wood, and Richard Dyer. In 1983, his partner and he moved to Greece, and the following year he began to teach for the University of Maryland (European Division), for which he has taught (and continues to teach) biology and film courses in Crete, Bosnia, and the Middle East.
Tags: camera, soft focus, maintenance, producer
Duration: 3 minutes, 49 seconds
Date story recorded: June 2004
Date story went live: 24 January 2008