NEXT STORY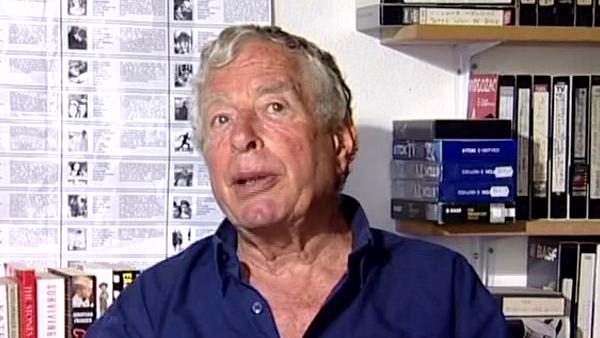 The Magic Mountain: Getting fired
The Magic Mountain: Problems with lighting
Walter Lassally
Film-maker
1
...
23
24
25
26
27
We started shooting and we soon... I soon discovered differences between me and Geissendörfer. He objected to the way I lit the exterior of the sanatorium, because The Magic Mountain takes place largely in a sanatorium for the tubercular patients. And it's set on the eve of World War I, 1913, and it's a totally unfilmable novel, in my opinion. Because there is absolutely no action, and I mean none! The subject is the conflict between state and religion in 1913 in Germany. Not exactly your most commercial subject. Anyway, they... so there was this exterior of the sanatorium, which had four rows of... it was a four-storey building and it was lined with balconies. So I would set up on the street... on the opposite side of the street, looking up at this building, night shot... a night scene. And on each of the balconies there is a little lamp, a little table lamp, with a red shade, a red cloth shade. I lit that and when they saw the results, either at the shooting or at the rushes, they said, 'That isn't right. All those balconies should be red. The light in the balconies should be red, because here's this red lamp'. And I said, 'Yes, but if you do that it doesn't look good, because the red lampshade against the red background wall wouldn't even show up'.
So I did something which is perfectly normal, I lit the balconies normally and then the red... and maybe slightly warm, but the red lampshade stands out against a more or less neutral background. To me it looked fine. But they had this strange idea that this is what it should look like, which is not true. It isn't true. Who's to say, anyway, what it should look like? We come back to the question of what is realism? Or what is naturalism, for that matter. Anyway, that was the first hiccup.
Then the hiccups only increased. Because I was using a star filter at that time, which had replaced the net. The star filter had a slight background... a slight drawback, which the net also had, but to a slightly lesser extent, which is that it produced stars on light sources, like candles, and on specular reflections. Now, there's a scene where Charles Aznavour carries this silver-topped cane, this is an exterior mind you, and every now and then, as he walked with his... swung this cane, a little star, kind of, blinked on the silver handle on the star, and Geissendörfer went absolutely mad. He said, 'Oh God, that star, I can't stand it, this is not... it's like a commercial, you mustn't... you mustn't use that filter!' I said, 'Okay, okay, calm down', but I can't just leave it off. I'll have to find another way of softening the image to please me, you know, to be the sort of image that I'm prepared to sign to... sign for. So I devised a... I used a low-contrast filter together with a diffusion filter, and it wasn't my ideal way, but at least it didn't produce any little stars. But his reaction was totally over the top.
Born in Germany, cinematographer Walter Lassally (1926-2017) was best known for his Oscar-winning work on 'Zorba the Greek'. He was greatly respected in the film industry for his ability to take the best of his work in one area and apply it to another, from mainstream to international art films to documentary. He was associated with the Free Cinema movement in the 1950s, and the British New Wave in the early 1960s. In 1987 he published his autobiography called 'Itinerant Cameraman'.
Title: "The Magic Mountain": Problems with lighting
Listeners: Peter Bowen
Peter Bowen is a Canadian who came to Europe to study and never got round to heading back home. He did his undergraduate work at Carleton University (in Biology) in Ottawa, and then did graduate work at the University of Western Ontario (in Zoology). After completing his doctorate at Oxford (in the Department of Zoology), followed with a year of postdoc at the University of London, he moved to the University's newly-established Audio-Visual Centre (under the direction of Michael Clarke) where he spent four years in production (of primarily science programs) and began to teach film. In 1974 Bowden became Director of the new Audio-Visual Centre at the University of Warwick, which was then in the process of introducing film studies into the curriculum and where his interest in the academic study of film was promoted and encouraged by scholars such as Victor Perkins, Robin Wood, and Richard Dyer. In 1983, his partner and he moved to Greece, and the following year he began to teach for the University of Maryland (European Division), for which he has taught (and continues to teach) biology and film courses in Crete, Bosnia, and the Middle East.
Tags: The Magic Mountain, Hans Geissendörfer, Charles Aznavour
Duration: 3 minutes, 24 seconds
Date story recorded: June 2004
Date story went live: 24 January 2008