NEXT STORY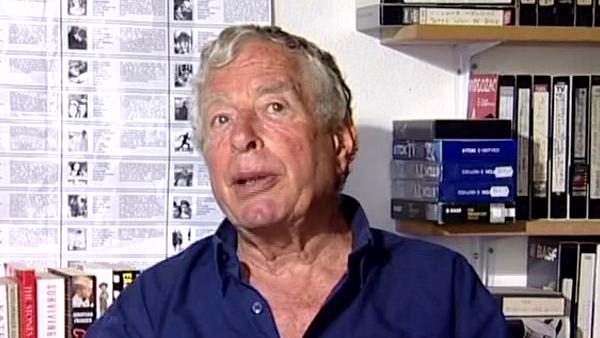 Memoirs of a Survivor: A fantasy story
Après le vent des Sables
Walter Lassally
Film-maker
1
...
23
24
25
26
27
The next film was in Israel. A very interesting film. Again, it came to grief at the end, but it was a very interesting film. Initially it was a British/Belgian/Israeli co-production with a young director, very talented young director, who wrote the script and whose first film... in fact, it turned out to be his only film, but that was his first film. He then turned to commercials and became a very successful and very rich director of commercials, but he would've dearly loved to have made another film. Anyway, the story of that film is... to call it science fiction is slightly misleading because it all takes place in the desert. And the first thing you see is a string of old American motorcars making their way across the desert, on a road across the desert, in, sort of, convoy, at night. And again, I used my day for night system. That worked pretty well most of the time. And then the next morning you have the day scene and these cars have parked in a circle, in a dip in the desert, in a hollow in the desert, and right round is desert. You don't see anything but desert. And that was quite a problem to find such a location. We spent a long time looking on the road and by helicopter, and we finally found such a location in the Sinai desert, in a piece of land that was, at that time, occupied by Israel, and is now back in Egyptian control, some miles from El Arish. That had the advantage that you could pan... make a 360º pan and not see anything but sand dunes, and yet you were within very easy road... access of a asphalt road, which was hidden by one of the sand dunes.
The first time I went there, when we were actually shooting... preparing the shooting, we went there to see if the preparations had been completed, because they built a little canteen there, all... just beyond the dip, where the asphalt road finished, they built a couple of buildings so we could have sheltered accommodation for eating and cooking. And... we came over this little dip, to look at the actual location, and there... lo and behold, what we saw, was in the far distance there was this group of little men, and they were sweeping the desert with brooms. Hard to believe, but true. And what they were doing was that this area had a few green sprouts that were coming up through the desert, which turned out to have roots about 8ft long, to find any water down there, and these had been pulled up in the immediate vicinity of our location, because you didn't want to see anything but sand. So they'd been pulled up and in order to do this work, they'd used a four-track vehicle of some sort, four-wheel drive vehicle with tracks, and the little men were erasing the tracks of this vehicle. That's what they were doing.
And the... the story is that this... inside this circle of old American cars there is a lone wanderer who is camped there and who finds himself... in the morning he wakes up and he finds himself surrounded by these cars. And then the bulk of the movie takes place in that setting, and gradually some contact is established between him and the people in the cars, but not much. Most of the action takes place between the different groups in the cars. There's a homosexual couple, there's a normal couple, there's a young girl who's in love with her young boyfriend, there's a single man who plays a trumpet, and they have contact. But they have virtually no contact with the man in the middle. The only contact with him is the little girl, who belongs to one of the families, goes and sees him and plays with him, but more or less... they ignore him more or less. And then towards the end of the film there's a terrific sandstorm and all the cars disappear. The cars and the people, everybody, it's all wiped out, but not in some sort of holocaust manner, they just disappear. They just disappear and the man finds himself one day, after the sandstorm, he finds himself alone.
And then at the end of the film he wanders off, and he is followed by a little boy, and it's sort of left open whether the little boy is his son, or whether it's himself as a young boy. It's kind of left open, because he has a medallion with him with a photograph of... again, is it a photograph of his son, or is it a photograph of himself as a boy? We don't know. So that's how the film finishes, with him tracking off, and all the cars and all the people have disappeared. It's a sort of fantasy, but it's very well done, very well staged, very well acted, although with a mixture of actors. Some were playing in English, some were playing in French, some were playing in Hebrew, and the idea was that it would be dubbed at the end, into... there would be a French version and an English version. And actually what happened was that the French version was completed, it was shown at Cannes, it died immediately and nobody took any notice of it, and so the producer abandoned it, and he said, 'I'm not going to make an English version'. So the thing was just abandoned. A great shame because it's a very interesting film. It more or less works. There are weaknesses, but it more or less works. And poor Claude Zaccaï, the director, never got another chance.
Born in Germany, cinematographer Walter Lassally (1926-2017) was best known for his Oscar-winning work on 'Zorba the Greek'. He was greatly respected in the film industry for his ability to take the best of his work in one area and apply it to another, from mainstream to international art films to documentary. He was associated with the Free Cinema movement in the 1950s, and the British New Wave in the early 1960s. In 1987 he published his autobiography called 'Itinerant Cameraman'.
Title: "Après le vent des Sables"
Listeners: Peter Bowen
Peter Bowen is a Canadian who came to Europe to study and never got round to heading back home. He did his undergraduate work at Carleton University (in Biology) in Ottawa, and then did graduate work at the University of Western Ontario (in Zoology). After completing his doctorate at Oxford (in the Department of Zoology), followed with a year of postdoc at the University of London, he moved to the University's newly-established Audio-Visual Centre (under the direction of Michael Clarke) where he spent four years in production (of primarily science programs) and began to teach film. In 1974 Bowden became Director of the new Audio-Visual Centre at the University of Warwick, which was then in the process of introducing film studies into the curriculum and where his interest in the academic study of film was promoted and encouraged by scholars such as Victor Perkins, Robin Wood, and Richard Dyer. In 1983, his partner and he moved to Greece, and the following year he began to teach for the University of Maryland (European Division), for which he has taught (and continues to teach) biology and film courses in Crete, Bosnia, and the Middle East.
Tags: Après le vent des Sables, Sinai, Claude Zaccaï
Duration: 5 minutes, 37 seconds
Date story recorded: June 2004
Date story went live: 24 January 2008