NEXT STORY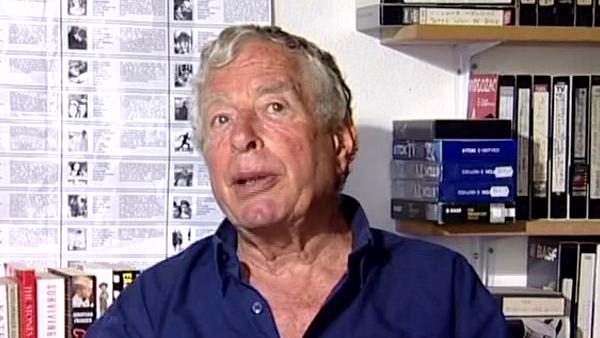 Katharine Hepburn's Parkinson's disease
TV movies with Katharine Hepburn
Walter Lassally
Film-maker
1
...
23
24
25
26
27
But working with Katharine Hepburn was a very different experience. A very nice experience and I'll always be grateful that I was given the chance. There's a very nice... the same director, by the way, for all those films. It was the two Katharine Hepburn movies, and for the Lucille Ball movies was a man called George Schaefer, with whom I'd made half a film in Ireland because that was a film about Irish children being given the chance. A Catholic boy with a Protestant boy being given the chance to go to America and live together. A group of children, obviously. And that had an Irish section, which I photographed, and an American section, which somebody else photographed. That's where I first met George Schaefer. And then he gave me the chance... he asked for me for those three movies. In the interval between the first Katharine Hepburn movie and the second Katharine Hepburn movie, there passed... there was a seven-year interval. But she always said, this is going to be my last movie. Then, of course, it wasn't. But that first Katharine Hepburn movie was called Mrs. Delafield Wants to Marry, and it's a very nice movie. And there again, as with Angela Lansbury who was rather younger, I'm very proud of some of the close-ups of Katharine that I managed to get in that movie. And it was very well thought of as... it had what counts as a success in a TV movie. It had a good quota of people watching. What do you call those things? Audience. Good audience figures.
And, but... during the making of the first Katharine Hepburn film, they showed... the Lucille Ball film had just been finished, so the Lucille Ball film was actually shown on television in the period that the Katharine Hepburn film was shooting. So one day, they said, 'Look, it's on television tonight'. And it turned out to be Election Day, or the pre-election period and we switched on the television to watch this film, and every 15 seconds the movie shrank to a quarter of the screen and on the rest of the screen you had some election propaganda. But they didn't stop the movie. The movie just carried on, you know, and then it went back to full screen again, and 15 minutes later the same thing happened again. It was unwatchable. And that's the only time that movie was shown. Maybe two years later, but that was the principal showing of that movie in... we were in Canada, we were shooting in Vancouver. The Lucille Ball movie was shot in New York, and the two Katharine Hepburn movies were shot in Vancouver, so it must have been Canadian elections.
Born in Germany, cinematographer Walter Lassally (1926-2017) was best known for his Oscar-winning work on 'Zorba the Greek'. He was greatly respected in the film industry for his ability to take the best of his work in one area and apply it to another, from mainstream to international art films to documentary. He was associated with the Free Cinema movement in the 1950s, and the British New Wave in the early 1960s. In 1987 he published his autobiography called 'Itinerant Cameraman'.
Title: TV movies with Katharine Hepburn
Listeners: Peter Bowen
Peter Bowen is a Canadian who came to Europe to study and never got round to heading back home. He did his undergraduate work at Carleton University (in Biology) in Ottawa, and then did graduate work at the University of Western Ontario (in Zoology). After completing his doctorate at Oxford (in the Department of Zoology), followed with a year of postdoc at the University of London, he moved to the University's newly-established Audio-Visual Centre (under the direction of Michael Clarke) where he spent four years in production (of primarily science programs) and began to teach film. In 1974 Bowden became Director of the new Audio-Visual Centre at the University of Warwick, which was then in the process of introducing film studies into the curriculum and where his interest in the academic study of film was promoted and encouraged by scholars such as Victor Perkins, Robin Wood, and Richard Dyer. In 1983, his partner and he moved to Greece, and the following year he began to teach for the University of Maryland (European Division), for which he has taught (and continues to teach) biology and film courses in Crete, Bosnia, and the Middle East.
Tags: Mrs. Delafield Wants to Marry, Katharine Hepburn, George Schaefer, Angela Lansbury, Lucille Ball
Duration: 2 minutes, 40 seconds
Date story recorded: June 2004
Date story went live: 24 January 2008