NEXT STORY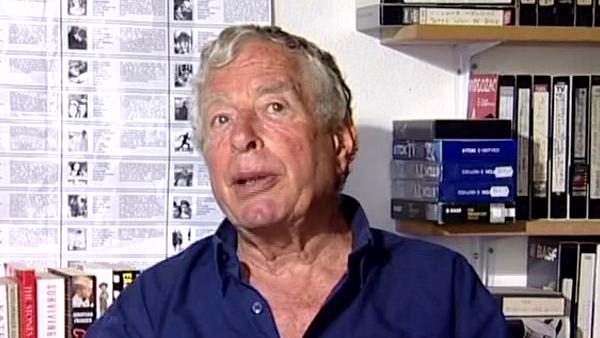 Making a short with Joan Littlewood and others
Documentary on the Mealy bug's impact on cassava crop
Walter Lassally
Film-maker
1
...
23
24
25
26
27
I think I already mentioned earlier that, unlike some cameramen who graduated from documentary to features, I continued to make documentaries and shorts of various sorts, right through my career, right through to the end, and, in fact, beyond the end of making features, I was still doing some documentaries. I must have made close to 100 documentaries and shorts in my career. Including some very odd ones, very odd ones where I was in the office of Merchant Ivory in... during the making of The Bostonians once, and the telephone rang and they said, 'It's for you'. I said, 'Who knows that I'm even here?', you know. I picked up the phone and this voice said, 'My name is Jonathan Power and I'm making this film about the influence of the mealy bugs on the cassava crop in Africa'. And I said, 'I beg your pardon? You sure you have the right number?'
Well, it turned out that my name had been given to somebody in... the lab had given him my name, and he was about to make this film. He was a journalist called Jonathan Power. He still writes very interesting... he works for the New York Times basically, or the Herald Tribune. He was a very interesting guy and he knew personally Colonel Obasanjo who, at that time, was... it was during one of his stints as Prime Minister... as President of Nigeria. And that's what the film was about. The influence of the mealy bugs on the cassava crop in Africa. He told us, 'We started with a shoot in Rome, we did a little shoot in Rome in a conference that was totally boring'. I said, 'I don't want to do that, it's boring'. And then we were all due to go to Nigeria and we were all at the airport waiting for him to come, and it got later and later and later, and he didn't show up. So in the end I said, 'Well, God knows what's happened to him, we'll have to catch the plane'. So we caught the plane and there was, apart from myself, there was a sound recordist and an assistant and Kate, and that was it. But my assistant was black, a Cockney Londoner, but he was black. And when we got to Lagos there didn't seem to be anybody there to meet us. The reason for that was, that they were told to expect a part of four, and what they saw was a party of three. Because they looked straight through this black guy. Really, it's most amazing. And he went through... round Nigeria with staring eyes and his mouth open, because he couldn't believe... he was a Londoner, you know, he was a Cockney and a Londoner, he'd no contact... that sort of life was totally, totally strange for him. That was one of the weirder things that I did, but I did a number of weird things.
Born in Germany, cinematographer Walter Lassally (1926-2017) was best known for his Oscar-winning work on 'Zorba the Greek'. He was greatly respected in the film industry for his ability to take the best of his work in one area and apply it to another, from mainstream to international art films to documentary. He was associated with the Free Cinema movement in the 1950s, and the British New Wave in the early 1960s. In 1987 he published his autobiography called 'Itinerant Cameraman'.
Title: Documentary on the Mealy bug's impact on cassava crop
Listeners: Peter Bowen
Peter Bowen is a Canadian who came to Europe to study and never got round to heading back home. He did his undergraduate work at Carleton University (in Biology) in Ottawa, and then did graduate work at the University of Western Ontario (in Zoology). After completing his doctorate at Oxford (in the Department of Zoology), followed with a year of postdoc at the University of London, he moved to the University's newly-established Audio-Visual Centre (under the direction of Michael Clarke) where he spent four years in production (of primarily science programs) and began to teach film. In 1974 Bowden became Director of the new Audio-Visual Centre at the University of Warwick, which was then in the process of introducing film studies into the curriculum and where his interest in the academic study of film was promoted and encouraged by scholars such as Victor Perkins, Robin Wood, and Richard Dyer. In 1983, his partner and he moved to Greece, and the following year he began to teach for the University of Maryland (European Division), for which he has taught (and continues to teach) biology and film courses in Crete, Bosnia, and the Middle East.
Tags: The Bostonians, Nigeria, Jonathan Power, Olusegun Obasanjo
Duration: 2 minutes, 39 seconds
Date story recorded: June 2004
Date story went live: 24 January 2008