NEXT STORY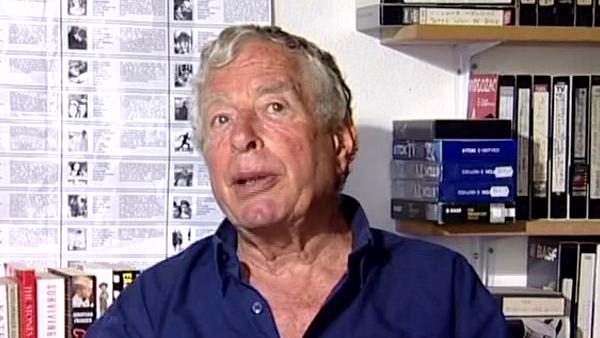 Saturday Night: The last scene and the Unity Theatre
Saturday Night: Shooting
Walter Lassally
Film-maker
1
2
3
4
5
...
27
So there was this... there was these scenes in his room and there was quite an interesting shot in the... I have a picture of that, I'll show it to you later... quite an interesting shot in this film where you're looking... he's lying on his bed, in his little bed-sitting room, and he's looking out of his window and, in a house some distance away that he can see from his window, because his house is up a bit of a hill, so he's sort of looking down across the valley, you could say. And some little way away there is a house and the sun is catching the window, so it's reflecting back strongly from that one window. Now to get this actually... to happen in practicality is almost impossible. So, as one of our £5 contributor members was an art director, who was already working in the film industry as an assistant art director I think, he constructed a little model house and we made a... we took a window frame, a full-sized window frame with curtains and... window... no, two window... two window panes and curtains and a frame, and we took this out onto a terrace and we propped it up on the scaffolding and put the camera behind. So the camera's looking- in the foreground you have this window frame and some distance behind, some maybe 10ft behind, you have a platform and on the platform is this little model house, which is only that tall, but made in great detail, like a film model. And it has a... it has a glass in one window and you could turn it in such a way that you could make the sun reflect back into the camera. And this shot is in the film and it's very successful, but, of course, it's quite a lot of trouble to get. But it's all good experience. Anyway, so there's that scene in his little bedroom, and then he goes out.
And then there's a scene, under a railway viaduct, just beyond London Bridge Station, where... it was a picturesque location. We were very careful to choose interesting locations. So we have this location where there's a series of bridges, almost like tunnels, very overhanging bridges, and he's walking along there and he encounters a prostitute. And, and again, it's an encounter which takes place entirely without dialogue. You see them from a distance, so they exchange some words but you don't hear what they're saying. Basically you see him saying, it's not for me, kind of thing, and he walks on and she looks after him, because he's quite a handsome boy, you know. So that's one little incident.
And then there's a second sequence outside a dance hall at night where, again, he's passing, he's passing by and he hears all the noise of the dances coming out from this dance hall, and he... he sort of wonders whether to go in or not, and then a newspaper boy passes, a little child selling newspapers. And there's a headline on the paper something about war, Threatening War, or something like that. So, he sort of says... oh my God, and he... gives some money to the... he buys all the newspapers and the boy runs away happy with his couple of shillings or something, and he doesn't use them to go in the dance hall. And then he walks on again, and then just before that or just after that, I can't remember the sequence exactly, but he... oh yes, yes, of course, he wants to... yes he wants... he makes a phone call, because he wants to ask some friends whether they will go out with him. I think this comes before. And he goes to a phone box and he wants to make this phone call. And it's getting dark so it must be before the night scene at the dance hall. And there's a girl in the phone box, and she's very romantically lit. She's got blond- long blond hair, you know. He's waiting... basically he's waiting to use the phone, but he's considerably taken with this image of this girl in the phone box. And eventually the girl finishes her conversation and they exchange a look and then she goes off and he makes his phone call. And he phones a couple, friends, one takes it, and you see the couple in their flat and you see him answering the phone. And then he says something like: 'No, I can't come out tonight, I've got Lizzy with me', and he puts his arm out and the camera swings over and you see there's a girl sitting next to him. From behind you see all this. So there's no lip-synch problems, you see. And he puts his arm around this girl. So it was all designed to be visual as much as possible. So he puts his arm around this girl and says, 'I can't come out, I'm with Lizzy', whatever. So Bryan puts the phone down and... and he goes off and then he goes to the dance hall and so on. And then he goes into a café; and who should be sitting in the café; but the girl from the phone box!
Born in Germany, cinematographer Walter Lassally (1926-2017) was best known for his Oscar-winning work on 'Zorba the Greek'. He was greatly respected in the film industry for his ability to take the best of his work in one area and apply it to another, from mainstream to international art films to documentary. He was associated with the Free Cinema movement in the 1950s, and the British New Wave in the early 1960s. In 1987 he published his autobiography called 'Itinerant Cameraman'.
Title: "Saturday Night": Shooting
Listeners: Peter Bowen
Peter Bowen is a Canadian who came to Europe to study and never got round to heading back home. He did his undergraduate work at Carleton University (in Biology) in Ottawa, and then did graduate work at the University of Western Ontario (in Zoology). After completing his doctorate at Oxford (in the Department of Zoology), followed with a year of postdoc at the University of London, he moved to the University's newly-established Audio-Visual Centre (under the direction of Michael Clarke) where he spent four years in production (of primarily science programs) and began to teach film. In 1974 Bowden became Director of the new Audio-Visual Centre at the University of Warwick, which was then in the process of introducing film studies into the curriculum and where his interest in the academic study of film was promoted and encouraged by scholars such as Victor Perkins, Robin Wood, and Richard Dyer. In 1983, his partner and he moved to Greece, and the following year he began to teach for the University of Maryland (European Division), for which he has taught (and continues to teach) biology and film courses in Crete, Bosnia, and the Middle East.
Tags: window, model, sun, dance hall, friends, phone box, lip-synch
Duration: 5 minutes, 11 seconds
Date story recorded: June 2004
Date story went live: 24 January 2008