NEXT STORY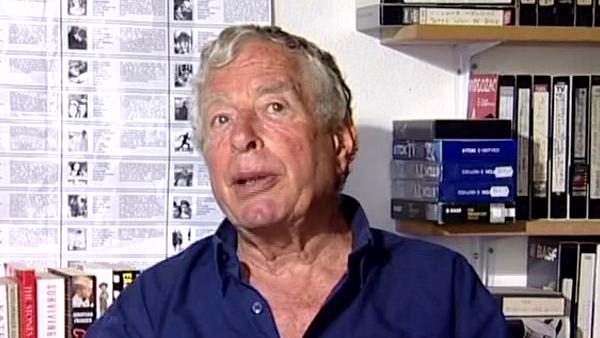 Working for Basic Films
Watching Saturday Night 50 years on
Walter Lassally
Film-maker
1
2
3
4
5
...
27
Saturday Night was never finished because Derek became dissatisfied. In 1952, he became dissatisfied with the scene that he shot in 1948, you see. Which was the first scene that we shot, apart from Bryan in his apartment. The next scene we shot in 1948 was this scene with the boyfriend – the boy and the girlfriend on the sofa, and when he re-ran that he said, 'I don't really... I want to redo that scene. I don't really like that scene'. So, all right we'll redo that scene. But then he kept on being dissatisfied and I could see a process emerging by which, you know the joke where your table isn't quite level so you saw a bit off one leg and then it isn't quite level the other way. So you end up with the tabletop on the floor because adjusting all the legs one by one doesn't work. So I was afraid that this was about to happen to us. And, the film just came to a grinding halt, basically. But it came to a grinding halt at a point where the picture was 99, if not 100% compete, and it exists to this day. Rather sadly, Derek died.
Two, three, four years ago, and I had the very strange experience of going to a room in the British Film Institute where they were equipped to run nitrate film, because some of this film is on nitrate film, which is highly inflammable. It's the nearest thing to nitroglycerine. Nitrate film is highly dangerous. I once saw the aftermath of a fire they had in a cutting room in Wardour Street, and I can tell you it's very impressive. So, we you know, that is something... so in the British Film Institute they have one cutting room which is specially designed and you can... you can run nitrate film there. So I went to this cutting room, after Derek's death. We discovered these reels in his loft. And we went to this cutting room and I had the strange experience of sitting in front of a Moviola and seeing material that was filmed 50 years earlier, by me, and being, sort of, quite detached from it, but sort of saying, 'Do you know, whoever... that young man, whoever photographed that, he does show promise, it's not bad you know, certainly not for a beginner'. But it was a very strange experience seeing that stuff after 50 years.
And then we had a... there's a kind of coda to all this that I came to an arrangement with the head of the... the then head of the Film Institute, I can't remember which one that was. It might have been Tony Smith or the next one. Anyway they agreed to fund a reconstitution of this film. But then we ran into a snag, that we couldn't find any script, or any continuity notes. And there they are speaking all this dialogue and we don't know what they're saying. And we thought of lip readers, and it couldn't be done. It was impossible, so it had to be abandoned. So all these... there are these four rusty tins, with the cutting copy, which is entirely complete except for the sound.
Born in Germany, cinematographer Walter Lassally (1926-2017) was best known for his Oscar-winning work on 'Zorba the Greek'. He was greatly respected in the film industry for his ability to take the best of his work in one area and apply it to another, from mainstream to international art films to documentary. He was associated with the Free Cinema movement in the 1950s, and the British New Wave in the early 1960s. In 1987 he published his autobiography called 'Itinerant Cameraman'.
Title: Watching "Saturday Night" 50 years on
Listeners: Peter Bowen
Peter Bowen is a Canadian who came to Europe to study and never got round to heading back home. He did his undergraduate work at Carleton University (in Biology) in Ottawa, and then did graduate work at the University of Western Ontario (in Zoology). After completing his doctorate at Oxford (in the Department of Zoology), followed with a year of postdoc at the University of London, he moved to the University's newly-established Audio-Visual Centre (under the direction of Michael Clarke) where he spent four years in production (of primarily science programs) and began to teach film. In 1974 Bowden became Director of the new Audio-Visual Centre at the University of Warwick, which was then in the process of introducing film studies into the curriculum and where his interest in the academic study of film was promoted and encouraged by scholars such as Victor Perkins, Robin Wood, and Richard Dyer. In 1983, his partner and he moved to Greece, and the following year he began to teach for the University of Maryland (European Division), for which he has taught (and continues to teach) biology and film courses in Crete, Bosnia, and the Middle East.
Tags: Film Institute
Duration: 3 minutes, 19 seconds
Date story recorded: June 2004
Date story went live: 24 January 2008