NEXT STORY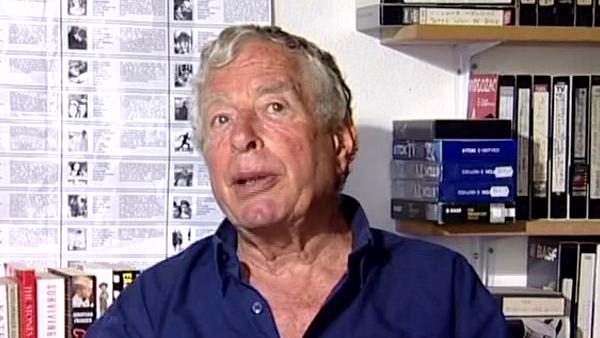 Going to the World Youth Festival
Walter Lassally
Film-maker
1
2
3
4
5
...
27
In 1950, late 1950, a man called Leon Clore who was a producer and the nephew of the famous... there's a famous Clore who's a property developer, Jewish. Leon Clore gave me an opportunity to film first a short government announcement, it was like a commercial but it was government-sponsored, which was about Don't Smoke in Bed, that was my first job. And then immediately after that, I did a... I photographed a 10-minute documentary called Every Five Minutes. And Leon very generously... he saw the rushes, he saw some of the rushes of Saturday Night, and that's how I got that job. He saw that I could do it and he gave me a chance. And thank you Leon Clore, even now. Again, somebody who's no longer with us, unfortunately.
But... so I started at Basic Films in late 1950 and we did this little... they were called trailers in those days, but they were really like government-sponsored commercials. So I had the experience of lighting a set in a studio, in a small studio in St John's Wood which gave me my first experience of how do you light through a window to produce that window shadow on the back wall. And, it's not easy, the first time. The carpenters ask you: what size should I make the window? And I gave them a completely wrong size, and it proved to be impossible. And they just stood there. They knew it wasn't right. They knew, but they wouldn't tell me, you see. So, I learnt a lot. I learnt a lot.
And then the next job I had on the 10-minute movie, the 10-minute documentary, Every Five Minutes, that was about a fire station which has a call, on average, every five minutes. And we went to Scotland and we filmed the sequence in the Gorbals, which to me, again, that was quite an experience in many different ways. First of all, it was a degree of poverty which I'd only seen before once in Stepney in some of these slums which we filmed for Smith Our Friend. It was then, by the way, that I realised that being a refugee in a German... a refugee from Germany in England in 1945 or whatever, wasn't the worst thing that could happen. There were people, British people, living in conditions far worse than the ones that we were living in. So it gave me a sense of proportion. And the Gorbals, again, same thing. And we staged a fire in a top floor... you know, Gorbals are six-storey, five-storey tenements and we staged a fire in the top storey of one of those tenements, which consisted just of smoke coming out of the window. And when we'd finished filming, we discovered that the smoke had actually penetrated into the apartment next door where people were having their breakfast. But they hadn't said anything. And that was very interesting, again. They said: well, why didn't you say something? And they said, 'We thought it was official'. Now that's very interesting because the word, 'official', had a completely different meaning. It means something that was done by the government... and it was something official. You don't interfere with that, you know, you keep quiet.
And the other thing that was a completely new experience for me and very tricky to manage was, we went to all these fire officers' homes, you know, the Chief Fire Officer, the Assistant Chief Fire Officer, and every time we went in there we were offered whiskey, not in a... not in a... in a glass like this, you see. And I didn't... I didn't drink at all at the time. I kept looking around frantically, maybe there's a... there's a potted plant that I could pour it into. Not used to being offered whisky at all let alone in water glasses. So that was quite interesting... a quite interesting first location job for me.
Born in Germany, cinematographer Walter Lassally (1926-2017) was best known for his Oscar-winning work on 'Zorba the Greek'. He was greatly respected in the film industry for his ability to take the best of his work in one area and apply it to another, from mainstream to international art films to documentary. He was associated with the Free Cinema movement in the 1950s, and the British New Wave in the early 1960s. In 1987 he published his autobiography called 'Itinerant Cameraman'.
Title: Working for Basic Films
Listeners: Peter Bowen
Peter Bowen is a Canadian who came to Europe to study and never got round to heading back home. He did his undergraduate work at Carleton University (in Biology) in Ottawa, and then did graduate work at the University of Western Ontario (in Zoology). After completing his doctorate at Oxford (in the Department of Zoology), followed with a year of postdoc at the University of London, he moved to the University's newly-established Audio-Visual Centre (under the direction of Michael Clarke) where he spent four years in production (of primarily science programs) and began to teach film. In 1974 Bowden became Director of the new Audio-Visual Centre at the University of Warwick, which was then in the process of introducing film studies into the curriculum and where his interest in the academic study of film was promoted and encouraged by scholars such as Victor Perkins, Robin Wood, and Richard Dyer. In 1983, his partner and he moved to Greece, and the following year he began to teach for the University of Maryland (European Division), for which he has taught (and continues to teach) biology and film courses in Crete, Bosnia, and the Middle East.
Tags: smoke, government, official, whiskey
Duration: 4 minutes, 19 seconds
Date story recorded: June 2004
Date story went live: 24 January 2008