NEXT STORY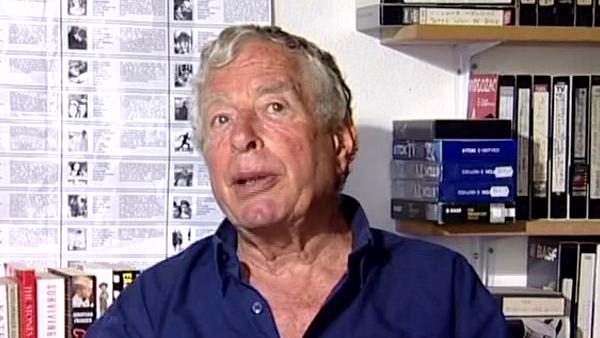 Documentaries taught me filming techniques
The World Youth Festival in Berlin and bringing back a documentary
Walter Lassally
Film-maker
1
2
3
4
5
6
...
27
So I arrived eventually in Berlin, having changed trains in Poznan first. And, the festival was already three-quarters over. And... but I did manage to meet Wolfgang Staudte and we devised a... there was a sort of a, incipient plan going that I would... I would photograph one of his movies... forthcoming movies, which was going to be, like a children's story, called Der Kleine Muck. But in the end it never happened. It proved to be too difficult.
Oh yes, I even... after coming back from Berlin, I even contemplated, briefly, I contemplated emigrating to... back to Berlin, but to Communist Berlin, as it were. This was before the Wall was built, of course. But they sent me a form, and when I saw that form, the first question was about your parents and so on, and it said, political history from birth. So I said: mmm, I wonder about this, perhaps this is not such a good idea. Anyway it was quite a thing meeting Wolfgang Staudte and we went to the offices of the film magazine and we were there till 7:30am and they got the brandy out, and we said, 'Oh, oh, not this time of the morning'. Then we realised that they were only allowed to get the brandy out for the foreign visitors. And there was a headquarters was in the Alexanderplatz, in one of those big tall buildings in the Alexanderplatz were the headquarters of the organisation of that festival. And... and everybody... they called you, friend, in German, freund. 'What... where do you want to go, friend?' But inside that building it became a bit sinister because if you missed your turning, you were going down the wrong corridor, this guy would appear and he said, 'And where do you think you're going, friend?' It became a bit menacing.
And then I travelled back to... to Berlin. I stayed... because I only arrived half way through the first week of the festival, I stayed a week beyond the end to make the most of it, and I spent all my money, which wasn't a lot in the first place. And then I made the journey back to England, very much the same journey that I'd made as a refugee in '39, armed with a loaf... a long loaf like a French baguette and a sausage, that was my food for the journey. But I also had with me the first copy of the documentary they were making about the festival. They very quickly produced a 16mm copy, which I had in my luggage. Now at the West German/East German frontier, they stopped the train and a lot of customs and immigration people came along the train, and they confiscated all the symbols of the festival. People had books with the festival... some sort of symbol, there were hats with the symbol on and scarves. They confiscated all that and when they found the film, which is about the strongest propaganda thing that exists as Lenin would tell you, they said, 'What's that?' and I told them what it was, because they'd find out sooner or later what it was. And they said, 'Okay, you can keep that', because they had no instructions regarding films. So I went through there with the greatest propaganda medium of all, I went straight through. With my sausage and my... my sausage, my loaf and my film.
Born in Germany, cinematographer Walter Lassally (1926-2017) was best known for his Oscar-winning work on 'Zorba the Greek'. He was greatly respected in the film industry for his ability to take the best of his work in one area and apply it to another, from mainstream to international art films to documentary. He was associated with the Free Cinema movement in the 1950s, and the British New Wave in the early 1960s. In 1987 he published his autobiography called 'Itinerant Cameraman'.
Title: The World Youth Festival in Berlin and bringing back a documentary
Listeners: Peter Bowen
Peter Bowen is a Canadian who came to Europe to study and never got round to heading back home. He did his undergraduate work at Carleton University (in Biology) in Ottawa, and then did graduate work at the University of Western Ontario (in Zoology). After completing his doctorate at Oxford (in the Department of Zoology), followed with a year of postdoc at the University of London, he moved to the University's newly-established Audio-Visual Centre (under the direction of Michael Clarke) where he spent four years in production (of primarily science programs) and began to teach film. In 1974 Bowden became Director of the new Audio-Visual Centre at the University of Warwick, which was then in the process of introducing film studies into the curriculum and where his interest in the academic study of film was promoted and encouraged by scholars such as Victor Perkins, Robin Wood, and Richard Dyer. In 1983, his partner and he moved to Greece, and the following year he began to teach for the University of Maryland (European Division), for which he has taught (and continues to teach) biology and film courses in Crete, Bosnia, and the Middle East.
Duration: 3 minutes, 50 seconds
Date story recorded: June 2004
Date story went live: 24 January 2008