NEXT STORY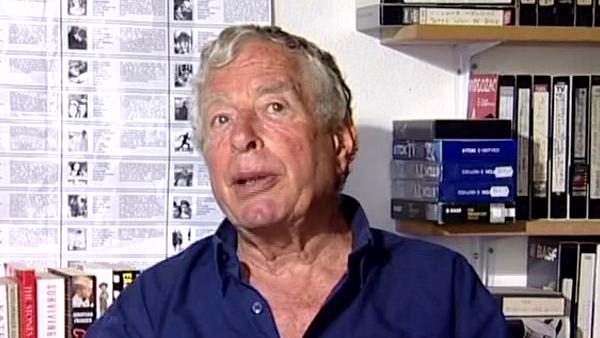 Another Sky: The structure and plot of the film
Another Sky: Shooting techniques
Walter Lassally
Film-maker
1
2
3
4
5
6
...
27
The film was made between January and April of '54, about three months, took about three months. Not absolutely continuously, but about three months. And it was my first experience of the Third World. And to me, I always think of it as being like time travel, because the conditions that we found in Morocco, in... not exactly in the city of Marrakesh where we were based, but when we went further away into the countryside, the conditions we found there, the poverty, the illnesses, the health problems, must have been something like existed in England in the Middle Ages. So to me it was... it was something like time travel. It was going back in time, to see people living in completely other conditions, more primitive conditions. And that experience was then amplified and repeated in my third film which was Day Shall Dawn, which is made in Bangladesh... which is now Bangladesh. It was then East Pakistan. And that again confirmed the... my feeling that going to the Third World was a bit like time travel, that you were going back in time.
Anyway, we settled in, in Marrakesh into a very nice little hotel which was called The Grand Hotel Tazi, which was just metres from the Djemaa el Fnaa which is the main square of Marrakesh, which has all sorts of things going on in it. There's an extensive market, there's all sorts of food on sale, and there are performers. And the performers played a big part in the movie. Because in the movie... the movie has a very simple story that the heroine, played by Victoria Grayson, goes out to Morocco to be the companion of an elderly... of an English lady of a certain age let us say, beautifully played by Catherine Lacey who was, by the way... who played the nun in... or the false nun in The Thirty Nine Steps. And they discover, because she's wearing the wrong shoes that she can't really be a nun. Anyway, she played that beautifully, the... the older English lady, and she has a... younger Moroccan local boyfriend. No, he's not a... I don't know, he's supposed to be... I suppose he's supposed to be French the boyfriend, played by Lee Montague. Anyway, we were based in Marrakesh and living in the Grand Hotel Tazi and working quite a lot in the adjacent Djemaa el Fnaa Square, where is also the... at the edge of that square is also the Koutoubia Mosque, famous Koutoubia Mosque. Adjacent to the square is a souk, or market. And we spent quite a bit of... we did quite a bit of filming in the souk, and it was in that filming, particularly, that the experience that I'd gathered in documentary film making, of filming without people taking much notice, came in very handy, but it was still quite a... quite a business, and, at one point we actually arranged a diversionary activity where we had a little circle in the square and I sat down there and my good friend and assistant, John Fletcher, who did the sound on... who worked on the free cinema films, and he did the sound on... on Another Sky. I sat down there and he pretended to hypnotise me, or I pretended to hypnotise him. And a little crowd gathered around that, and then they sort of, stayed there because they thought more was going to happen, and we sneaked away and did our shot around the corner, which was with a hand-held Arri, and I developed a technique which I was still using 20 years later, or 25 years later, with Julie Christie in the bazaars of... of Heat and Dust, where I have the... I have the hand-held Arriflex behind my... I carry it behind my back, and I say to whoever, the artist, the actor... your action is to be there and walk from there to there, and I will be over there. When you see me arrive at that point and put the camera to my face, to my eye, you start your action. Because if you weren't very nippy, then a crowd would gather immediately. So, by using that technique you can do your take perfectly happily, but once. Because once they realise that something's going on, of course, the crowd gathers again, and you have to go all over again; pretend that it's all finished and pack up and sit down somewhere and have a coffee and they all disperse. Eventually. Then you can do it again. But the best thing is to be prepared, with simple action, like walking across the square, but that way, with simple action, you can perform your simple action even with a... a relatively well known star, which, of course, we didn't have in Morocco. We had that advantage, that at least the people weren't known, so they didn't attract a crowd, like Julie Christie would attract a crowd. Because once they realise who it is. But in Morocco we didn't have that problem, but we still had the problem that film making was something that didn't happen every day. So you had to have a way of coping with that, and there's quite a bit of action which takes place in the natural surroundings with the natural people who are there, you didn't have to clear whole areas and put on your own extras and all that which makes a totally different sort of film. So that's where I started to develop that sort of technique, which had... which is already based on techniques used in... in documentaries, like Sunday by the Sea, where I got used to filming people without them realising that they were being filmed, by just a simple device like carrying the camera behind your back and the moment you're ready and people are distracted, or doing what they're doing, you just put the camera to your... to your face and you shoot, and that way you can get away with shots lasting, I don't know, 20 seconds, 30 seconds, a minute or so. After that it tends to become dicey again. So you have to be well prepared and... and work fast.
Born in Germany, cinematographer Walter Lassally (1926-2017) was best known for his Oscar-winning work on 'Zorba the Greek'. He was greatly respected in the film industry for his ability to take the best of his work in one area and apply it to another, from mainstream to international art films to documentary. He was associated with the Free Cinema movement in the 1950s, and the British New Wave in the early 1960s. In 1987 he published his autobiography called 'Itinerant Cameraman'.
Title: "Another Sky": Shooting techniques
Listeners: Peter Bowen
Peter Bowen is a Canadian who came to Europe to study and never got round to heading back home. He did his undergraduate work at Carleton University (in Biology) in Ottawa, and then did graduate work at the University of Western Ontario (in Zoology). After completing his doctorate at Oxford (in the Department of Zoology), followed with a year of postdoc at the University of London, he moved to the University's newly-established Audio-Visual Centre (under the direction of Michael Clarke) where he spent four years in production (of primarily science programs) and began to teach film. In 1974 Bowden became Director of the new Audio-Visual Centre at the University of Warwick, which was then in the process of introducing film studies into the curriculum and where his interest in the academic study of film was promoted and encouraged by scholars such as Victor Perkins, Robin Wood, and Richard Dyer. In 1983, his partner and he moved to Greece, and the following year he began to teach for the University of Maryland (European Division), for which he has taught (and continues to teach) biology and film courses in Crete, Bosnia, and the Middle East.
Tags: The Thirty-Nine Steps, Sunday by the Sea, Julie Christie
Duration: 6 minutes, 16 seconds
Date story recorded: June 2004
Date story went live: 24 January 2008