NEXT STORY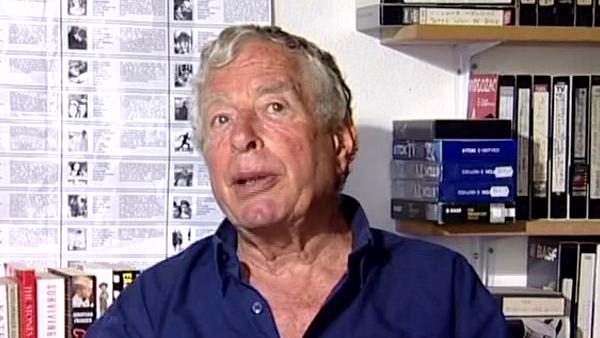 Another Sky: Shooting the second half of the film
Another Sky: The structure and plot of the film
Walter Lassally
Film-maker
1
2
3
4
5
6
...
27
The film is... is more or less in two parts. The first part takes place in a house in the city of Marrakesh and there... there we used Sir Aymer's house which was a typical Moroccan house. A little courtyard surrounded by rooms, partly on two floors, but most of the action is on the ground floor. So he just had this little courtyard and off the little courtyard you have the various rooms. And we used that for the... we used that for the film, and that... of course that filming was comfortable because it was his own house and there weren't any great problems with neighbours or... or any great sound... I don't remember any sound problems. John was able to take synchronous sound perfectly normally there. But with quite a... quite a big apparatus. They hadn't invented the Nagra yet. So we had a one-inch- reel to reel machine which... it was portable, sort of, if you were strong, it was portable, but only just. I always think the revolution which has overtaken sound hasn't happened on the camera side. On the camera side, if anything, the cameras are getting heavier again. But the sound recorder, now you can put it in your back pocket if you feel like it.
Anyway, so the first part of the film takes place in that... in Marrakesh in the square, in the souks, in that house, and we were able to work perfectly comfortably and get what we want without... without much trouble. And then in the story, she falls in love. The heroine, played by Victoria Grayson, falls in love with an Arab who is a musician playing in one of these groups that perform in the square, and he was a flute player, I think, or violin. It doesn't matter, a musician who plays in the square and she falls in love with him. Then the very sort of inscrutable Arab guide who, who the Catherine Lacey character, uses as a... as a servant, but not permanently. But he's her man. So he arranges, sort of clandestine, kind of, meetings at a wonderful location near... near the city, which is called the Menara. It's a little pavilion that sits on a pool. And... some of the action takes place there. So he arranges, this Arab guide who is called Achmed, arranges some... some rendezvous between Victoria and the Arab, and the young musician who's called Taieb. And at the end of each little get together, they just sit together and he plays her some music, and she teaches him English, rather... rather nicely. He sort of takes her hand and he says, 'One, two, three, four', then he smiles engagingly. Anyway, and then at the end a little money changes hands, again discreetly, and they part, and... the thing is repeated but she falls... and next week the same thing. But she falls in love with this guy, and then he disappears, and she's very upset. And they don't really know where he's gone. He's had some sort of quarrel with the leader of the group, and he's... he's not there anymore. There's only one clue. They say he's gone back to his village. His village... I forget, the name was in my head, but now I've forgotten it. Anyway, he's gone back to his village and all they had is the name of the village. She's given a piece of paper which has the name of the village on it, and a little drawing of a mountain, a rather sugar loaf-type mountain, and underneath it says, whatever... the name of the village, which I'll come back to in a minute. It'll come to my head probably. It's not important. And she sets off. She... steals some money from her hostess, from... from the Catherine Lacey character and she arranges with Achmed, the guide, to go off in search of this... boy, who's gone missing. And they get further and further and further away from... they're travelling first by bus across a High Atlas, and then on donkeys and they get further and further and further away from civilisation, and at the end of the film she is left, he abandons her, and she's left in... virtually in the desert. She collapses because she's exhausted, and she just collapses on a sand dune at the end of the... at the edge of the Sahara, and is then rescued by some local Arab and taken in, and that's the end of the story which takes place in flashback, because it starts at that remote village which was called... aha, what was it called? Not El Arish. Anyway, a remote village at the edge of the Sahara. And... they... and she's left there and this Arab takes her in.
Born in Germany, cinematographer Walter Lassally (1926-2017) was best known for his Oscar-winning work on 'Zorba the Greek'. He was greatly respected in the film industry for his ability to take the best of his work in one area and apply it to another, from mainstream to international art films to documentary. He was associated with the Free Cinema movement in the 1950s, and the British New Wave in the early 1960s. In 1987 he published his autobiography called 'Itinerant Cameraman'.
Title: "Another Sky": The structure and plot of the film
Listeners: Peter Bowen
Peter Bowen is a Canadian who came to Europe to study and never got round to heading back home. He did his undergraduate work at Carleton University (in Biology) in Ottawa, and then did graduate work at the University of Western Ontario (in Zoology). After completing his doctorate at Oxford (in the Department of Zoology), followed with a year of postdoc at the University of London, he moved to the University's newly-established Audio-Visual Centre (under the direction of Michael Clarke) where he spent four years in production (of primarily science programs) and began to teach film. In 1974 Bowden became Director of the new Audio-Visual Centre at the University of Warwick, which was then in the process of introducing film studies into the curriculum and where his interest in the academic study of film was promoted and encouraged by scholars such as Victor Perkins, Robin Wood, and Richard Dyer. In 1983, his partner and he moved to Greece, and the following year he began to teach for the University of Maryland (European Division), for which he has taught (and continues to teach) biology and film courses in Crete, Bosnia, and the Middle East.
Tags: Marrakesh, Sahara
Duration: 5 minutes, 10 seconds
Date story recorded: June 2004
Date story went live: 24 January 2008