NEXT STORY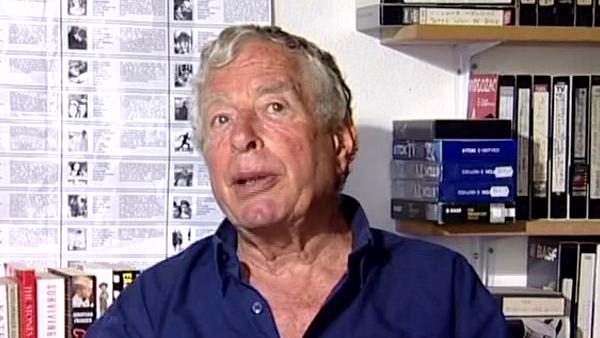 Having someone you can trust in the lab
Another Sky: The camera breaks down and pessimistic reports
Walter Lassally
Film-maker
1
...
3
4
5
6
7
...
27
We were just getting ready to go on this trip, which was all pre-booked, hotels were all pre-booked along this, I don't know, 300-mile, 400-mile journey into the south, towards the desert, towards the Sahara. We were all prepared to go and the camera broke down. I can't remember what the problem was, but it was severe. And we managed to get a second camera, a second Cameflex from the same company that we'd hired the first one from, but, it was a very clapped out old camera. It had been used for newsreels and, actually later, I discovered that it's better to have an old camera, apparently quite worn, which has been in constant use because then you get feedback as to whether anything really went wrong recently, rather than have a brand new camera from the factory, which is always trouble. Cameras brand new from the factory are to be avoided like the plague.
So, I... we got this other camera and it seemed to be okay, but we thought we'd make sure that the rushes really were okay, because we didn't see any rushes, we relied on reports from the lab, and the lab came back and said that some of the stuff seems to be a bit soft. And there's a gentle... there's a kind of interesting gentle difference between slightly soft and being out of focus. So we sent Derek York back to England and he came back with a very pessimistic report. He phoned back a very pessimistic report which seemed to imply that a lot of stuff would have to be retaken. This was stuff... yes, we had to go off on our journey, we couldn't delay the journey to get a definitely reliable camera because all these hotels were pre-booked and it was quite complicated. You couldn't just take off. There was very few... very little in the way of hotels around that you could stay in. So we... knowing that there might be a problem, we still had to take off. And we took off and we did this journey and we shot on this location... on these locations from Marrakesh towards the south, and then we sent Derek back because the material, they said, was slightly soft. And he came back to us with a pessimistic report saying yes, it's... it's practically unusable, and so we were pretty depressed, but we couldn't really do anything much about it. I can't remember when that... when that issue was resolved or how it was resolved, except that, in the end, it turned out that there were only a dozen or so shots which were really so much out of focus that they were unusable. A lot of the rest of the material was what I would now call pleasantly soft. It was a sort of look that many a cameraman would do quite deliberately, not to have everything pin sharp, which never looks very good anyway. Pin sharp is only good for machinery. If you're doing the sort of job my dad used to do when you're photographing bits of machinery, then you want to have things pin sharp. But in features, you don't want to have things pin sharp, particularly not faces. So that's another long story, which will follow, that... that you don't want pin sharp faces. Nobody wants pin sharp faces. So in the end it turned out that it was... most of it was perfectly usable. In fact, it's all in the movie, except for half a dozen shots, which one managed to cut around. So the problem kind of, dissolved. But it seemed like a very severe, very... very unsolvable problem at the time, because there was no way we could do that journey again and retake all that material. So we just thought, well, we're going to have to live with it somehow, and it... it proved to be perfectly liveable with.
Born in Germany, cinematographer Walter Lassally (1926-2017) was best known for his Oscar-winning work on 'Zorba the Greek'. He was greatly respected in the film industry for his ability to take the best of his work in one area and apply it to another, from mainstream to international art films to documentary. He was associated with the Free Cinema movement in the 1950s, and the British New Wave in the early 1960s. In 1987 he published his autobiography called 'Itinerant Cameraman'.
Title: "Another Sky": The camera breaks down and pessimistic reports
Listeners: Peter Bowen
Peter Bowen is a Canadian who came to Europe to study and never got round to heading back home. He did his undergraduate work at Carleton University (in Biology) in Ottawa, and then did graduate work at the University of Western Ontario (in Zoology). After completing his doctorate at Oxford (in the Department of Zoology), followed with a year of postdoc at the University of London, he moved to the University's newly-established Audio-Visual Centre (under the direction of Michael Clarke) where he spent four years in production (of primarily science programs) and began to teach film. In 1974 Bowden became Director of the new Audio-Visual Centre at the University of Warwick, which was then in the process of introducing film studies into the curriculum and where his interest in the academic study of film was promoted and encouraged by scholars such as Victor Perkins, Robin Wood, and Richard Dyer. In 1983, his partner and he moved to Greece, and the following year he began to teach for the University of Maryland (European Division), for which he has taught (and continues to teach) biology and film courses in Crete, Bosnia, and the Middle East.
Tags: camera, soft focus, pin sharp, breakdown, hotel, newsreels
Duration: 3 minutes, 47 seconds
Date story recorded: June 2004
Date story went live: 24 January 2008