NEXT STORY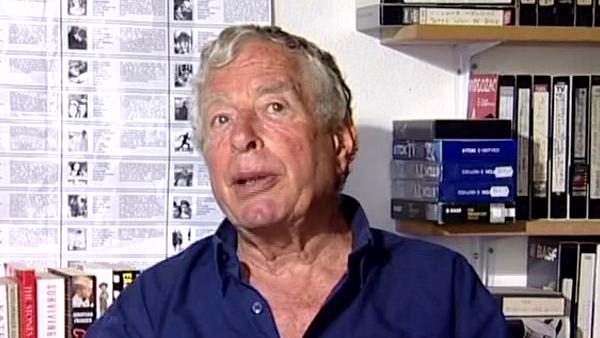 Censorship problems with Beat Girl and filming in caves
Beat Girl
Walter Lassally
Film-maker
1
...
4
5
6
7
8
...
27
It starred Adam Faith and it was about the... the London Beats who didn't exist and who were portrayed as a sort of gangster... as a sort of gang, like the Teddy Boys, and you had these fights between the... or set-to's between the Beats and the Teddy Boys. And the only... there's no line of explanation as to who... who are these Beats? They were supposed to be a London version of the American Beats, who didn't exist. So... so, the audience is left in the dark, and they're as much in the dark after the film as they are before, because the only bit of explanation in the script, where somebody says, well, who are these Beats? And some... and they say... the answer they get is, 'Oh, you know, it's that new gimmick from America: hopeless and soapless'. And that's it! You don't find out anything more about them. But that film... that film was directed by Edmond T Gréville who was a French director of some... quite some renown. And he had a speciality. He didn't like straight set-ups. He was always photographing under the legs, out from under a table, or through somebody's armpit, or something like that. Had a strange... a strange idea of what makes a... an interesting composition. But that was also quite interesting for me to watch. But anyway, he was... he was satisfied with my work, and the... and the end result was satisfactory as far as I'm... I'm concerned, and as far as the people that employed me were concerned. And, that was another film that was a sort of lost film. It just disappeared after a while. Until many years later, 30 years later, it surfaced in a programme at the National Film Theatre where they were doing a programme about early rock movies, and this film was... was not a rock movie, featured, because it was the first movie that Adam Faith appeared in. And they found a 16mm copy somewhere and it... it played in that festival of rock... rock movies. And I was able to take it away. It was at the time I was working in the Film School, in the 80s, late 80s. And I was able to take it away and have it copied in telecine, so I've got it on... on tape now. But the other... another feature of... of that film was the... the lighting of the... not the star, but the mother of the... no, the stepmother of the star. The star was a... a girl called Gillian something, who was very young and was accompanied by her mother everywhere. And when there was a scene where she was supposed to strip to bra and panties, it caused about half a day's discussion as to whether she would agree to do that. Gillian Hills, that's right. Gillian Hills, who later worked on a film with Franju, strangely enough. But, her stepmother... her father remarries and he marries a very beautiful French girl, and, I'll think of her name in a minute, the actress. But it's not important. Anyway, this beautiful French girl who is called Nicole in the... in the movie, I did some... some very nice close-ups of her, and, again, I had the same sort of experience seeing that thing again after 40 years, you know, on... on tape. I thought, yes, those close-ups are really rather nice, you know. It's quite good. But it's a very strange experience, catching up with things like that, that resurface out of the void, after... after all those years.
Born in Germany, cinematographer Walter Lassally (1926-2017) was best known for his Oscar-winning work on 'Zorba the Greek'. He was greatly respected in the film industry for his ability to take the best of his work in one area and apply it to another, from mainstream to international art films to documentary. He was associated with the Free Cinema movement in the 1950s, and the British New Wave in the early 1960s. In 1987 he published his autobiography called 'Itinerant Cameraman'.
Title: "Beat Girl"
Listeners: Peter Bowen
Peter Bowen is a Canadian who came to Europe to study and never got round to heading back home. He did his undergraduate work at Carleton University (in Biology) in Ottawa, and then did graduate work at the University of Western Ontario (in Zoology). After completing his doctorate at Oxford (in the Department of Zoology), followed with a year of postdoc at the University of London, he moved to the University's newly-established Audio-Visual Centre (under the direction of Michael Clarke) where he spent four years in production (of primarily science programs) and began to teach film. In 1974 Bowden became Director of the new Audio-Visual Centre at the University of Warwick, which was then in the process of introducing film studies into the curriculum and where his interest in the academic study of film was promoted and encouraged by scholars such as Victor Perkins, Robin Wood, and Richard Dyer. In 1983, his partner and he moved to Greece, and the following year he began to teach for the University of Maryland (European Division), for which he has taught (and continues to teach) biology and film courses in Crete, Bosnia, and the Middle East.
Tags: Adam Faith, National Film Theatre
Duration: 3 minutes, 26 seconds
Date story recorded: June 2004
Date story went live: 24 January 2008