NEXT STORY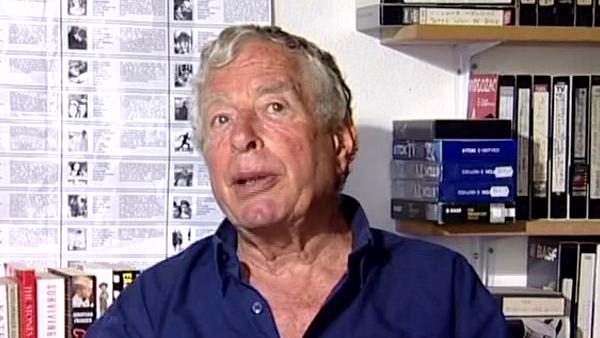 A Taste of Honey: Working with the weather
Shooting A Taste of Honey on location
Walter Lassally
Film-maker
1
...
5
6
7
8
9
...
27
The film was made entirely on location. Partly in Manchester and partly in London. And in London we used, for the second décor, for the flat that she moves into with the gay boy, with... played by Murray Melvin, that was actually filmed in the... in the carpentry workshop, or the scenery workshop, of the Royal Court Theatre. That loft-like building is the... was the scenery workshop of the... of the Royal Court, which they made available to us. So that... that worked out very successfully. And the... the location stuff in Manchester also worked very well. We were able to film, very successfully, in... in grey light, but it's not easy. You have to always be careful, you always... always have to be careful that you maintain this minimum of contrast, I've been speaking about. So we... we wetted down the street sometimes so we had a bit of glisten. We always had some black. We avoided the... the bleak, grey sky as much as we could. We had low angles which... I mean high angles looking down which avoided the sky. And the scene like - the scene where they walk through the graveyard and there are flagstones in the... in the floor with... with names on them and they come across a dead bird, and it... it all forms very much forms part of the dialogue. It plays... part of the scene plays like that. The atmosphere was excellent. It was a very, very conducive atmosphere for that scene. Filmed in entirely, so called, unsuitable weather, because the... the received wisdom was that, for black and white film, you needed sunshine, and this is not the case. But, you have to know what you're doing, because it is difficult. And each scene has to be very carefully planned so that there is some contrast in the scene, which, if it doesn't come from the light, then it has to come from the content of the scene, with some black in the scene and some white in the scene and some mid-tones in the scene, and... not only mid-tones, which would come out muddy. We used the canals very effectively; the disused canals, which have since been refurbished in some... in some cases. We used those canals to great effect, so the film is a very atmospheric film. And it's also a very poetic film, which is... is something that Tony has, to a less extent than Lindsay Anderson... I think Lindsay Anderson is, as such, a more poetic director. And yet, Taste of Honey is a very poetic film. So I was always very cross when it was just lumped in with a number of other films that had working class, everyday subjects. It was lumped in under the... under the general heading of Kitchen Sink... Kitchen Sink Drama, and I always thought that that epithet, that label, was particularly unfair to A Taste of Honey which has that sort of subject, but it's treated in a highly poetic manner. And that was later. All that was acknowledged by the critics, but not immediately. The film didn't, again, didn't have an immediate impact, but if you look at it with a little bit of hindsight, you see that there was a... there was a lot of poetry in that film. And the Kitchen Sink label was really very unfair.
Born in Germany, cinematographer Walter Lassally (1926-2017) was best known for his Oscar-winning work on 'Zorba the Greek'. He was greatly respected in the film industry for his ability to take the best of his work in one area and apply it to another, from mainstream to international art films to documentary. He was associated with the Free Cinema movement in the 1950s, and the British New Wave in the early 1960s. In 1987 he published his autobiography called 'Itinerant Cameraman'.
Title: Shooting "A Taste of Honey" on location
Listeners: Peter Bowen
Peter Bowen is a Canadian who came to Europe to study and never got round to heading back home. He did his undergraduate work at Carleton University (in Biology) in Ottawa, and then did graduate work at the University of Western Ontario (in Zoology). After completing his doctorate at Oxford (in the Department of Zoology), followed with a year of postdoc at the University of London, he moved to the University's newly-established Audio-Visual Centre (under the direction of Michael Clarke) where he spent four years in production (of primarily science programs) and began to teach film. In 1974 Bowden became Director of the new Audio-Visual Centre at the University of Warwick, which was then in the process of introducing film studies into the curriculum and where his interest in the academic study of film was promoted and encouraged by scholars such as Victor Perkins, Robin Wood, and Richard Dyer. In 1983, his partner and he moved to Greece, and the following year he began to teach for the University of Maryland (European Division), for which he has taught (and continues to teach) biology and film courses in Crete, Bosnia, and the Middle East.
Tags: Manchester, London, Royal Court Theatre, Lindsay Anderson, Tony Richardson
Duration: 3 minutes, 7 seconds
Date story recorded: June 2004
Date story went live: 24 January 2008