NEXT STORY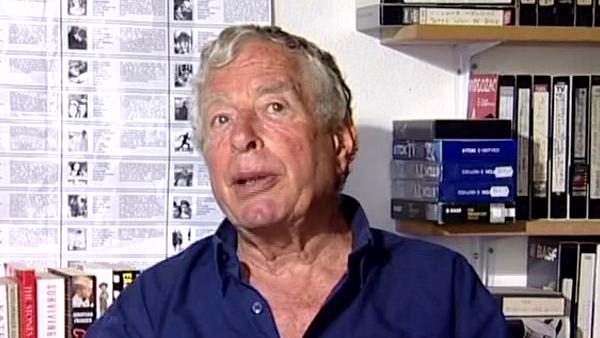 Tom Jones: The camera style and shooting then and now
Tom Jones: Negotiating the contract
Walter Lassally
Film-maker
1
...
5
6
7
8
9
...
27
Initially, I didn't want to do it, because I saw it as a big epic. I didn't mind the colour, but I minded it being not an intimate film. In that sense, Taste of Honey and Loneliness are very intimate films, and Tom Jones seemed to me like an enormous epic, costume and period and colour and huge cast. And so I was a bit afraid of it. And... But Tony took Kate, my agent and friend, aside. Kate had started, by the way, acting as my agent. Kate was a friend that I met in Greece, as a matter of fact, when she was on holiday there with her husband. But she became my agent. We became very good friends and she became my agent just ahead of Taste of Honey, and she went in there to negotiate with Michael Holden, not Holden. No, I can't think of names. The chap who was in charge of the money. She went in there to negotiate and he said... we have in mind... he gave her a figure, I can't remember what it was, and she said, 'Oh, no, no, that's not what I had in mind at all, you know'. She started to get up and leave, and he said... Michael said, 'Just a minute, just a minute, is it not negotiable?' She said, 'I'm not a horse trader'. But they came to an amicable arrangement, and for each film I think my salary was £80 a week on Taste of Honey, which was the... that was double the ACT minimum. But the ACT minimum was a totally meaningless figure that... quite unlike the what they call scale in America. There's Nabet and I think the other union as well. They have something called scale, and if you're a low budget producer you get your crew together, your potential crew, and you say we're paying scale. Then they can either say yes or no. But if you got an English crew together and said, you're all on minimum salary, they'd go... you can think about that one again, because it was a totally unrealistic figure, that only somebody fresh out of film school might possibly accept, but not even then. So the minimum salary for quite some years for a cameraman was £40 a week. I mean, this was at a time when a fiver would buy you a steak luncheon for two with wine, so it wasn't that unreasonable, but nobody would work for that kind of money. So my salary on Taste of Honey was £80, on Loneliness it jumped to £120, and then for Tom Jones it was £200. And Kate negotiated all that, but from that first encounter, which she did entirely by ear. You know, she did it on instinct because she had no experience of being an agent. But she probably did it better, because the agents are always a little afraid of the big people, like, if it was Fox or MGM or things, they're a bit cowered by all that. There was one occasion when somebody had a quarrel with Kate and said something like... you may need Columbia again. And Kate said, 'We don't need Columbia at all. Columbia needs us!' So by being an amateur, as it were, she managed beautifully. All through all my career she negotiated the contract through all the careers, throughout all my career.
Born in Germany, cinematographer Walter Lassally (1926-2017) was best known for his Oscar-winning work on 'Zorba the Greek'. He was greatly respected in the film industry for his ability to take the best of his work in one area and apply it to another, from mainstream to international art films to documentary. He was associated with the Free Cinema movement in the 1950s, and the British New Wave in the early 1960s. In 1987 he published his autobiography called 'Itinerant Cameraman'.
Title: "Tom Jones": Negotiating the contract
Listeners: Peter Bowen
Peter Bowen is a Canadian who came to Europe to study and never got round to heading back home. He did his undergraduate work at Carleton University (in Biology) in Ottawa, and then did graduate work at the University of Western Ontario (in Zoology). After completing his doctorate at Oxford (in the Department of Zoology), followed with a year of postdoc at the University of London, he moved to the University's newly-established Audio-Visual Centre (under the direction of Michael Clarke) where he spent four years in production (of primarily science programs) and began to teach film. In 1974 Bowden became Director of the new Audio-Visual Centre at the University of Warwick, which was then in the process of introducing film studies into the curriculum and where his interest in the academic study of film was promoted and encouraged by scholars such as Victor Perkins, Robin Wood, and Richard Dyer. In 1983, his partner and he moved to Greece, and the following year he began to teach for the University of Maryland (European Division), for which he has taught (and continues to teach) biology and film courses in Crete, Bosnia, and the Middle East.
Tags: Tony Richardson
Duration: 3 minutes, 37 seconds
Date story recorded: June 2004
Date story went live: 24 January 2008