NEXT STORY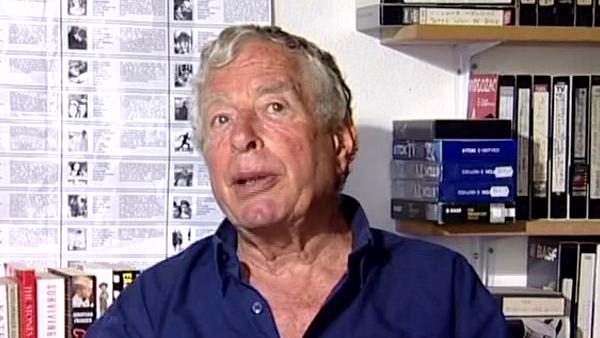 Tom Jones: Technical difficulties with day for night techniques
Tom Jones: Technical difficulties with day for night
Walter Lassally
Film-maker
1
...
6
7
8
9
10
...
27
The day-for-night never pleased me in colour. I always hated this blue effect that people used in colour for day-for-night, and the blue effect is borrowed from the theatre. It's a stage effect. On the stage, in certain plays and in certainly romantic musicals and things like that, they always used a steel blue, because I've done some theatre lighting I even know the names of the gels that they use in theatre. There's a gel called steel blue which is a faint but distinct blue, and that was always used for the night scenes. So, somehow this idea got transferred to the movies, and the conventional technique, which is in use to this very day, is to add blue, or to photograph it in such a way that blue is already incorporated in the original negative. And those blue night scenes never pleased me very much. Not only that, but it restricts you severely in the countryside where, in black and white, you could do very effective day-for-night work by just using a certain filter, red filter basically, that darkens the sky and the clouds stand out nicely against the dark sky. You can see it in almost any black and white film that has extensive countryside scenes in it, all the westerns, for instance. In black and white, day-for-night is not only a handy and practical working technique, but it's also an aesthetically pleasing technique. And that is not true, both ways it's not true in colour. First of all, it's not very handy to work, because you always have to keep the sky out because there is no way... every way you have of darkening the sky has problems. If you use a neutral density filter, a half... what are they called? I can't think of the names. There's a filter which, no, there's a filter which is half... it doesn't have a hard edge, it's got a soft edge and the bottom is clear. So you have a filter which... it could be 3 x 4-inches and the top half is grey, and then it gradually becomes clear and the bottom half is clear. So you can use that to darken the sky and the bottom half is... you photograph the landscape, and that's fine. But you can't pan with it, you can't tilt with it; very limited. So in most colour day-for-night scenes you see, frequently, the camera is placed artificially high in order to reduce the sky to just a tiny strip at the top of the picture. Now with the system that I developed, for Tom Jones, and that I use to this day, you don't have to do that and it's very effective. But it's completely different. It gives you a look that much more... that resembles natural moonlight much more than this blue thing. Because moonlight is not blue. Moonlight is reflected sunlight, but it only reflects certain lines in the spectrum, so it's... you could say it's monochromatic. Because I knew that it was basically monochromatic, I said, just a minute. The filter that we used to view, it's called a viewing filter, and the filter that we used to view scenes in black and white films, is a monochromatic filter which is sort of... it's a yellowish/green in colour and quite dark, and it helps you to see a scene in black and white. It doesn't turn it into black and white, but it helps you to see it in black and white. Anyway, I said, just a minute, this filter is a monochrome filter, I'll make some experiments. So I made some experiments with shooting through that filter in combination with a pola screen.
Born in Germany, cinematographer Walter Lassally (1926-2017) was best known for his Oscar-winning work on 'Zorba the Greek'. He was greatly respected in the film industry for his ability to take the best of his work in one area and apply it to another, from mainstream to international art films to documentary. He was associated with the Free Cinema movement in the 1950s, and the British New Wave in the early 1960s. In 1987 he published his autobiography called 'Itinerant Cameraman'.
Title: "Tom Jones": Technical difficulties with day for night
Listeners: Peter Bowen
Peter Bowen is a Canadian who came to Europe to study and never got round to heading back home. He did his undergraduate work at Carleton University (in Biology) in Ottawa, and then did graduate work at the University of Western Ontario (in Zoology). After completing his doctorate at Oxford (in the Department of Zoology), followed with a year of postdoc at the University of London, he moved to the University's newly-established Audio-Visual Centre (under the direction of Michael Clarke) where he spent four years in production (of primarily science programs) and began to teach film. In 1974 Bowden became Director of the new Audio-Visual Centre at the University of Warwick, which was then in the process of introducing film studies into the curriculum and where his interest in the academic study of film was promoted and encouraged by scholars such as Victor Perkins, Robin Wood, and Richard Dyer. In 1983, his partner and he moved to Greece, and the following year he began to teach for the University of Maryland (European Division), for which he has taught (and continues to teach) biology and film courses in Crete, Bosnia, and the Middle East.
Tags: Tom Jones
Duration: 4 minutes, 2 seconds
Date story recorded: June 2004
Date story went live: 24 January 2008