NEXT STORY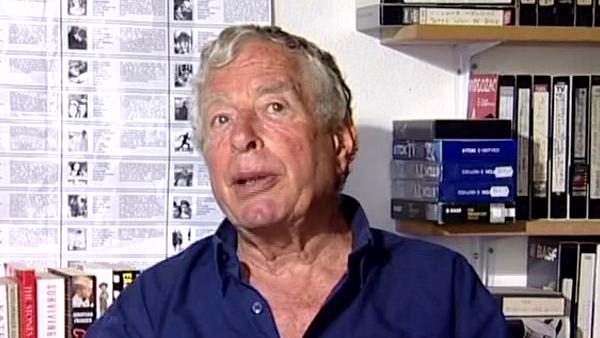 Tom Jones: The hunt scene and working with animals
Tom Jones: The cast
Walter Lassally
Film-maker
1
...
6
7
8
9
10
...
27
We had a wonderful cast. If you just see the first frame, you know, in the credits, where you have Edith Evans and Michael Redgrave... no, it's not Michael Redgrave.
[Q] George Devine.
Yes, George Devine, Edith Evans, Joan Greenwood, Rachel Kempson who was married to Michael Redgrave, some wonderful people. And there was a scene in, in... there was a scene in the latter part... I should've said, the filming that we were in... we were in Yorkshire. We were in Somerset and Dorset for three-quarters of the schedule, then we moved to London. For the last four weeks, I think, we moved to London. And we shot the London scenes, partly in Lincoln's Inn Fields, partly in the back of... there's a street of warehouses in Stepney which we used, which was used many times for movies. And... and then we shot the... there's a sort of garden party which we shot in, which was supposed to be the Vauxhall Gardens, which was a famous entertainment centre of the day. And we shot that in Holland Park, which conveniently was just across the road from where I lived. But it was a night scene, and there's a scene where Edith Evans and Hugh Griffith were both in costume and he was wearing an elephant trunk. They're walking around this little pond which is about that deep, has some goldfish in it. And they're walking around this little pond and Hugh, who was slightly drunk probably, kept fluffing. And in the end... after about the third take, Edith took him to one side and said, 'Hugh, if you don't get it right next time I shall push you in the pond!' But he did get it right.
But Hugh Griffith, he was an irascible character, to say the least. Initially, I used to accept lifts from him. He had a chauffeured car, of course, and we were driving down the Somerset lanes at 7.00am, and they're very narrow and they have very high hedges. So you can't see round the corners, I know you can't see round corners, but you can't see ahead, so he kept... we got stuck behind a milk float or something, and he kept pushing the chauffeur in the back, and saying, 'Go on, overtake, overtake!' So I stopped accepting lifts from him. There was one occasion when he was in a bit of temper and he... and Tony had a Thunderbird motor car, and it had a removable top. So there was an occasion when he was angry... he was annoyed with Tony and this Thunderbird top was lying in the grass somewhere and he fired a shotgun at it. And the best... the best occasion with... the funniest thing with Hugh Griffith, and it's all in the film, is where he has a meeting, an altercation, with the other squire. Who was playing that, the other one?
[Q] George Devine.
Of course, with George Devine. He has an altercation with George Devine and he's supposed to jump on his horse and wheel the horse around and ride off. And when he did that, he pulled the rein much too violently and the horse started turning in ever decreasing circles, and finally collapsed, with him, on the ground. They left it all in the movie, but when it happened, he said to Kate, who was standing next to me, he said, 'Go and see if he's dead, darling'. But he wasn't even injured. But that was lovely. It's lovely. It's in the movie and it seems, sort of, quite natural, because he's supposed to be you know, a temperamental guy who is in a temper.
Born in Germany, cinematographer Walter Lassally (1926-2017) was best known for his Oscar-winning work on 'Zorba the Greek'. He was greatly respected in the film industry for his ability to take the best of his work in one area and apply it to another, from mainstream to international art films to documentary. He was associated with the Free Cinema movement in the 1950s, and the British New Wave in the early 1960s. In 1987 he published his autobiography called 'Itinerant Cameraman'.
Title: "Tom Jones": The cast
Listeners: Peter Bowen
Peter Bowen is a Canadian who came to Europe to study and never got round to heading back home. He did his undergraduate work at Carleton University (in Biology) in Ottawa, and then did graduate work at the University of Western Ontario (in Zoology). After completing his doctorate at Oxford (in the Department of Zoology), followed with a year of postdoc at the University of London, he moved to the University's newly-established Audio-Visual Centre (under the direction of Michael Clarke) where he spent four years in production (of primarily science programs) and began to teach film. In 1974 Bowden became Director of the new Audio-Visual Centre at the University of Warwick, which was then in the process of introducing film studies into the curriculum and where his interest in the academic study of film was promoted and encouraged by scholars such as Victor Perkins, Robin Wood, and Richard Dyer. In 1983, his partner and he moved to Greece, and the following year he began to teach for the University of Maryland (European Division), for which he has taught (and continues to teach) biology and film courses in Crete, Bosnia, and the Middle East.
Tags: Tony Richardson, Hugh Griffiths
Duration: 4 minutes, 1 second
Date story recorded: June 2004
Date story went live: 24 January 2008