NEXT STORY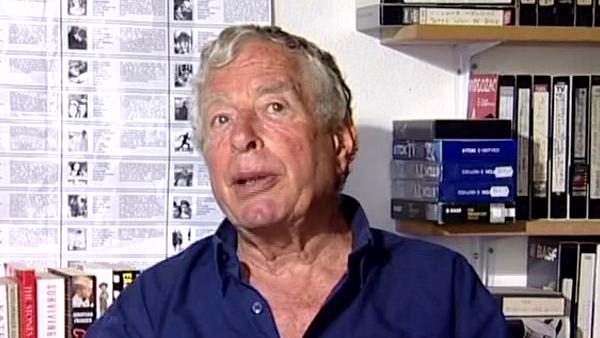 Tom Jones: The editing and Tony Richardson's generosity
Tom Jones: The eating scene and ways of working
Walter Lassally
Film-maker
1
...
6
7
8
9
10
...
27
The other scene, I would say, that's caused the most comment afterwards was the eating scene, which was not in the script as such. In the script it was just that they become amorous towards each other and they're having a meal together and become amorous. That's really all that was written. I don't remember any dialogue being written, as indeed there isn't any dialogue in the scene. And, Albert and Joyce Redman developed that as they went along. It was lovely. It was very, very effective. It was very quickly done and it was entirely in the hands of the actors, you could say. Tony just set the scene, as he often did. Tony, Tony's method of working was really to get the actors together, to say we're doing this and this scene this morning. Show me what... how are you going to do it? You know... what do you want to do? So the actors would show him the scene. In cases where we were in studio conditions, like interiors, very often they were still in their street clothes and they just played the scene roughly. And then they changed into their costumes and I lit the set, and the operator discussed with, Desmond Davis, discussed with Tony whether they're going to be travelling or what, with me just lending an ear. It's often like that in England, and I imagine in America, but more in England, that the operator plays quite a large part in the decoupage, in the blocking. And it's very convenient... it's very often convenient, if the DP is so inclined, to let the operator do that. That I have no fixed ideas that I absolutely want to do a tracking shot here. If the director can decide that with the operator, all is well, just as well, and I can spend, can concentrate on the lighting. So often it happened like that. On films where I had an operator, particularly in England, it often happened like that. The American operators aren't quite so used to doing that. They're more like the right hand of the cameraman, but they don't often work so directly with the director, as they do in England. And the actors also are involved because experienced actors... think Susannah York talked about this once in some interview, where she says that, at the end of the scene, if she wanted to know if she was okay, she'd go to the operator, because he's the one that's looking through the lens, and they develop a relationship. Very often the artists develop a relationship with the operator, as well as having a good relationship, hopefully, with the others, but it's the operator they'll turn to if they want to know some... you know... I did something, did you see that, was it okay? You know, some little detail. So... I think that's a very effective way. It's very practical. Very efficient way of working.
Born in Germany, cinematographer Walter Lassally (1926-2017) was best known for his Oscar-winning work on 'Zorba the Greek'. He was greatly respected in the film industry for his ability to take the best of his work in one area and apply it to another, from mainstream to international art films to documentary. He was associated with the Free Cinema movement in the 1950s, and the British New Wave in the early 1960s. In 1987 he published his autobiography called 'Itinerant Cameraman'.
Title: "Tom Jones": The eating scene and ways of working
Listeners: Peter Bowen
Peter Bowen is a Canadian who came to Europe to study and never got round to heading back home. He did his undergraduate work at Carleton University (in Biology) in Ottawa, and then did graduate work at the University of Western Ontario (in Zoology). After completing his doctorate at Oxford (in the Department of Zoology), followed with a year of postdoc at the University of London, he moved to the University's newly-established Audio-Visual Centre (under the direction of Michael Clarke) where he spent four years in production (of primarily science programs) and began to teach film. In 1974 Bowden became Director of the new Audio-Visual Centre at the University of Warwick, which was then in the process of introducing film studies into the curriculum and where his interest in the academic study of film was promoted and encouraged by scholars such as Victor Perkins, Robin Wood, and Richard Dyer. In 1983, his partner and he moved to Greece, and the following year he began to teach for the University of Maryland (European Division), for which he has taught (and continues to teach) biology and film courses in Crete, Bosnia, and the Middle East.
Tags: Tony Richardson
Duration: 3 minutes, 3 seconds
Date story recorded: June 2004
Date story went live: 24 January 2008