NEXT STORY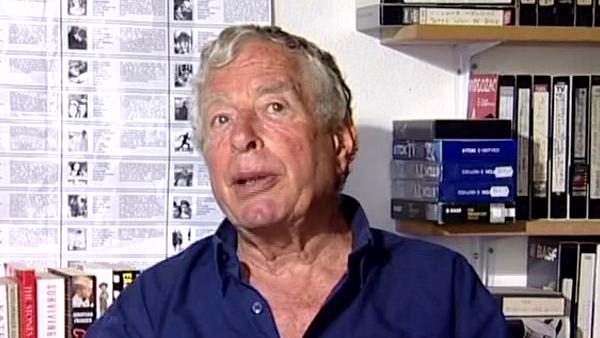 The Girl in Black: The cone light
The Girl in Black: Working with simple technology
Walter Lassally
Film-maker
1
...
7
8
9
10
11
...
27
So the film Girl in Black is made with very simple technical means and with a very small crew. Quite a lot of the crew also doubled as actors. And there's an actor there called Vengos who became one of the best-loved and famous comedians in Greece. He'd made many, many, many movies. He's a lovely man, a sweet man, and he was the assistant director and he also played the village policeman. And then there's another one who is helping generally out. He plays a part in the film. There's quite a few of them. The technical means were also very modest. We had a few small lights. We had a 5k and a 2k, I remember. And when we got to the island of Hydra, they said that the island has a generator, but the generator is only used at night, for lighting the island. So, in the daytime the generator is entirely at your disposal, so I said- oh, that's wonderful. So we had a scene to do in an hotel room overlooking the harbour. Inside the hotel room, it's about 2.8 and outside it's about 22 diaphragm. It's about an eight stop difference. And there's this scene where the chap is standing at the window facing inwards and talking to somebody behind the camera, and you have to balance his face. His face can't be black, obviously, and outside can't be- it can be a little overexposed, but not eight stops. So, a little balancing has to go on. I put the 5k and the 2k both on him, one from the left and one from the right, like key light and fill light, you could say, and I switched the 2k on first and that was fine. And then I switched the 5k on and they both went down to half strength, because we had exhausted the- we were past the limits of the generator. That was because it was a DC system, direct current system, and the generator was a mile away and, of course, all the power goes off in heat on the cable. So that was, that was interesting, but we still managed it. In the night scenes we had a few 500 watt spotlights and some small stuff, and we had a relatively simple plug board. When it was fully in use it had about 12 like Schuko plugs on them, and when it was fully occupied, when it was fully working, it used to make a sort of, little sizzling noises, like eggs frying. But as we weren't shooting sound that wasn't a problem. It's primitive, but it worked. But the great thing about that method of working was that, whatever the crew lacked in numbers or what we lacked in equipment, they made up more than fully by their enthusiasm. They were a wonderfully enthusiastic bunch, and they had adequate film making experience, in their own way, which I could adapt to, and they could adapt to me, without any problems whatsoever. If, on the other hand, you went to Greece with the attitude of a Pinewood... conventional Pinewood cameraman, they would say... I can't... you know, where's the barn door, where's the ceiling, where's my backup, where's my... supposing some... a light blows, I can't work with a generator that goes on it's knees when you switch on the second lamp. They would've just given up the ghost and left. But fortunately from my documentary experience and from my previous experience in Morocco, and afterwards elsewhere, there's always a way round it. And, of course, the director has to be... you have to be in agreement with the director. They don't ask for impossible things. But that never happened. We were fully within our capabilities and the available people and the available equipment was fully adequate to do the job.
Born in Germany, cinematographer Walter Lassally (1926-2017) was best known for his Oscar-winning work on 'Zorba the Greek'. He was greatly respected in the film industry for his ability to take the best of his work in one area and apply it to another, from mainstream to international art films to documentary. He was associated with the Free Cinema movement in the 1950s, and the British New Wave in the early 1960s. In 1987 he published his autobiography called 'Itinerant Cameraman'.
Title: "The Girl in Black": Working with simple technology
Listeners: Peter Bowen
Peter Bowen is a Canadian who came to Europe to study and never got round to heading back home. He did his undergraduate work at Carleton University (in Biology) in Ottawa, and then did graduate work at the University of Western Ontario (in Zoology). After completing his doctorate at Oxford (in the Department of Zoology), followed with a year of postdoc at the University of London, he moved to the University's newly-established Audio-Visual Centre (under the direction of Michael Clarke) where he spent four years in production (of primarily science programs) and began to teach film. In 1974 Bowden became Director of the new Audio-Visual Centre at the University of Warwick, which was then in the process of introducing film studies into the curriculum and where his interest in the academic study of film was promoted and encouraged by scholars such as Victor Perkins, Robin Wood, and Richard Dyer. In 1983, his partner and he moved to Greece, and the following year he began to teach for the University of Maryland (European Division), for which he has taught (and continues to teach) biology and film courses in Crete, Bosnia, and the Middle East.
Tags: camera, actors, lighting, enthusiasm
Duration: 3 minutes, 55 seconds
Date story recorded: June 2004
Date story went live: 24 January 2008