NEXT STORY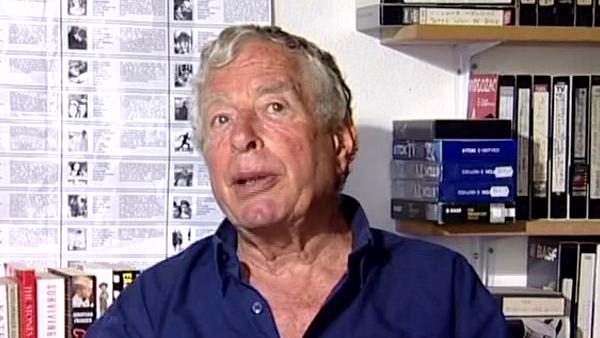 A Matter of Dignity: Dusk scene and filming day-for-night
A Matter of Dignity: Second film in Greece
Walter Lassally
Film-maker
1
...
8
9
10
11
12
...
27
It was in 1957 that I made my second film in Greece, which was again with Cacoyannis, which was called A Matter of Dignity in English, in Greek it was called The Last Lie. And it was again with Ellie Lambetti and some of the actors were in both films, but mainly it was Ellie who was in both films... oh, and the mother, Eleni Zafiriou plays the mother in the one film and the maid in the other film. And the subject of that film was a household of a man who owns a factory, a woodworking factory, and he gets into money difficulties and they don't pay the maid and the maid's child has an accident and they need money. And she keeps asking for her money, which they owe her and they always make... they keep making excuses, but at the same time they go on with their dinner parties and their card parties, and so on. So eventually there's a bit of an explosion. And Ellie the daughter, is sort of in the middle, sympathising very much with the maid, but also not wanting to betray her family. Now that film involved my first major studio shoot in Greece. Because the family home in which quite a bit of the action takes place, was a studio set built in the very primitive Finos studio on the outskirts of Athens. I've got a picture. It looks like a sort of converted barn, or just a barn, not converted, not particularly converted, which was just outside Athens. And... it was adequately equipped, but there were certain... there were certain things missing, like the lamps didn't have any barn doors on them. They were old- they were mostly made by a company called Cremer in France. They were French lamps and some of the older ones had brass contacts on the outside, which the cable was actually connected to with a thumbscrew. So, if you weren't careful and... they had a handle at the back, but if you weren't careful you could touch those contacts, there wasn't even a casing over them, so you could get, you could get a shock. And I did, several times, because I'm very much a hands-on man. I want to adjust the lights myself, which of course, didn't cause any union problems, at least, in Greece, but it had that particular problem. But it was very interesting for me because it was a major studio shoot with limited, but adequate, means, and that worked out extremely well. And then there was a very interesting dawn scene, there was a very interesting dusk scene. The thing about the dawn scene, which takes place at the foot of the Acropolis, was that we had to do some 15 or 18 shots. It was divided into 15 or 18 shots, and they all had to be done in one dawn, if possible. If it's extremely well prepared it is possible. So you prepare. You see the sun's going to come up there, that place is going to be in shade, and later it's going to be in sunshine, so if you wanted it in shade, we filmed that first, and afterwards we move over there, because over there we still have shade. And if you prepare it very carefully, and the actors are well rehearsed, you can do a shot every two minutes. It's perfectly possible. But, it needs very good preparation. So that worked out extremely well. I often use it as an example when I show things to students, and how... what you can do in the space of about an hour and a quarter, until the sun really hits the whole area, by careful preparation.
Born in Germany, cinematographer Walter Lassally (1926-2017) was best known for his Oscar-winning work on 'Zorba the Greek'. He was greatly respected in the film industry for his ability to take the best of his work in one area and apply it to another, from mainstream to international art films to documentary. He was associated with the Free Cinema movement in the 1950s, and the British New Wave in the early 1960s. In 1987 he published his autobiography called 'Itinerant Cameraman'.
Title: "A Matter of Dignity": Second film in Greece
Listeners: Peter Bowen
Peter Bowen is a Canadian who came to Europe to study and never got round to heading back home. He did his undergraduate work at Carleton University (in Biology) in Ottawa, and then did graduate work at the University of Western Ontario (in Zoology). After completing his doctorate at Oxford (in the Department of Zoology), followed with a year of postdoc at the University of London, he moved to the University's newly-established Audio-Visual Centre (under the direction of Michael Clarke) where he spent four years in production (of primarily science programs) and began to teach film. In 1974 Bowden became Director of the new Audio-Visual Centre at the University of Warwick, which was then in the process of introducing film studies into the curriculum and where his interest in the academic study of film was promoted and encouraged by scholars such as Victor Perkins, Robin Wood, and Richard Dyer. In 1983, his partner and he moved to Greece, and the following year he began to teach for the University of Maryland (European Division), for which he has taught (and continues to teach) biology and film courses in Crete, Bosnia, and the Middle East.
Tags: Athens, Acropolis
Duration: 3 minutes, 35 seconds
Date story recorded: June 2004
Date story went live: 24 January 2008