NEXT STORY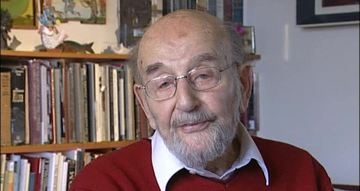 Theatre of Blood with Douglas Hickox and Vincent Price
My first feature film: No Resting Place
Wolfgang Suschitzky
Film-maker
1
2
3
4
My first feature film was with Paul Rotha directing a... a film in Ireland called No Resting Place. It was shot in 1950, one of the first all-location films. We had no studio shot in it at all. The locations... if we needed a police station, we could find one in a small place. The film was about tinkers, casual workers who went from one farm to another. It had wonderful actors in it, mainly from the Abbey Theatre in Dublin. Jack MacGowran was one of them, Eithne Dunne was another one, and the only English actor was Michael Gough, who had to have an Irish accent of course. We had terrible weather in Ireland. I think we only had two full days sunshine. The rest we had to wait for breaks in the clouds, or wait for the rain to stop, and we had a bus to sit in and I lost quite a lot of money playing poker because I never learnt to play poker before. But it wasn't really a lot of money, no. We played for pennies. But on the whole it... it still looks quite good. Rotha came with sketches of set ups every day. He was very conscientious, but of course we never were... were bound to these sketches. We always found that we had to alter the sequence we shot it and the points of view we had to alter for practical reasons. The film is still being shown, and I am invited to go to Limerick in May for a performance there, having a conference about émigré people, artists and photographers and film people, and that I am invited to go there to introduce the film. It was also shown at the National Film Theatre not so long ago.
Born in Austria, Wolfgang Suschitzky (1912-2016) trained as a photographer and became one of the first in his field to take portraits of animals. After coming to England he worked with Paul Rotha as the cameraman on various documentaries and films such as "No Resting Place", "Ulysses" and "Get Carter".
Title: My first feature film: "No Resting Place"
Listeners: Misha Donat
Misha Donat is the son of Wolfgang Suschitzky. He has composed music for the theatre and the cinema (including films directed by Lindsay Anderson, and by Albert Finney). For more than 25 years he was a senior music producer for BBC Radio 3, where he planned and produced the prestigious lunchtime concerts at St John's, Smith Square, at which many of the world's leading artists appeared on a regular basis, and also instigated a Young Artists' Forum as a showcase for musicians of the coming generation. As a broadcaster himself, he has given many radio talks. Misha Donat has contributed a large number of programme notes to the Wigmore Hall, Carnegie Hall, South Bank, Aldeburgh Festival, Edinburgh Festival, Brighton Festival and other venues, and he has written CD booklets for such labels as Decca, DG, RCA, Philips and Hyperion. He has been a regular contributor to BBC Music Magazine since its inception more than 10 years ago, and has written articles for The London Review of Books, The Guardian, The Musical Times, The Listener, Opera, and other publications. He has taught at the University of California in Los Angeles, and has given lectures and seminars at Vassar College and Bard College in New York State, Johns Hopkins University (Baltimore), and in the UK at Durham University, the Barbican Centre, the Royal Festival Hall, and the Norwich Music festival. He is currently working as a producer for the Philharmonia Orchestra.
Tags: Ireland, No Resting Place, Abbey Theatre, Dublin, Limerick, National Film Theatre, Paul Rotha, Jack MacGowran, Eithne Dunne, Michael Gough
Duration: 3 minutes, 10 seconds
Date story recorded: March 2008
Date story went live: 06 August 2009