NEXT STORY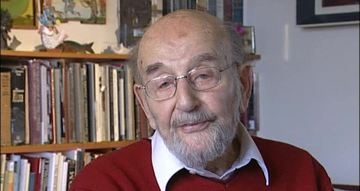 Get Carter with Mike Hodges and Michael Caine
Theatre of Blood with Douglas Hickox and Vincent Price
Wolfgang Suschitzky
Film-maker
1
2
3
4
No Resting Place was Rotha's first feature. I did several others with him, I think three more, which didn't see much distribution. Rotha did one other film in Holland which... for which he used a Dutch cameraman. But I got a reputation through this film of being able to work on location economically and fairly fast, and other people asked me to be cameraman on their films — on their features — and altogether I think I did about 20. There was one called The Small World of Sammy Lee, which was quite successful, with Anthony Newly in the lead, and I did several films with Hickox — Dougie Hickox — whom I knew from making commercials. He made... asked me to do... do commercials, and later we did Entertaining Mr Sloan, which has become quite a little cult film. It was great fun to do, and Theatre of Blood, which was a spoof on a film, again becoming a little cult film. It had Vincent Price in it and Barbara Jefford, and again, wonderful actors, all about a sort of ham actor who was panned by all the critics and he tries to make suicide by jumping in... into the Thames, but is rescued by a group of... never do goods, who... who wash him and bring him back to life, really. And with them, he takes revenge on each of these critics in the way the Shakespearean plays treat their victims like... in... Othello. The woman is killed by Othello and in the... in the vengeance, she is also killed by a hairdresser, I think. And Vincent Price plays all these people who... killed all these...kill all these... Des... Desdemona gets smothered. Des... Yes, that's right. Drowned in a barrel or something, is that right? Yes, Desdemona gets... gets... what do you... Smothered. Desdemona gets smothered by Othello. What else was there? One of them gets drowned in a cask of Malmsey and others get... oh, and poor old Morley, he plays a... a queer whose love is two poodles. And he gets murdered by being served a pie made from his poodles, stuffed down his throat by Vincent. Anyway, we had fun making, and Vincent was a real gentleman. When he came on the set the first day he shook hands with everybody, all the electricians and everybody, and he always queued up for his own lunch. He didn't ask the assistant director to get him the lunch like all other actors do, and he married one of the actresses we had, Coral Browne. He met her on this film and married her later on.
Born in Austria, Wolfgang Suschitzky (1912-2016) trained as a photographer and became one of the first in his field to take portraits of animals. After coming to England he worked with Paul Rotha as the cameraman on various documentaries and films such as "No Resting Place", "Ulysses" and "Get Carter".
Title: "Theatre of Blood" with Douglas Hickox and Vincent Price
Listeners: Misha Donat
Misha Donat is the son of Wolfgang Suschitzky. He has composed music for the theatre and the cinema (including films directed by Lindsay Anderson, and by Albert Finney). For more than 25 years he was a senior music producer for BBC Radio 3, where he planned and produced the prestigious lunchtime concerts at St John's, Smith Square, at which many of the world's leading artists appeared on a regular basis, and also instigated a Young Artists' Forum as a showcase for musicians of the coming generation. As a broadcaster himself, he has given many radio talks. Misha Donat has contributed a large number of programme notes to the Wigmore Hall, Carnegie Hall, South Bank, Aldeburgh Festival, Edinburgh Festival, Brighton Festival and other venues, and he has written CD booklets for such labels as Decca, DG, RCA, Philips and Hyperion. He has been a regular contributor to BBC Music Magazine since its inception more than 10 years ago, and has written articles for The London Review of Books, The Guardian, The Musical Times, The Listener, Opera, and other publications. He has taught at the University of California in Los Angeles, and has given lectures and seminars at Vassar College and Bard College in New York State, Johns Hopkins University (Baltimore), and in the UK at Durham University, the Barbican Centre, the Royal Festival Hall, and the Norwich Music festival. He is currently working as a producer for the Philharmonia Orchestra.
Tags: No Resting Place, Holland, The Small World of Sammy Lee, Entertaining Mr Sloan, Theatre of Blood, River Thames, Othello, Paul Rotha, Anthony Newly, Vincent Price, Barbara Jefford, Coral Browne
Duration: 5 minutes, 42 seconds
Date story recorded: March 2008
Date story went live: 06 August 2009